Soviet Chekists, Slavic Fist, and the Medvedev-Yanukovych Declaration on Transnistria
Publication: Eurasia Daily Monitor Volume: 7 Issue: 97
By: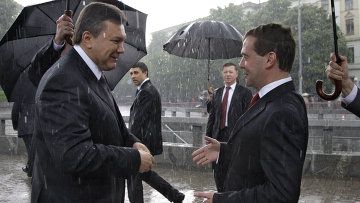 Russian President, Dmitry Medvedev, and his Ukrainian counterpart, Viktor Yanukovych, issued a joint declaration on the Transnistria conflict during Medvedev's May 17 visit in Kyiv (www.kremlin.ru, May 17).
The event fortuitously coincided with the Transnistria KGB's anniversary celebrations in Tiraspol. Proposed by the Russians and accepted with minor modifications by the Ukrainian side, the joint declaration's terms seem designed to maintain the deadlock on the negotiations toward a political settlement of the Transnistria conflict.
Medvedev and Yanukovych "underscore the major stabilizing role of the existing [i.e., Russian] peacekeeping operation." They are in favor of "transforming it into a peace-guaranteeing operation under the Organization for Security and Cooperation in Europe's (OSCE) aegis, in the context of a [political] settlement in Transnistria, and are ready to participate in it actively." This reaffirms Russia's conditional linkage between political settlement and change in the status of Russian troops.
Originally, Moscow had called for political settlement to be synchronized with Russian troop withdrawal; but it then increased its demands step by step. Instead of withdrawing the troops, Russia wants them to stay on, re-designated from peacekeepers to peace-guarantors, if and when a political settlement is achieved. Moscow would accept a cosmetic internationalization of the troop contingent in return for OSCE legitimization of it. And it would insist (with Ukraine in tow) on "participating in it actively" so as to minimize international participation in such a contingent.
Negotiations in the 5 + 2 format (Russia, Ukraine, the OSCE, United States, European Union, Chisinau, and Tiraspol) are on hold since March 2006. The Western participants and Moldova have called ever since for the quickest resumption without preconditions. The Medvedev-Yanukovych declaration, however, proposes four years later to "create the prerequisites" for resuming the negotiations.
The main prerequisites, as listed, are confidence-building between "Moldova and Transnistria" [treated co-equally] and progress in the activity of expert groups of the two sides on economic and social issues, in order for the negotiations to resume. These requirements in this sequence allow Tiraspol and Moscow to determine when, or if, the conditions are in place for negotiating a political settlement.
Moscow had proposed the creation of Chisinau-Tiraspol expert groups in 2008, so as to shift the focus from political settlement and troop withdrawal to minor local issues instead. Chisinau hastened to launch those expert groups, Tiraspol welcomed this new opportunity to stonewall, and Moscow never exercised its influence on Tiraspol to unblock the expert groups.
Medvedev and Yanukovych duly call for a "reliably guaranteed special status of Transnistria, on the basis of respecting Moldova's sovereignty, territorial integrity, and constitutional neutrality."
Three elements in this same paragraph, however, devalue the professed respect for sovereignty and integrity. First, "reliably guaranteed" is Moscow's code-word for its peace-guaranteeing troops to remain on Moldova's territory. Second, Moldova's neutrality is being turned from an internal constitutional arrangement into a Russian (and, now, Ukrainian) condition for agreeing to a political settlement, on Moldova's own territory. And, third, both presidents call in the same paragraph for the "formation of a single legal, economic, and defense space" in Moldova, implying a construction of two entities in that space [prostranstvo]. Insisting on co-equal status for Moldova "and Transnistria" in the negotiations is a means to achieve an outcome with two entities, rather than one territorially reintegrated state.
Medvedev and Yanukovych define Russia and Ukraine as "guarantor countries" of a political and security settlement in Moldova and Transnistria. They use this term no fewer than four times in their joint declaration for emphasis. A "guarantor" status, however, is not recognized by any country or international organization, and is explicitly rejected by Moldova.
This concept was invented in 1997 by Russia's then-foreign minister Yevgeny Primakov, who conferred it on Russia and Ukraine, so as to exclude the West from any meaningful role in the negotiations and settlement of this conflict. Ukraine's then President, Leonid Kuchma, had passively followed Russia's line in that framework. His successor, Viktor Yushchenko, regarded a "guarantor" status as a prestige issue for himself and proceeded to sign a joint declaration with Russia's then-president Vladimir Putin along these lines (EDM, January 16, 2006).
Medvedev and Yanukovych allude to the 1997 Primakov memorandum when they call for observing "earlier achieved understandings" in their joint declaration.
Also on May 17, Transnistria's State Security Ministry celebrated the eighteenth anniversary of its founding. The present minister, Lieutenant-General Vladimir Antyufeyev, founded the institution in 1992, when he arrived in Tiraspol via Moscow from Latvia. Antyufeyev had commanded the Riga OMON and was involved in violent repressions in 1991 against independence movements in Latvia and Lithuania. He operates within Moscow's chain of command to the present day.
Addressing the anniversary gala event in Tiraspol, Antyufeyv and Transnistria's leader Igor Smirnov described Transnistria as a "Slavic fist on the western border" [of a greater Russia], and the state security ministry as "a worthy successor to the best traditions of Soviet Chekists," according to Tiraspol's official news agency (Olvia Press, May 17).