Russia Seeks Increased Trade with China
Publication: Eurasia Daily Monitor Volume: 9 Issue: 57
By: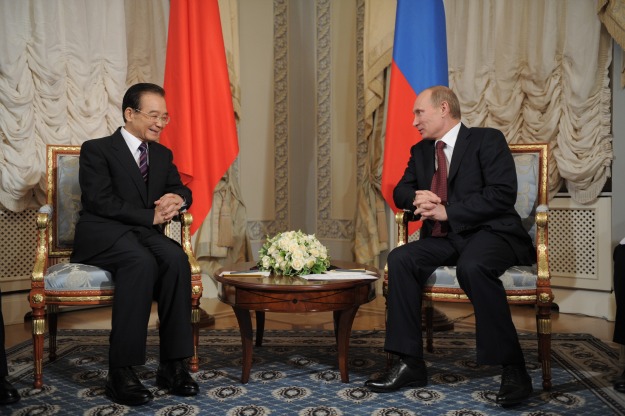 Russia has repeatedly pledged to expand trade with China, the Kremlin apparently continuing to view the commercial ties as an important indicator of what was officially described as a "bilateral strategic partnership."
The increasing bilateral trade reflects a successful development of Russian-Chinese economic cooperation, said Valentina Matviyenko, head of the Federation Council, the upper house of the Russian parliament. Russia and China share a goal of further increasing bilateral trade up to $100 billion in 2015 and $200 billion in 2020, she told China's official news agency, Xinhua (Xinhua, March 14).
The optimistic Russian official pronouncements happened to be based on reality. Last year, bilateral trade between Russia and China was up significantly. In 2011, Russia's trade with China reached $79.25 billion or up 42.7 percent year-on-year, according to the Chinese and Russian customs statistics.
In the meantime, Russia apparently continued to rely on commodities in its export policies towards China. Russia has kept supplying China with energy resources and raw materials in exchange for shipments of Chinese industrial products.
Russian exports to China were up 56 percent year-on-year, but the increase was mainly due to the recent strength in global commodity prices, Russia's trade representative in Beijing, Sergei Tsyplakov, said. In 2011, the Russian oil deliveries to China totaled 19.7 millions tons or a 29.4 percent increase year-on-year in terms of volume, but up 87.3 percent year-on-year in terms of value, according to Tsyplakov. Timber exports to China were marginally down at 13 millions tons in terms of volume, but up 16 percent year-on-year in terms of value, he said (RIA-Novosti, February 7).
Russian officials voiced tentative expectations of further increases in trade with China. Tsyplakov estimated that bilateral commerce could reach about $90 billion in 2012.
However, Chinese businesses apparently remained disinterested in any sort of long-term arrangements with Russian companies. Tsyplakov conceded that investment cooperation between Russia and China amounted to a fraction of bilateral trade. In 2011, Chinese investment in Russia amounted to a mere $300 million or down 49 percent year-on-year, according to the Chinese statistics. The number represented just 0.5 percent of China's total foreign investment in 2011.
In order to increase bilateral trade and investment ties, Tsyplakov urged the development of transportation infrastructure, notably upgrading the existing Zabaikalsk and Grodekovo major border crossing points. He conceded that the agreement to build the Nizhneleninskoe-Tongjiang bridge across the Amur River, concluded back in 2007, was slow to materialize.
The Kremlin had long nurtured ambitious plans of increasing trade with China. In January 2006, then Russian President Vladimir Putin announced plans to raise bilateral trade up to $60-80 billion/year by 2010.
Initially, both countries appeared to move fast toward achieving that goal. In 2006, bilateral trade amounted to about $33 billion or an increase of some 15 percent. Russia's trade turnover with China exceeded $29 billion in 2005, up by 37 percent over 2004. In 2007, Russia's trade with China reached $48 billion or up 44 percent year-on-year.
Then came yet another increase in bilateral commerce. In 2008, Russia's trade with China reached nearly $57 billion or up 18 percent year-on-year. As a result, China emerged as Russia's third largest foreign trade partner, while Russia became China's 8th largest trade partner. However, in 2009 – amid the global financial turmoil – bilateral commerce fell to under $40 billion, or well below the level of 2007.
But the global economic revival, notably the recovery in the international commodity prices, proved instrumental in revitalizing bilateral commerce. In 2010, Russia's trade with China exceeded $59 billion or up some 50 percent year-on-year.
As Russia moves toward full membership in the World Trade Organization (WTO), officials are voicing concerns that the country's entry in the global trading body could have adverse economic effects. Tsyplakov conceded that some of the Russian industrial sectors could prove unable to face Chinese competition.
China's regions pledged to capitalize on new opportunities in connection with Russia's WTO accession. On February 22, the authorities of China's Heilongjiang province released plans to increase commerce with Russia up to $20.5 billion in 2012, or up from $19 billion last year. This year, Heilongjiang would aim to benefit from Russia's upcoming WTO entry, the authorities said (ChinaPRO.ru, February 22).
Therefore, apart from immediate money-making opportunities, the increasing bilateral trade may entail some new economic challenges for Russia after its WTO accession. While selling crude oil and timber to China is likely to continue bringing some quick cash to the Russian state and private coffers, increasing industrial imports from China on WTO terms may deal some sensitive blows to Russian industries.