Russia Seeks Stronger Security Ties with China
Publication: Eurasia Daily Monitor Volume: 10 Issue: 14
By: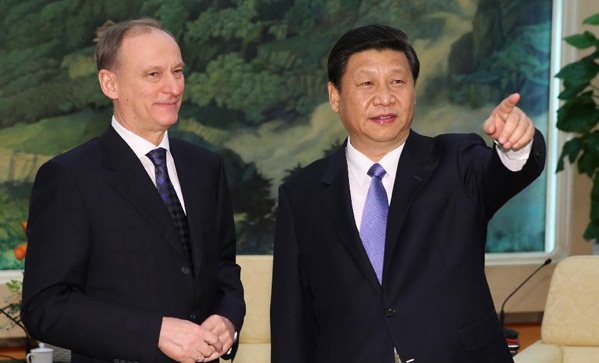 Russia has repeatedly pledged to boost strategic security cooperation with China. In the past, both sides preferred only to make verbal statements on the matter. But now Moscow and Beijing appeared to pledge actual joint action in connection with issues of strategic security, including the United States' missile defense plans in Asia.
The Kremlin has long been keen to add a security element to what was officially described as a bilateral strategic partnership with Beijing. The latest development in the security dialogue surfaced during the most recent round of top-level talks in China's capital. Nikolai Patrushev, head of the Russian Security Council, traveled to Beijing on January 8–9 to attend the eighth round of bilateral strategic security consultations. He held talks with Chairman Xi Jinping, state councilor Dai Bingguo, head of Politics and Law Commission Meng Jiangzhu and public security minister Guo Shengkun. Xi reportedly urged both countries to increase mutual political support and coordinate their respective international and regional policies (The Voice of Russia, January 9).
During the talks in Beijing, Chinese and Russian officials focused on matters of Asian-Pacific security. Both sides also discussed the situation in Central Asia in connection with the upcoming withdrawal of the international forces from Afghanistan next year.
Russia and China voiced satisfaction concerning their security cooperation and pledged to develop bilateral security ties, Patrushev said after the talks. "We expect bilateral security cooperation to develop strongly in the nearest future," Patrushev said (RIA Novosti, January 9).
Russian officials made no secret of the fact that Russia and China banded together to oppose perceived Western inroads into the region. After the talks, Patrushev reportedly stated that Russia and China intended to coordinate their measures of response following the deployment of US missile defense facilities in Asia.
The official Voice of Russia radio commented that Patrushev's statement indicated an important change as both sides for the first time openly pledged some kind of joint strategic action. The US missile defense facilities to be deployed in Japan, South Korea and Australia are set to target Russian and Chinese ballistic missiles, Voice of Russia claimed. These Asian nations should bear in mind Poland, Czech Republic and Romania—the Central and Eastern European nations that agreed to deploy US missile defense facilities. A retaliatory deployment of Russian missiles in Northwestern Russia could make these and other European nations vulnerable, the Russian government-sponsored news outlet commented. And this situation may repeat itself if Tokyo, Seoul and Canberra opt to ignore Moscow and Beijing's concerns, according to the Voice of Russia. The latest round of bilateral strategic security consultations gave a clear signal that Russia and China have started to coordinate their action on this matter, according to Voice of Russia (The Voice of Russia, January 10).
Russia and China initiated the bilateral strategic security consultations framework in 2005. But now the Kremlin appears to argue that its strategic security dialogue with China is becoming an urgent matter. In August 2012, Dai Bingguo was received in the Kremlin by President Vladimir Putin. Regular meetings between the countries' leaders and top security officials thus highlight the importance of the stated goal to coordinate their international policies, the Voice of Russia commented (The Voice of Russia, January 9). The high-level bilateral consultations become increasingly important against a background of a dynamically changing international situation, Patrushev said. Russia and China voiced joint concerns following continued US moves to create a missile defense system in the Asia-Pacific region, Patrushev told Russian journalists. "Of course, we cannot remain indifferent," he added (ITAR-TASS, January 9).
Patrushev also noted that the Asia-Pacific region was becoming increasingly volatile amid deepening divisions and territorial disputes. However, he argued that these disputes should be settled diplomatically. In addition, Patrushev pledged Russia would take into account the respective positions of the other major regional players, Japan and South Korea (ITAR-TASS, January 9).
One Russian expert argued that Russia and China could move toward joint strategic action as both nations shared a multipolar world concept. Moscow and Beijing maintain similar positions on a variety of international issues, added Yevgeny Bazhanov, the head of the Diplomatic Academy of the Russian Foreign Ministry. In particular, both nations have voiced their opposition to a world order dominated by the US and the West, he said. Russia and China advocate a multipolar world where all members of the international community have equal rights, Bazhanov argued.
Proactive US policies in Asia were seen as a threat in Beijing, Bazhanov commented. Subsequently, China's relations between the US and Japan have been declining in recent years, so Russian support is important for Beijing. But the Russian foreign ministry official also warned against antagonizing Washington or Tokyo. Russia should not forge a closer alliance with China against the US and Japan or direct bilateral Russian-Chinese cooperation against any third nation, Bazhanov cautioned (The Voice of Russia, January 9).
Russia reiterated its pledges to expand strategic security cooperation with China. Yet, simultaneously, there is an understanding in Moscow that stronger security ties with Beijing should not entail a decline in relations with other powers in the Asia-Pacific region. Questions, therefore, remain as to what such bilateral cooperation would actually entail. This first instance of Russia and China openly pledging to boost strategic cooperation on security matters is certainly a beginning step in translating words into actions by the two countries. However, their partnership remains bedeviled by their own sources of bilateral discord, not the least being Russia's concerns over growing Chinese assertiveness in the region (see EDM, November 14, 2012). It, therefore, remains to be seen if the Chinese-Russian relationship will indeed develop into tangible cooperation in the security sphere, or if bilateral conflict will prevent the two Asian giants from solidifying closer coordination of action in the coming years.