Russia Seeks to Boost Arms Exports in 2015, Despite Western Sanctions
Publication: Eurasia Daily Monitor Volume: 12 Issue: 25
By: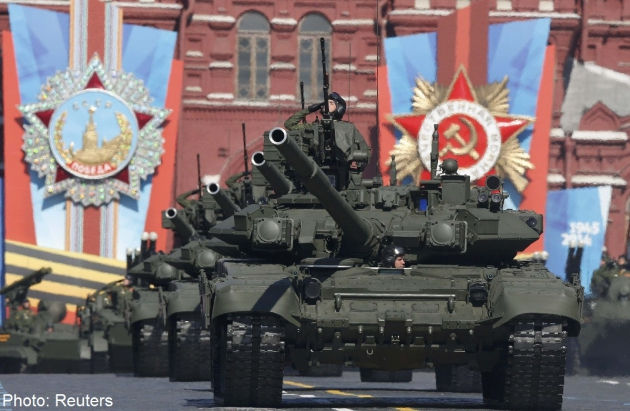 On January 27, Russian President Vladimir Putin held a meeting of the Commission for Military Technology Cooperation with Foreign States. Putin opened his remarks by stating that he wanted "to begin with a look back at the work done last year" and then told attendees, "2014 has shown that Russia has confirmed its position as a global leader in arms and military technology exports. Our business partners in military technology number over 80 states. Last year Russian [military] products were in demand in over 60 countries. The total volume of sales exceeded $15 billion. We signed almost $14 billion worth of contracts, which only added to the already significant portfolio of Russian arms. Russian arms and military equipment remain among the most popular in the world" (Kremlin.ru, January 27)
The export figures cited by Putin represent a modest growth in Russian arms exports. In 2013, Russia exported, via Rosoboronexport, $13.2 billion in armaments, dwarfed by the United States' sales of $23.6 billion, followed by France in third place with arms exports worth $6.9 billion (Voennoe Obozrenie, March 8, 2014). On July 7, 2014, Putin declared to the arms export Commission, "It is important to […] strengthen Russia's presence on global arms markets. Beyond doubt, this should help national defense industries to plan for an expansion and update of production, [and] create new quality jobs" (RIA Novosti, July 7, 2014). Putin also called for further efforts to replace Russian defense industry imports—including military equipment from Ukraine—with indigenous production in an effort to make Russia's defense industry self-sufficient.
Russian armaments are now exported to 65 countries, mostly via Rosoboronexport, which handles about 80 percent of Russian exports of arms and military equipment. Eighty-nine countries have signed and implemented agreements on military-technical cooperation with Russia (RIA Novosti, April 25, 2014).
From 2004–2008 to the period 2009–2013, Russian exports of major weapons increased to 27 percent of the global total, with exports to 52 countries; but India, China and Algeria alone accounted for more than half of these exports (Vesti Ekonomika, March 19, 2014). For 2009–2013, the largest global buyer of weapons was India, with a volume of imports almost three times higher than that of China and Pakistan, which are also among the largest importers of weapons. Russia has been India's main supplier of armaments over the last five years, accounting for 75 percent of purchases (Interfax, March 17, 2014).
Putin sees Russia's arms sales as a growth area in light of increasing Western sanctions and a stagnant economy due to falling oil prices, remarking, "We are gradually developing new arms markets: primarily those in Latin America and Southeast Asia. Russia will expand its presence on such promising markets as the Asia-Pacific Region, the African continent, Latin America and the Caribbean" (Interfax, January 27, 2015).
While the desire to expand arms exports is evident, beneath the bravado is the fact that Western sanctions have restricted access to many Western components used by Russian defense firms. On November 27, Rosoboronexport official Aleksandr Emelanov noted, "To date, Rosoboronexport signed and are in various stages of execution of contracts for the supply of artillery weapons, MLRS [multiple-launch rocket systems], mortars, and ammunition to countries in Asia, Africa, the Middle East and Latin America; and for three years we have been able to expand the geography of supplies and artillery to enter the markets of those countries that have not previously purchased from us." He then added, "In connection with the announced [Western] sanctions, it is necessary for the Russian defense industry to solve the problem of replacing imported components supplied to weaponry samples and to do so immediately" (Rosoboronexport press release, November 27, 2014).
Furthermore, US and European sanctions have curtailed credit availability for a number of Russian defense firms. On December 28, 2014, Prime Minister Dmitry Medvedev ordered 5.84 billion rubles (currently, $87 million) to be allocated to defense exporters in 2015, with the money to be used for repaying loans granted by Vneschekonombank under an earlier Ministry of Industry and Trade government initiative to help defense companies climb out of debt (Km.ru, December 28, 2014).
Another factor potentially hindering a significant growth of Russian armaments exports is government legislation that prevents Russia from offering foreign customers new types of advanced weaponry until they are first made available to Russia's Armed Forces under the state armaments program to assist in the modernization of the country's military-industrial complex. Nevertheless, Deputy Prime Minister Dmitry Rogozin, in charge of the defense industry, believes that by 2020, Russian arms exports will soar to $50 billion annually, primarily due to an arms race in the Asia-Pacific region (Forbes.ru, March 4, 2014).
The ruggedness, reliability and moderate cost of Russian munitions and weaponry compared to many Western armaments have contributed to Russia's success in the global arms market, particularly in the emerging markets of Africa, South America and Asia. And given the increasing financial strains of low global oil prices and Western sanctions, the appeal of boosting arms exports is self-evident in the Kremlin. Still, a number of factors constrain a possible surge in the production of advanced Russian weaponry; accordingly, for the moment, its best-known and popular weapons export remains the AK-47 machine gun rather than the advanced Su-35S jet fighter.