Russia Seeks to Sustain its Energy Security
Publication: Eurasia Daily Monitor Volume: 6 Issue: 221
By: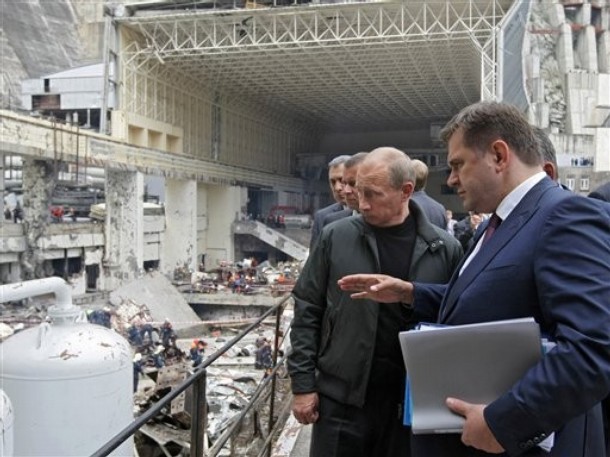 Moscow has reiterated pledges to improve Russian energy security by promising sizable investments to develop its hydrocarbon sector and power supply networks. However, the economic viability of such solutions appears to remain a matter of debate as Moscow's ambitious plans require huge investments. Russian authorities have long pledged to replace obsolete and wasteful Soviet-era energy technologies and solutions by what officials describe as "energy-efficient" facilities. Moscow plans to spend 1.8 trillion rubles ($62.5 billion) from the federal and local budgets to finance energy-saving projects by 2020, Sergei Mikhailov, the head of the energy policy department in the energy ministry, told a conference in Moscow on November 10. However, these projects would allow saving up to 10 trillion rubles ($347 billion) in 2010-2020 by making the economy more energy-efficient, he said (Interfax, RIA-Novosti, November 10).
The governmental plans were backed by new legislative initiatives. Russian lawmakers are currently moving towards adopting new legislation on energy saving and energy efficiency, apparently designed to replace wasteful and outdated technologies. The new laws would introduce tax incentives to encourage energy saving projects, and set out measures of energy efficiency audits by the authorities. The bill also requires the phasing-out of incandescent bulbs in Russia between 2011 and 2014. The new legislation is expected to be introduced in early 2010.
Russian energy executives also appeared to be seeking international know-how to modernize and upgrade the country's energy sector. In mid-October, Russia and Germany set up a joint energy agency (RUDEA). This agency, co-sponsored by the Russian energy ministry, was aimed at improving energy efficiency in the Russian economy relying on advanced Western technology (Nezavisimaya Gazeta, November 10).
In an apparent effort to prop-up the country's energy security, Russian authorities have adopted a long-term blueprint entitled Russia's energy strategy through 2030. Despite the adverse economic conditions, the blueprint included pledges of huge investments to develop the country's energy sector. Although Russia's energy strategy was drafted against the background of the global financial crisis, it stipulates 60 trillion rubles ($2.1 trillion) in investments in its energy sector through 2030, according to Energy Minister Sergei Shmatko. He said that the investments would mainly come from Russian energy companies (Interfax, ITAR-TASS, RIA-Novosti, October 26). Shmatko made these comments during the fourth International Energy Week in Moscow on October 26-30.
Russia's energy strategy through 2030, adopted by the government in August 2009, envisages the continued increase of the country's oil and gas production. According to the blueprint, by 2030 Russia is to pump 530-535 million tons of crude oil annually, or up by 8.6-9.7 percent from 2008, including exporting 329 million tons.
The country is also expected to extract 885-940 billion cubic meters (bcm) of gas per year by 2030, or up by 33-42 percent, including exports of 349-368 bcm or up by 45-53 percent. The blueprint appeared to be based on an assumption of an increasing output and a largely stable domestic demand, hence the bulk of the planned surplus was destined for exports.
The blueprint also envisages cutting power distribution grid losses from 12 percent this year down to 8 percent by 2030. The goal was intended to be achieved based on the use of advanced technologies and know-how. The government's ambitious plans were evidently linked to expectations that the energy sector would become increasingly attractive to private investors. According to the blueprint, up to 90 percent of the planned 60 trillion rubles in investments in the Russian energy sector through 2030 will come from private sources. In 2022-2030, the government expects $321 billion to be invested in the oil sector, $299 billion in the gas sector and $529 billion in the electricity sector.
However, the blueprint apparently lacks a detailed explanation on how Russia's aging energy infrastructure might attract huge inflows of fresh private investment. It also contained no specific stimuli for investors to underwrite the exorbitant expenses to develop the Russian energy sector dominated by the state-controlled giants, Gazprom, Rosneft and Transneft.
The latest energy strategy blueprint is yet another product of governmental planning based on expectations of increasing production and growing international demand. In May 2003, the Russian government moved to adopt an energy strategy through 2020, designed to position itself as a leader in the global energy market. The draft claims that by 2020 Russia will pump 450-520 million tons per year of crude oil and 700 bcm per year of gas.
Furthermore, expectations of the perpetual growth of the international oil and gas demand may also be detached from reality. In early November, Russian newswires cited estimates by the International Energy Agency (IEA) that global natural gas consumption could decline by 5 percent in 2015 and by 17 percent in 2030 (Interfax, November 5). If international energy-saving measures and other developments happen to entail lower hydrocarbon demand in the coming two decades, then Russian authorities may be forced to review the energy strategy through 2030.