Russia Struggles to Sustain Ties with Kyrgyzstan
Publication: Eurasia Daily Monitor Volume: 9 Issue: 49
By: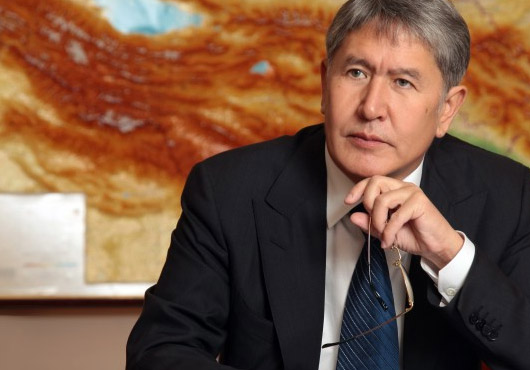 As the Kremlin was preoccupied with the presidential transition, relations between Russia and its Central Asian ally Kyrgyzstan unexpectedly became shaky. When Kyrgyz President Almazbek Atambayev traveled to Russia last month, his visit was supposed to highlight bilateral partnership. Instead, however, Atambayev's trip to Moscow on February 24-25 was followed by unexpected mutual acrimony.
During his official visit, Atambayev repeatedly pledged to develop post-Soviet economic integration within Russia-led groupings, including the Eurasian Economic Commonwealth (EEC) and the Customs Union. Atambayev said that Kyrgyzstan's entry into these grouping was discussed during talks with his Russian counterpart Dmitry Medvedev (Interfax, RIA-Novosti, February 25). However, Russia officials refrained from public comments on Atambayev's visit.
On February 25, Atambayev told the state-run Voice of Russia radio that Kyrgyzstan would continue to prioritize relations with Moscow regardless of the outcome of the March 4 presidential poll (RIA-Novosti, Voice of Russia, February 25). Yet, since Atambayev seemingly implied there could have been other winners than Vladimir Putin, the statement also sounded as an affront to the Kremlin.
Furthermore, on February 27, Russia's Kommersant daily published Atambayev's interview that included implicit threats to close Russia's Kant airbase. Atambayev argued that the base only served the "vanity" of Russia's generals, while Russian lease payments to Kyrgyzstan remained outstanding. Kommersant cited Russian officials who argued that Atambayev used different rhetoric when Moscow supported his presidential bid in October 2011. Thus, Bakiyev's demise did not make Kyrgyzstan a reliable ally of Russia, the daily concluded (Kommersant, February 27).
The Russian media lost little time in attacking an unreliable ally. On February 27, the state-run Voice of Russia radio released a commentary that described Atambayev's visit to Moscow as a "complete failure." The Kyrgyz authorities failed to secure approval of the $106 million EEC loan and Russia's confirmation of the continued discounted supplies of oil products to Kyrgyzstan. Atambayev's claim of $15 million in unpaid Russian debts to Kyrgyzstan was "ridiculous" in light of the country's nearly $500 million debt to Moscow, the commentary said. The radio also noted that the current state of relations between Russia and Kyrgyzstan sounded reminiscent of the time leading up to Bakiyev's demise in 2010 (Voice of Russia, February 27).
On March 1, Kommersant cited Russia's defense and foreign ministry officials as saying that Atambayev's statements were based on misconceptions. The officials argued that bilateral agreements allowed Russia to use the Kant airbase free of charge, while outstanding lease payments were connected with smaller communication and monitoring facilities (Kommersant, March 1).
Nonetheless, the Russian authorities moved to repay the debt. On March 3, the Kyrgyz Defense Ministry announced that the Russian authorities repaid the debts from the lease of military facilities in Kyrgyzstan. The Russian Defense Ministry confirmed it transferred $15 million in outstanding payments for 2008-2011 on March 1, the Kyrgyz ministry said (RIA-Novosti, March 3).
In the meantime, Atambayev continued his verbal attacks. On March 1, Atambayev accused the Russian and Kazakh intelligence services of meddling in Kyrgyz internal affairs ahead of and during the country's presidential elections in October 2011(Rosbalt, March 1).
The statement did not go unnoticed in Moscow. On March 1, the state-run RIA Novosti news agency quoted anonymous officials of the Russian presidential administration as advising Atambayev to mind Kyrgyzstan's own business. "We would recommend that President Atambayev focus on problems of poverty in his own country and not try to find enemies among friends and allies," officials said. The country's leaders will be "personally responsible" for the hardship of Kyrgyz citizens, they said (RIA-Novosti, March 1).
Moscow also tersely hinted at some upcoming hardships. On February 29, the Russian government decided to annul a bilateral agreement with Kyrgyzstan on simplified naturalization procedures, which dated back to 1996, arguing the treaty was no longer in accordance with Russian interests.
Furthermore, Kyrgyzstan consumes about one million tons per year of fuel and oil products supplied by Russian refineries. In April 2010, Russia levied export duties on oil products supplied to Kyrgyzstan thus effectively blocking exports there. The move was understood to undermine former president Kurmanbek Bakiyev's authority.
Yet despite apparent risks of being punished, Atambayev's rhetoric remained unusually strong. On March 2, Atambayev accused the Russian Defense Ministry of plotting what he described as an "information attack" on his presidency. He also accused Russia's mid-ranking officials of undermining bilateral relations, adding that "a small shaitan [devil] is worse than a big one" (AKI-Press, March 2).
The Russian media floated conspiracy theories, claiming that Kyrgyzstan had become the subject of US meddling. The Rosbalt news agency commented that relations between Moscow and Bishkek deteriorated due to the alleged presence of pro-Washington lobbyists among Kyrgyz officials (Rosbalt, March 1).
However, in the aftermath of the Russian presidential poll, the Kyrgyz authorities opted to come up with some reconciliatory statements. On March 5, Tokon Mamytov, head of the Kyrgyz parliament's security committee, said the country remained willing to consider uniting all Russian military facilities into one military base (Interfax, March 5).
Therefore, Moscow's efforts to forge a close political relationship with Bishkek was dealt a blow. The Kremlin's cautious approach and apparent reluctance to grant any sizable aid to the new Kyrgyz authorities apparently undermined Moscow's efforts to forge better ties with the new leaders in Bishkek than it had with Bakiyev's regime.