Experts Weigh Pros and Cons of Establishing Uranium Fuel Bank in Kazakhstan
Publication: Eurasia Daily Monitor Volume: 9 Issue: 49
By: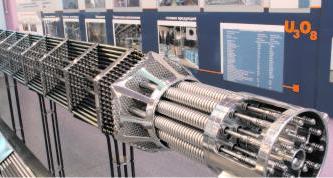 Presidents Nursultan Nazarbayev and Barack Obama will likely discuss Kazakhstan's proposal to establish the world's first international nuclear fuel bank when they meet at the Nuclear Security Summit in Seoul in a few weeks. In February, Foreign Minister Yerzhan Kazykhanov (Kazakhstan General Newswire, February 28) and the US Ambassador to Kazakhstan, Kenneth Fairfax (Kazakhstan Today, February 9), both expressed continued bilateral support for the proposal, which is under review by the International Atomic Energy Agency.

The idea is to give countries that want to establish a civilian nuclear power program an incentive to "borrow" the fuel assemblies from an international repository at nominal cost rather than engage in the costly and complex process of developing their own capabilities to manufacture nuclear fuel through uranium enrichment, which could also be used to make atomic bombs.

Kazakhstan has certain attributes that could make it a good candidate for such a fuel bank. Since gaining independence in 1991, Kazakhstan has established a strong nonproliferation record, beginning with its decision to renounce its Soviet nuclear weapons and continuing with sustained support for various international nonproliferation initiatives.

Kazakhstan also carries considerable weight in international nuclear markets. It has enormous stocks of natural uranium (approximately one-fifth of the world's proven reserves) and has become the largest national producer and exporter of uranium (World Nuclear Association).

Deputy Foreign Minister Kairat Umarov noted back in 2010 that Kazakhstan has two good sites where the bank could be established: the special storage facility at the Semipalatinsk former nuclear test site and the Ulba Metallurgical Plant, part of the nuclear company Kazatomprom, in Ust-Kamenogorsk (centrasia.ru/, December 31, 2010). Kazakhstani authorities are currently considering both sites for possible construction (Central Asian News Service, January 28).

Finally, Sergey Lukashenko, director of the Institute of Radiation Safety and Ecology, points out that Kazakhstan's longstanding "multi-vector" policy of seeking good relations with all countries should make foreign governments more comfortable about relying on nuclear fuel manufactured in Kazakhstan (Central Asia Online, February 21).

In addition to helping counter nuclear proliferation, Kairat Kadyrzhanov, director of Kazakhstan's National Nuclear Center, explains that another reason why Kazakhstan wants to host the repository is to enhance Kazakhstan's prestige (Central Asia Online, February 21). Yergazy Kenzhin, director of the Institute for Atomic Energy, adds that Kazakhstan would learn new technologies that it could apply to other high-technology sectors (Central Asia Online, February 21). Hosting the plant could also help Kazatomprom, the national nuclear monopoly, to realize its goal to increase its role in international nuclear energy markets (Kazatomprom web site, https://www.kazatomprom.kz). Although Kazakhstan would earn some revenue from managing the bank, Timur Zhantikin, Chairman of the Committee on Atomic Energy, confirms that sums would be minimal (tengrinews.kz, June 16, 2010).

Nonetheless, Kazakhstan's offer to host an international nuclear fuel repository faces several challenges. Popular concerns about expanding the country's nuclear activities are widespread due to how Kazakhstan was exploited during the Soviet period as a test bed for hundreds of nuclear explosions. Mels Eleusizov, chairman of the environmental movement Tabigat, fears the government will use the repository to store nuclear waste and will be unable to ensure the facility against accidents (Kapital, February 15).

Last month, Deputy Minister of Industry and Trade Duisenbai Turganov said in an interview with Vremya that, "The comprehensive analysis of possible impacts on the environment and population has shown that this project is quite safe." But he acknowledged that, "A final safety conclusion will be made after all technical details of the nuclear material storage projects become available, should such a bank be located in Kazakhstan" (Kazakhstan Today, February 25)

Earlier scandals involving Rustem Tursunbayev, the former vice-president of Kazakhstan's national nuclear company, Kazatomprom, and some of his key aides have aroused concerns that organized criminal groups will collaborate with corrupt nuclear industry insiders to divert dangerous materials and substances to terrorists or countries of proliferation concern (Trend, March 2).

Regarding the latter, some commentators are concerned about Kazakhstan's proximity and friendly relations with Iran. Furthermore, Kazakhstan's capacity to train an adequate number of scientists, engineers and technicians to manage the country's rapidly expanding nuclear activities is questionable.

On March 7, the new al-Farabi Program on Central Asia at the Carnegie Endowment for International Peace hosted its inaugural teleconference seminar in cooperation with the Institute of Parliamentarianism in Kazakhstan (supported by the ruling Nur Otan party). In addition to discussions about how to avert an Israeli attack on Iran's nuclear facilities, which Kazakhstanis fear would create economic and ecological catastrophes for them, the focus of the discussion was on the concept of how establishing a multinational nuclear fuel bank in Kazakhstan might constrain Iran's nuclear weapons potential.

The original hope was that the nuclear fuel bank could help contain Iran's nuclear program. Nazarbayev first made public Kazakhstan's support for hosting such a bank in April 2009, at a joint press conference with Iran's President Mahmoud Ahmadinejad, who was then visiting Astana (AFP, April 6, 2009). Iranian leaders have said they would consider participating in an international fuel bank, but would also pursue their own indigenous nuclear technologies. For this reason, Nazarbayev will likely discuss the Iranian nuclear crisis with Obama and others in Seoul.