Russia Watches as Karabakh War Reaches Decisive Turning Point
Publication: Eurasia Daily Monitor Volume: 17 Issue: 153
By: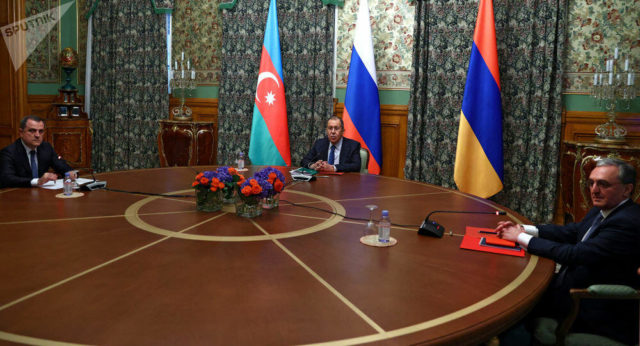 For more than a month now, Armenian and Azerbaijani forces have been fighting for the disputed territory of Karabakh and surrounding Armenian-occupied districts. Thousands of soldiers on both sides have perished, and at least hundreds of civilians have been killed and injured. But there has still been no letup in the violence, despite efforts by the great powers to impose a ceasefire.
The Karabakh conflict was effectively frozen for over 26 years, since May 1994, when Moscow forcefully mediated a ceasefire agreement the first time. Over the ensuing decades, bloody skirmishes erupted periodically on the line of conflict (LoC) established in 1994. A particularly heavy Azerbaijani-Armenian flare-up erupted in April 2016, known as the "Four-Day War." But overall., the LoC did not change much throughout the years.
The Minsk Group, a Karabakh conflict mediation body within the Organization for Security and Cooperation in Europe (OSCE), was created in 1992; but it has been essentially dormant over the past several years. Russia—a co-chair of the Minsk Group and a dominant power in the region—was active in trying to promote a solution to the Karabakh problem. In 2011, during a Russo-Azerbaijani-Armenian summit in Kazan, Russia, an agreement seemed close. Yet after Vladimir Putin returned to the Kremlin in 2012, Russian interest seemed to fade, as the country became distracted by other issues and the overall escalation of its confrontation with the West. Still Moscow continued to maintain a semblance of trying to preserve the Azerbaijani-Armenian balance of power. Russia sold large quantities of weapons to both sides—for cash to oil-rich Azerbaijan and on credit to poor Armenia, a member of the Moscow-dominated Collective Security Treaty Organization (CSTO) and Eurasian Economic Union. In 2016, Russia intervened diplomatically in the Four-Day War, effectively forcing both sides to accept a ceasefire. When the latest clashes erupted, on September 27, 2020, many foreign governments expected and hoped that Moscow would again act decisively to refreeze the Karabakh conflict—perhaps with some adjustments to the LoC.
In early October, as the fighting intensified, Putin called both Azerbaijani President Ilham Aliyev and Armenian Prime Minister Nikol Pashinyan, demanding they agree to an immediate ceasefire. In talks in Moscow chaired by Russian Foreign Minister Sergei Lavrov, the foreign ministers of Armenia and Azerbaijan—Zohrab Mnatsakanyan and Jeyhun Bayramov, respectively—signed a ceasefire agreement on October 10. It collapsed almost immediately (see EDM, October 13). Moscow tried to solidify the tentative ceasefire with a follow up mil-to-mil Azerbaijani-Armenian detailed agreement (Militarynews.ru, October 12). Defense Minister Sergei Shoigu became involved, with phone calls to his Azerbaijani and Armenian counterparts, and demanded they comply (Interfax, October 14). But those diplomatic efforts failed as well.
On October 16, six warships of Russia's Caspian Flotilla, including three corvettes armed with nuclear-capable long-range Kalibr cruise missiles, engaged in war games backed up by Southern Military District Air Force jets. The participating units operated in the Caspian just north of the Absheron Peninsula, the location of the Azerbaijani port-city and capital Baku, the country's biggest and most populous city. The Russian maneuvers began suddenly, only a couple of weeks after the Caspian Flotilla engaged in massive Kavkaz 2020 strategic war-games, in which Armenian soldiers took part but Azerbaijan refused. Kavkaz 2020 ended one day before Azerbaijani forces attacked the LoC in Karabakh on September 27, beginning the war. According to Admiral (ret.) Viktor Kravchenko, a former chief of the main naval staff, the mid-October snap Caspian Flotilla naval exercises just north of Baku were mean as a signal to Azerbaijan and its sponsor, Turkey, to stand down in Karabakh: "The [South Caucasus] region is within Russia's sphere of interests, and we have sufficient forces, including Kalibr cruise missiles, to project force." Officially, the snap Caspian Flotilla exercise "was not aimed at any foreign nation" (Militarynews.ru, October 16).
Nether Russian diplomatic pressure nor the military demonstration by the Caspian Flotilla sufficed: The fighting in Karabakh did not stop. Russia's peace-making efforts were backed up by France and the United States—the two other co-chairs of the OSCE Minsk Group—also with little success. The foreign ministers of Armenia and Azerbaijan traveled to Washington, met with Secretary of State Michael Pompeo and politely, once again, committed their governments to "implement and abide by the humanitarian ceasefire agreed in Moscow on October 10, reaffirmed in the statement issued from Paris on October 17, in accordance with the October 1, 2020, joint statement of US President Donald Trump, French President Emmanuel Macron, and Putin." Trump promptly congratulated Aliyev and Pashinyan after declaring that a deal to end the Karabakh fighting "is easy" (Interfax, October 26). The fighting continued, with both sides blaming each other.
Three great nuclear powers working in apparent cohesion have so far utterly failed to stop the war. Azerbaijan is wining on the battlefield, and President Aliyev has stated he is ready to talk with Prime Minister Pashinyan, perhaps in Moscow, and is ready to agree to a ceasefire. But Armenia must first agree to a speedy withdrawal of its armed forces, relinquishing control of the so-called "security buffer zone" of Azerbaijani territory surrounding Karabakh since 1994, and eventually withdraw from Karabakh, too. Aliyev claims he is ready to allow ethnic-Armenian residents of Karabakh to continue to live there and enjoy some "cultural autonomy" under Azerbaijani rule; but Azerbaijani refugees must be allowed to return, and important sites like the ancient Karabakh capital—the mountain fortress city Shusha—must be given back (Interfax, October 28).
Azerbaijan's Armed Forces have performed a slow but steady deep flanking maneuver in the valley of the Aras River, north of the Iranian border, defeating the opposing Armenian forces and repelling attempted Armenian counterattacks to cut off the advancing armor pincer (see EDM, October 19). Azerbaijani military units have bypassed the main Armenian defense fortifications and now may attack the heart of "Artsakh" (Armenian name for Karabakh) from the unfortified rear. Azerbaijani armor is in the vicinity of Lachin, a strategic town on the main supply road from Armenia proper to Karabakh. The Yerevan-backed separatist Karabakh leader, Arayik Harutyunyan, has announced that Azerbaijani forces are only five kilometers from Shusha and called for "everyone" to defend the city: "Who controls Shusha controls Karabakh" (Interfax, October 29). Armenian defenses and morale may be collapsing. The Karabakh cause could be lost; and with it may fall Pashinyan, seen in Moscow as a Western "stooge" (see EDM, October 8). If that was, indeed, one of the Kremlin's key strategic objectives, Russian efforts to impose an overall ceasefire might suddenly become more effective once the Armenian prime minister is replaced.