Russian Advances in the Gulf
Publication: Eurasia Daily Monitor Volume: 14 Issue: 31
By: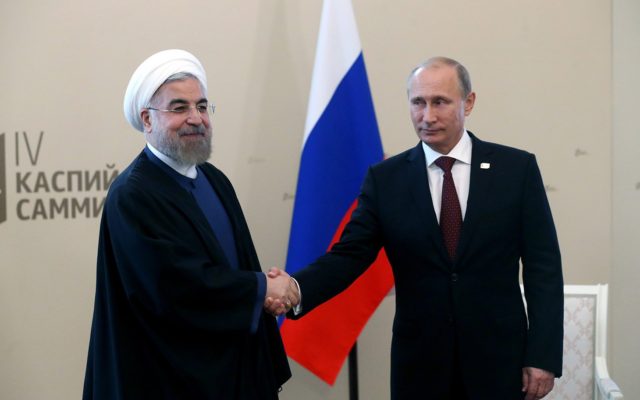 All too often, Russian policy in the Middle East is perceived as tied mainly or exclusively to Syria and its ongoing civil war. But in fact, Moscow has long sought to expand its influence across the entire region; its intervention in Syria, in turn, has greatly heightened Russia's ability and willingness to conduct that regional policy. That said, there has been relatively little foreign recognition of the country's actual advances into the Gulf to date, even though Moscow has all along been using the traditional instruments of Russian diplomacy: arms sales, energy deals, clever and persistent diplomacy and, of course, force or the threat of its use.
Iran, as a major player in the Gulf region, has been a key target of the Russian government's efforts to expand Moscow's regional influence. The two countries are supposedly closely cooperating to combat terrorism and narcotics in order to strengthen stability from the Caspian to North Africa. According to Russian foreign ministry spokesperson Maria Zakharova, energy and arms sales are also promising avenues of cooperation, and bilateral relations have risen "to an unprecedented level and have become more intensive and busy than ever" (Mid.ru, March 2). Meanwhile Russian planes are still using Iran's airspace for their attacks in Syria (Fars News Agency, February 11). In addition, Moscow has sold Tehran almost $1 billion worth of the S-300 surface-to-air missile (SAM) system, which Iran has now apparently successfully tested (TASS, March 4).
But the diplomatic offensive in the Gulf hardly ends with the Islamic Republic. Notably, Russia is also moving jointly with the United Arab Emirates to develop a fifth-generation fighter based on the MiG-29 (The Moscow Times, February 27). Russia is also considering Iraq's request for arms, according to Sputnik (Sputnik News, February 21).
Russia's regional aim has always been to secure leverage against every player in the Middle East. Hence, Moscow is also making sure it retains a lever by which to influence the Iraqi Kurds, which the Kremlin may view as a useful instruments by which to pressure either Baghdad or Ankara. Thus Rosneft and the Kurdistan Regional Government (KRG) recently announced a broad energy agreement, which notably includes Rosneft's purchase of KRG crude oil through 2019 (Rosneft.com, February 21). For the KRG, this deal provides it with expanded access to international markets and may allow Erbil to expand its political authority at Baghdad's expense. For Moscow, in turn, the deal offers an effective instrument of leverage upon both the Iraqi government and the KRG as well as an added instrument of political pressure vis-à-vis Turkey.
Moscow fully intends to employ its growing leverage in Gulf politics and has been testing the current extent of its regional influence. For example, Russian deputy speaker of the State Duma, Sergei Baburin, stated, in February 2017, that continued shows of hostility toward Iran by the Arab Gulf states would be harmful to them. Baburin claimed that their charges about Iranian interference in Yemen were "unfounded." He also alleged that the West was generating Iranophobia to gain influence and sell weapons to the other Gulf states. Finally, he claimed that some countries in the Gulf provide terrorists and extremists with support to achieve their geopolitical objectives (Tehran Times, February 26).
It is clear what Moscow is up to and what it gains based on such activities. Specifically, Russia seeks to forge ties with every Gulf state to gain leverage over their policies and to remind them that Moscow could generate many problems for them if they obstruct Russian pursuits. Thus, Moscow continues to press the Organization of the Petroleum Exporting Countries (OPEC) to produce less oil and raise prices (WorldOil, March 8, 2017; see EDM, October 3, 2016; November 29, 2016). Moreover, Russia puts pressure on the Saudis and Qataris to stop supporting the armed opposition to Bashar al-Assad in Syria. It also looks for energy deals as well as arms sales, as discussed above, to provide a backdoor means of financing Russian activities that circumvent Western sanctions, which have been obstructing its economic development. Illustratively, Qatar has been prevailed upon to invest $5 billion in Rosneft. The Qatar Investment Authority's actions have as much to do with geopolitics as economics: Given Russian pressure, Qatar is hedging its bets, but by doing so it materially aids or validates Russian efforts to circumvent the sanctions (The Globalist, January 22). These same tactics apply to countries as far from Russia as Yemen. Notably, in 2016, Russia's charge d'affairs Oleg Drenov, endorsed the pro-Iranian and anti-Saudi Houthi government in Yemen (Middle East Monitor, August 19, 2016).
These are only a few examples of the overall large-scale Middle Eastern game that Russia has been playing with increased vigor ever since it intervened in Syria in 2015. So while Moscow acts to impose some sort of legitimate order and authority in Syria, it is important to understand that stabilizing that war-torn country by preserving or installing a pro-Russian government is not an end in itself for the Kremlin. Rather, this is only part of a far broader regional objective that Moscow—for all its current debilities—is working steadily to impose in the absence of any kind of coherent Western or US policy.