Russian Air Force Chief Confirms S-300 Deployment in Abkhazia
Publication: Eurasia Daily Monitor Volume: 7 Issue: 156
By: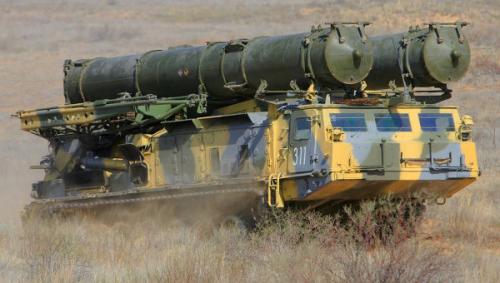 The choking smog and smoke from wildfires left Moscow on August 10, but may return at the weekend, as weather forecasters predict a change in the wind direction from the east, where the fires continue to burn. The heat wave that has engulfed most of European Russia for more than a month continues unabated. The death rate in Moscow last month, grew twofold, apparently caused by the heat and smog. Normally, some 350-380 Muscovites die of natural causes daily, but in July 2010, according to local medical authorities, it has averaged 700. The capabilities of Moscow's city morgues and communal services are reportedly stretched to the limit (Interfax, August 10).
Most hospitals, including psychiatric wards, have no air-conditioning equipment. Doctors hang wet linen on windows to reduce temperatures. In Moscow's neurological hospital for children, No. 32, doctors say they are using bottles of ice to try to cool infant patients of less than one year old (Interfax, August 11).
Firefighters of the militarized emergency situations ministry (MChS) are being supported in the burning forests by defense and interior ministry conscript soldiers. Many Russians want to volunteer to help fight the flames, the MChS acknowledges it needs help, but the authorities have failed to effectively organize the volunteers (Vedomosti, August 10). Official firefighters in turn, seem badly organized and equipped. As fires are extinguished in one locality, dangerous blazes develop in other regions. Wildfires continue to threaten nuclear arms development and production facilities in the closed nuclear city of Sarov (Arzamas-16), east of Moscow, and Snezhinsk (Chelyabinsk-70), in the Urals (RIA Novosti, August 9). Wildfires have reached forests in the Bryansk region that were contaminated with radioactive isotopes after the Chernobyl nuclear power station reactor explosion in 1986. Some of the Chernobyl radioactive material may become airborne and possibly reach Moscow, though even in a worst case scenario the level of fallout would be low (Interfax, August 11). Because of wildfires raging near Kolomna, 100 kilometers (km) south-east of Moscow, testing and developing of the Iskander short-range precision-guided ballistic missile have been halted in the defense industry Kolomna Machine-Building Construction Bureau (Interfax, August 10).
The crisis is unnerving the Russian elite, as the popularity ratings of Russia's ruling duet of President, Dmitry Medvedev, and Prime Minister, Vladimir Putin, are reportedly at an all-time low (Vedomosti, August 10). The Kremlin has, in turn, accused regional officials of negligence. Medvedev has sacked and reprimanded naval chiefs (EDM, August 5). Meanwhile, Medvedev declared that it is unacceptable to use the present natural disaster to promote opposition political agendas: it is clearly what the Kremlin most fears (Interfax, August 9).
Russia's chief weather forecaster, the head of Rosgidromet, Alexander Frolov, proclaimed the present heat wave as "the worst since our nation appeared a thousand years ago" (Interfax, August 9). The second anniversary of Russia's invasion of Georgia on August 8, 2008 passed without much public notice. Suddenly, yesterday (August 11) Russia's Air Force Commander-in-Chief, Colonel-General Alexander Zelin, announced at a press conference in Moscow that S-300 anti-aircraft missiles have been deployed in breakaway Abkhazia, which Moscow recognized as independent in August 2008. The S-300's belongs to the air force and is deployed only in Abkhazia (not in South Ossetia). Other anti-aircraft systems belonging to the Russian army are deployed in Abkhazia in combination with the S-300, and in South Ossetia (Interfax, August 11).
The Abkhaz Foreign Minister, Maxim Gvindzhiya, at first told reporters there were no S-300's in Abkhazia, but later on the same day, together with the Abkhaz Prime Minister, Sergei Shamba, the deployment was acknowledged. According to Gvindzhiya, the missiles were deployed in accordance with agreements on military cooperation and basing of Russian troops signed in September 2009 and February 2010 respectively, "to counter threats from Georgia and nations that support it." The Georgian government deplored the deployment of S-300's on its sovereign territory (RIA Novosti, August 11).
In fact, the S-300's were deployed almost two years before, in November 2008, when Abkhazia became part of Russia's joint air defense system. A regiment of Soviet-made S-300PS that was in reserve in the Moscow region was moved to Abkhazia, together with additional air-control radars. The S-300 is a strategic air defense system and the regiment was deployed to defend the only "strategic" points in Abkhazia: the Gudauta airbase that is now the headquarters of the local Russian armed forces and the Sukhumi civilian airport (50 km south of Gudauta at Dranda). Sukhumi is also the main Russian military airbase (Mikhail Barabanov, Anton Lavrov, Viacheslav Tseluiko, Tanki Augusta: Sbornik statei Moscow: Tsentr Analiza Strategii i tekhnologii, 2009, https://www.cast.ru/comments/?id=351). Shamba acknowledged the S-300's were stationed a long time ago "when the defenses were deployed" (RIA Novosti, August 11).
The old pre-digital S-300PS has an effective range of 90 km. At its present point of deployment it cannot reach Georgian-controlled territory south of the Inguri River and also cannot cover Sochi, where Russia is preparing to hold the Winter Olympics in 2014. The S-300's in Abkhazia have little, if any, effect on the overall military balance in the region. More significantly, army Osa, Tunguska and Shilka anti-aircraft systems are deployed close to the ceasefire line at the Inguri River. The S-300PS is not against Georgia per se, since this nation has a very small air force of several Su-25 attack jets and helicopters. The Georgians have some Israeli-made unmanned aerial vehicles (UAV's), but the S-300PS is not designed to hit such targets with an extremely low radar signature. The sole function of the S-300's in Abkhazia seems to be a forward defense against the US and NATO, if they intervene in any future Russo-Georgian conflict or attack Russia from the south.
Why did Zelin suddenly announced this week a deployment made in November 2008 that everyone truly concerned already knew about? Maybe, this was an attempt to divert public attention from the real wildfire of political problems engulfing Russia?