Russian Arms Production for Q1 2023
Publication: Eurasia Daily Monitor Volume: 20 Issue: 77
By: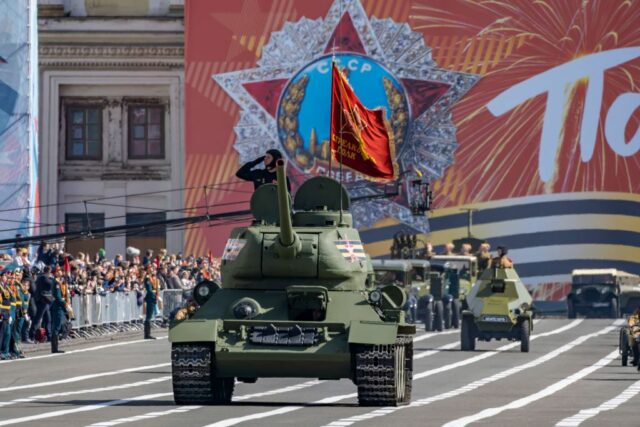 The published Pentagon's leaks in April 2023 coupled with additional evidence of the growing deficit in arms for the Russian Armed Forces, from the pathetic Victory Day's parade on Red Square to the confirmation of arms supplies being delivered from Iran and South Africa in recent months, testify that Russia may be weaker in terms of military power than was earlier estimated (The Moscow Times, April 11; Russiamatters.org, May 5; Kremlin.ru, May 9; News24.com, May 11). And Ukraine is keen to take advantage this growing weakness with its forthcoming counteroffensive, though President Volodymyr Zelenskyy recently declared that Ukrainian forces "need more time" to prepare operations (BBC News Russian, May 11).
Nevertheless, the new portion of industrial statistics demonstrates that Moscow is struggling hard to find solutions to this deficit. However, these efforts are discussed and realized mostly in a "manual mode" by senior government officials who are responsible for manufacturing planning and control, rather than the managers of state-owned corporations, who are sometimes not even invited to the government meetings related to finding solutions to the problems plaguing arms manufacturing in Russia (Rosstat.gov.ru, April 26; Government.ru, April 26).
In this way, the manufacturing output index, counted as the amount of produced goods valued in prices of a certain year and divided by the amount of the same goods produced in that same year expressed in percentages, as compared to the same period of the previous year in industries related to arms manufacturing, demonstrates positive dynamics for the first fiscal quarter of 2023 (Rosstat.gov.ru, April 26). The only exception here is the manufacturing of chemical materials and chemical products:
| | | | | | | |
| --- | --- | --- | --- | --- | --- | --- |
| | Q1 2023 | Q1 2022 | Q1 2021 | Q1 2020 | Q1 2019 | Q1 2018 |
| Chemical Materials and Chemical Products | 96.4 | 103.4 | 106.7 | 106.7 | 101.6 | 102.1 |
| Computers and Electronic and Optical Devices | 116.7 | 112.2 | 110.3 | 117.6 | 101.1 | 88.4 |
| Fabricated Metal Products, Except Machinery and Equipment | 123.5 | 114.7 | 92.7 | 107 | 104.6 | 106.9 |
| Other Transportation Vehicles and Equipment | 115.7 | 98.4 | 120.7 | 87.3 | 75.2 | 104.8 |
As a result, the manufacturing output index in the first quarter of 2023 compared to the first quarter of 2018 was as follows:
Chemical Materials and Chemical Products⸺115.3 percent
Computers and Electronic and Optical Devices⸺171.7 percent
Fabricated Metal Products, Except Machinery and Equipment (e.g., artillery rounds)⸺147 percent
Other Transportation Vehicles and Equipment (e.g., tanks, armored vehicles, civilian and military aircrafts, warships, locomotives and railway cars)⸺90.2 percent
Yet, despite these seemingly impressive numbers, the methodology for calculating the manufacturing output index in Russia relies on the Laspeyres Price Index, in which the physical amount of products is valued in prices of a specific reference period (e.g., 2018) and not represented as that amount actually stands in reality. Consequently, the real dynamics of Russian manufacturing in industries related to the military sector may differ and be lower than the index shows. For instance, a recent development that underlines Russia's troubles with arms manufacturing has been the re-deployment of the Soviet-era main battle tanks, T-54s/55s and T-62s, on the battlefield in Ukraine, as the tanks themselves are meant to serve as replacements for artillery (Rg.ru, April 14; News.ru, April 19). At the same time, the dynamic in this capacity will become clearer later this year, when (and if) new statistical data related to arms manufacturing in Russia will be published.
However, one can access published fragments of data from the annual report of the Russian state-owned corporation Rostec. Its consolidated revenue was 2.115 trillion rubles ($27.47 billion) in 2022 as compared to 2.064 trillion rubles ($26.81 billion) in 2021 and 1.878 trillion rubles ($24.39 billion) in 2020. And its earnings before interest, taxes, depreciation and amortization was 220 billion rubles ($2.86 billion) in 2022 as compared to 335 billion rubles ($4.35 billion) in 2021 and 283 billion rubles ($3.68 billion) in 2020. These numbers reveal the fact that the major Russian arms manufacturer faces a significant increase in costs without a significant increase in manufacturing rates. Additionally, Rostec employed 30,000 new workers and engineers in 2022, and this number includes workers in arms manufacturing as workers in civil goods production. And even if there is no information regarding how many employees retired from the corporation that same year, these new employees account for only 5 percent of the more than 591,000 personnel employed at Rostec, which represents more than a quarter of all personnel in the Russian military-industrial complex. Briefly speaking, it is impossible to say that Rostec was able to increase its personnel significantly and that it was respectively able to significantly increase its arms production rates—which seems to be a growing trend in Russia's defense industry writ large (Government.ru, May 5; Rostec.ru, May 5; Rspp.ru, April 21, 2022).
Therefore, despite the reporting of rosy statistics, Russia's strategy to increase the rate of arms manufacturing in the country has hardly produced any sustainable results as of yet. Nevertheless, Moscow will continue its efforts in this field to maintain its positions and reinforce its forces on the frontlines in Ukraine, especially considering the fact that Russia still possesses the material and financial resources to do so.