Russian Authorities Reveal Active Dislike for Supporters of Natalya Estemirova
Publication: Eurasia Daily Monitor Volume: 6 Issue: 147
By: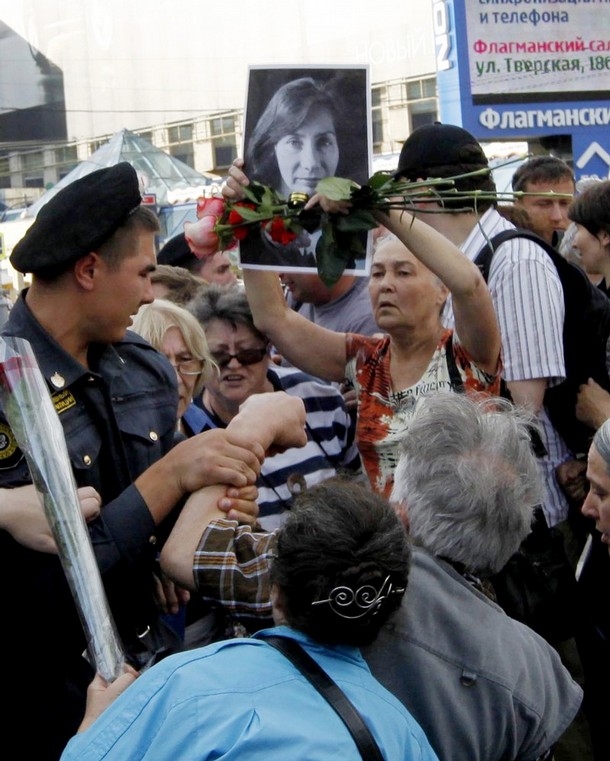 The initial condemnation of the murder of the Chechen human rights activist Natalya Estemirova on July 15 was contrary to the muted reaction that Russian authorities had previously displayed in similar cases. President Dmitry Medvedev not only acknowledged that Estemirova was killed because of her professional activities and endorsed her human rights activism, but he also vowed that the authorities would find the perpetrators of the crime. The promising beginning, however, was soon marred by the authorities' actions. Medvedev dismissed the possibility of Ramzan Kadyrov being involved in the crime (www.newsru.com, July 16). Medvedev's remarks meant that Kadyrov was automatically cleared of all suspicion, whatever the facts on the ground might prove to be.
As the reaction to Estemirova's murder was gradually fading, the authorities indicated increasing annoyance with her colleagues and supporters. The Moscow police tolerated a gathering for an hour and a half on July 16 to commemorate the rights activists' death (Caucasian Knot, July 16). One week later the police in Moscow dispersed a small gathering, which demanded a proper investigation into her murder in what was described as a fairly rough manner (Ekho Moskvy Radio, July 23).
Several people were even briefly detained in local police stations. The reason for this suppression was allegedly connected to the organizers of the gathering having exceeded the number of participants by an insignificant margin. Unidentified armed individuals tried to prevent the funeral procession in Grozny on the very day of Estemirova's murder (Caucasian Knot, July 17).
While conveying the message that justice would be done in the case, the Russian authorities indicated that they are against any involvement of international investigators' teams. Several U.N. agencies offered to help the Russian government with the investigation of the killing. One of the seven U.N. investigators Manfred Nowak said in an interview for the BBC, that many human rights activists fear for their lives in Russia and that they should not carry on like that. Nowak said, he had wanted to visit the Northern Caucasus for the past three years, but the Russian authorities had shown little interest in his visit. Meanwhile, the Russian foreign ministry ruled out any possibility of an independent international probe into Estemirova's murder, saying, that Russian legislation does not allow it (Interfax, July 26). Civil organizations from Chechnya, Ingushetia and Moscow joined efforts in an attempt to investigate Estemirova's killing, but it remains unclear how they will do it, without having any official status and access to relevant information (Caucasian Knot, July 20).
Sources in the Chechen police reported that Estemirova was killed within two hours after she was kidnapped. This means, that the kidnappers killed her immediately after they crossed the administrative border into Ingushetia and they most naturally had no intention of keeping her alive. Such a quick transfer of the victim from Grozny to Ingushetia likely meant that her kidnappers had official documents which allowed them to safely pass multiple checkpoints in the region (Caucasian Knot, July 20).
Official statements by the police sound optimistic concerning the prospects for the case. One source in the Southern Federal District, of which Chechnya is a part, stated that the police had identified a group of suspects (RIA-Novosti, July 22), However, experts doubt that Estemirova's murder will be solved. Svetlana Gannushkina, Estemirova's colleague in the human rights center Memorial said that she did not believe the true perpetrators and benefactors of the murder would be found (Autonews, July 27). Estemirova's colleague, the journalist Anna Politkovskaya was killed in 2006 in Moscow, but that crime has also not been solved.
Meanwhile, Memorial still suspects that the ruler of Chechnya Ramzan Kadyrov had a part to play in Estemirova's murder. It became widely known, that Estemirova had to flee Chechnya in 2008 following threats of reprisals made by Kadyrov. Leading Russian human rights activists addressed president Medvedev with a petition asking him to suspend Ramzan Kadyrov from his post, while the investigation proceeds. The signatories said that under the present conditions of Kadyrov's control over all governmental bodies a proper investigation is impossible. Kadyrov retaliated by using rhetoric that normally appeals to Moscow, but still sounded quite awkward. The Speaker of the Chechen Parliament Dukvakha Abdurakhmanov stated that Russian rights activists' demands represent the geopolitical interests of the western countries, who fund their activities (Caucasian Knot, July 28).
Whether Kadyrov is implicated in the murder or not few experts envisage the possibility of his dismissal. The Kremlin pretends it does not see any problem, but commentators in and outside of Russia have become increasingly aware of the Kremlin's dependence on Kadyrov. The desire to pretend that the problem of Chechen separatism has been solved means that Moscow is not only ready to forgive him practically everything, but also cannot afford to get rid of him.
Of course, Kadyrov is also very convenient for Moscow in many respects, not least in convincing possible Chechen independence supporters that Chechens are an inherently violent and unruly people who can only be governed with an iron fist. However, the problem with Kadyrov is that as Moscow becomes dependent on him, his actions will inevitably expand and it is only a matter of time, as to when Kadyrov's ambitions become too unbearable either to Moscow or to the neighboring North Caucasus republics.