Skype and ICQ Face Ban in Russia
Publication: Eurasia Daily Monitor Volume: 6 Issue: 147
By: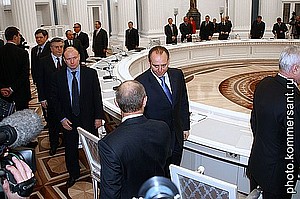 When the Russian state initiates an executive order to inspect citizens' mail (EDM, July 21), it is the regime's idea of business as usual. However, when big business initiates harsh legislation to ban foreign competition and invokes national security as the rationale, it might seem rather an unusual business practice elsewhere, except in Russia. On July 21, the Russian Union of Industrialists and Entrepreneurs (RSPP), the country's main big business lobbyist, colloquially known as the "Oligarchs' Trade Union," proposed a crack down on internet service providers (ISP's). More specifically, the RSPP made a strong case for the Russian state to crackdown on telephone calls made through ISP's such as Skype and Zebra Telecom, or ban them altogether, since they cannot be wiretapped (www.rspp.ru, July 21).
The RSPP's commission on telecommunications and information technologies held hearings on the development of ISP's in Russia. Typically, it was the cellular giants MegaFon and Transtelecom, a federal fiber-optics network operator -the two structures that seek to dominate this particular domestic market- who presented the key-note report on the issue. Both harshly targeted their main foreign competitors: Skype and Zebra Telecom.
MegaPhone's First Deputy General Manager Valery Yermakov argued that these ISP's represent a threat to national security, because callers could not be identified, unlike with fixed-line and cellular calls. He emphasized that Skype was not connected to the System for Investigations and Field Operations (SORM), the electronic monitoring system, launched by the Russian security services in 2000 to eavesdrop and monitor electronic communication lines (by the ministry of communications decree 130, rather than by any legislative act). MegaFon and Transtelecom officials also told the RSPP telecommunications commission that this might account for 40 percent of all voice traffic by 2012 if they are not subject to tougher regulation or banned altogether (www.rspp.ru, July 21).
That spells considerable monetary losses for the Russian giant telecommunications providers such as MegaPhone and Transtrelecom (and to the high ranking state officials who stand behind them). Transtelecom Senior Vice-President Vitaly Kotov told the RSPP panel that if ISP's provided international and domestic telephone services in Russia in 2008, the monetary volume of the market would have declined by some 10 to 15 times from $2.6 billion to $0.26 billion (www.rspp.ru, July 21).
"Most market brands, such as Skype and ICQ, are foreign, and that is why we have to protect the domestic producer in this sphere," the RSPP's panel said in its summing up statement. The RSPP argued that the security services in many European countries were unhappy with Skype, as they could not wiretap it, but admitted that no country had yet attempted launching legislation on these telephone services. The RSPP then called on the Russian government "to identify the legal status of this technology" and to "formalize relations" between the state, Russian businesses and "this phenomenon" (www.rspp.ru, July 21).
Indeed, Skype, launched back in September 2003 by Estonian programers and bought in 2005 for $2.6 billion by eBay, based in San Jose, California, provides free computer to computer voice and video calls and charges low rates for calls from computers to landline or cell phones. It is an efficient and inexpensive service as millions of consumers across the globe can now confirm. However, what is good for the consumer is anathema and spells disaster to Russian monopolists. Numerous Russian experts express the view that it is only the specter of momentous financial losses that compels the RSPP to be so concerned about "a threat to Russian national security."
"Experts are convinced that Russian companies are simply seeking to stop the outflow of traffic from them," maintains the Moscow-based Gazeta daily. "Operators do not want traffic to flow to these ISP's," suggested Alexei Danilin, an analyst in the Comnews research group. "No other cause for concern exists," he emphasized (www.gazeta.ru, July 24).
The Moscow Times said that this is not the first instance of such technology coming under attack in Russia (Moscow Times, July 24). "In 2006, the state fixed-line provider Rostelecom and other large telecommunications companies successfully lobbied for a law that forced ISP's to pay for the use of fixed-line networks," explained Konstantin Ankilov, the projects director with IKS consulting, which advises the industry. "The extra costs were handed on to customers, but calls with calling cards like Zebra, OSS Telecom and Arktel still costs 30 to 40 percent less than fixed-line operators," Ankilov said. "The cellular companies are the ones who care more about this expansion now, because the expansion of mobile communications and computer technologies goes hand in hand. So computer programs like Skype or ICQ are a significant challenge to cellular traffic," he said (Moscow Times, July 24).
Meanwhile, the RSPP struck an agreement with lawmakers from the ruling United Russia party, in which Vladimir Putin is chairman, to form a panel that will jointly draft legislative proposals to enable the state to regulate these telephone services (www.rspp.ru, July 21). There hardly remains any doubt that a joint effort by the Putin-led United Russia and the RSPP will lead to legislation satisfying to the Kremlin, as well as big business interests in Russia. All this seems likely to occur at the expense of the Russian consumer.