Russian Combat Training Intensifies in Southern Military District
Publication: Eurasia Daily Monitor Volume: 11 Issue: 31
By: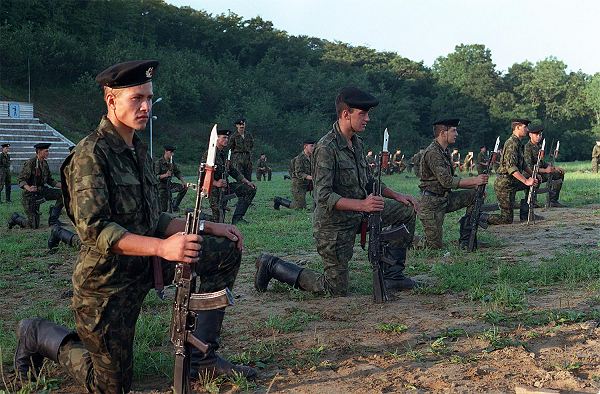 According to the leadership of Russia's Ministry of Defense, combat training is intensifying in the Armed Forces, and in particular this trend is most notable in the Southern Military District (MD). It appears that changes to combat training and increases in the numbers of contract personnel are allowing experiments to serve as a possible model for other MDs; in the future, the defense ministry wants high-tech simulators at key training facilities to become a driving force toward producing and training a modern force (Interfax, February 14).
A recent article in the defense ministry publication Krasnaya Zvezda highlighted advances in combat training in the Southern MD, though it offered no comment on the security situation in the North Caucasus or the supporting role played by the military in Sochi. MD commanders stated that in 2013 there were 1,008 live firing exercises, 414 involving platoons, 112 company-level tactical exercises, 16 at battalion level, and 10 command post exercises; the overall increase in combat training events year-on-year was 13 percent. Combat training plans for 2014 suggest that the target is to further intensify training by 34 percent and will witness a five-fold increase in the use of live ammunition. Live firing and night exercises are key areas in which training levels have grown. Bilateral military cooperation is also a feature of this, with mountain warfare training being conducted with units from Italy. This year, joint exercises will be conducted with France, Italy and India (Krasnaya Zvezda, February 12).
Commanders also report that the numbers of contract personnel (kontraktniki) are continuing to grow and that training these recruits differs from the approach used for conscripts. In September 2013, the defense ministry issued new unpublished guidelines on training kontraktniki: "Guidelines for the training of sergeants and soldiers performing military service under the contract." This document also apparently calibrates the new training methods to take account of the arrival of modern weapons and equipment within the units, with some units in the Southern MD being allegedly entirely manned by contract personnel (Krasnaya Zvezda, February 12).
In his report to the defense ministry collegium earlier this month, the chief of the General Staff, Army-General Valery Gerasimov, noted that the overall figure for kontraktniki serving in the military had reached 226,000. The original target figure of 425,000 by 2017 was revised in December 2013 to 499,200, and the defense ministry expresses confidence that these goals will be met. Gerasimov also stated that the routine of "snap inspections" continues unabated, with 69 units and formations tested in this way in January 2014; though he fails to explain any link between this Cold War method of testing combat readiness and pursuing a modern military force. However, on the issue of raising standards and intensifying combat training, Gerasimov places great emphasis on the introduction of 3D combat training simulators. The first of its kind will open in Mulino in the Western MD by December this year, and a similar facility is being built at Ashuluk in the Southern MD, which is planned to become operational in 2015. By 2017, according to Gerasimov, each of Russia's four MDs will host such advanced training centers (Krasnaya Zvezda, February 14).
Mulino, in Defense Minister Sergei Shoigu's opinion, will serve as a fully inter-service training center allowing units from a wide range of branches and arms of service to conduct advanced simulated training. "This will provide an opportunity to substantially increase the effectiveness of command-and-control units and organizations, and also to provide for training for the fulfillment of tasks by troop formations in as close as possible to combat situations," Shoigu told a recent teleconferenced meeting in the defense ministry. First Deputy Defense Minister Arkadiy Bakhin explained the idea of the future seven-week training of servicemen at Mulino: "We are creating a model for a military unit, regardless of whether it is an airborne assault brigade or naval infantry, or an infantry brigade. It will not seem important for a naval infantry brigade that they are located in Nizhniy Novgorod Region. A model of the maritime military theatres in which they operate will be realistically created" (Rossiyskaya Gazeta, February 5).
Mulino will be equipped with domestically produced simulation systems, to create a realistic picture of the battlefield in 3D format. In reality, without German technology this would be impossible. More than 700 soldiers can simultaneously be trained in the center using laser firing simulators, testing "firings" in real-time, as well as the use of artillery from concealed positions. This center will serve as an experimental model for developing the simulator-based training infrastructure in all MDs by 2017 (Rossiyskaya Gazeta, February 5).
The commander of the Southern MD, Colonel-General Alexander Galkin, claims that more weapons and equipment are arriving in his units. Galkin said that the annual delivery plan for the modernization of the weapons and equipment inventory was fulfilled in 2013 by 87 percent. Units in the Southern MD received new BTR-82AM, the operational-tactical missile complex "Iskander-M," self-propelled artillery "MSTA-S," as well as anti-tank systems (Krasnaya Zvezda, February 14). On February 12, NTV broadcast images of military drivers of armored vehicles wearing new protective clothing; the special suits are designed to protect drivers from fire or shrapnel. The crews of five tracked armored vehicles, at an undisclosed training range in the republic of Adygea, were shown testing the new equipment (NTV, February 12).
Although there have been advances in the overall number of kontraktniki and an intensifying of combat training, it remains unclear how the contract personnel are being trained or what the defense ministry plans to do to develop an adequate non-commissioned officer (NCO) cadre. Moscow is very proud of the plans to utilize high-technology simulator-based training, but they will need to wait until 2017 for this to operate across the country and resolve the problem of how this can benefit the small number of newly reformed divisions within the Armed Forces. As the numbers of kontraktniki rise, the problem of building a proper NCO cadre will present fresh challenges for the defense ministry leadership. Meanwhile, Shoigu and Gerasimov pretend that using "snap inspections" can raise combat readiness; while, in fact, it only serves to show that commanders do not know their men and units particularly well. This is unsurprising in a system that still sees much of its manpower vanish every six months as the twelve-month conscripts enter and leave their units.