Russian Consul General to Crimea Resigns Following Offensive Comments About Crimean Tatar Deportation
Publication: Eurasia Daily Monitor Volume: 10 Issue: 106
By: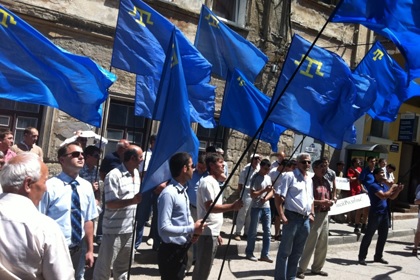 Following a week of protests over his offensive and defamatory statements about the May 18, 1944 deportation of Crimean Tatars, Vladimir Andreev, the Russian consul general in Simferopol, Crimea, Ukraine, resigned from his post on May 25, 2013. These events were provoked by Andreev's response to the first film ever made by a Crimean Tatar filmmaker, Ahtem Seidablaev titled, Haytarma (Return), which premiered in Simferopol on May 17 (https://www.youtube.com/watch?v=4wlH3rclkmA). Haytarma depicts the life of Amet Han Sultan, a well-known World War II-era Soviet pilot and twice the hero of the Soviet Union, against the background of the mass deportation of Tatars from Crimea.
Many distinguished guests attended the film's premier. A delegation of WWII officers from Russia also came to Crimea to view the film's showing, but Andreev advised them not to attend because, in his words, "The film did not reflect the mass betrayal of the Crimean Tatar people during the Great Patriotic War [WWII]"
(https://an.crimea.ua/news/articles/materiali/genkonsul-andreev–krimskie-tatari/). Eventually, all but one of these veterans ended up abstaining.
On May 21, Andreev was interviewed on the TV program Gravitatsia (Gravitation), which airs on the Crimean channel ATR. He told the reporter that he did not have time to watch Seidablaev's film, but declared his certainty that Crimean Tatars falsified the history to cover up their mass betrayal. He added, "The Russian delegation could not have been present at this premiere [of Haytarma], which distorts the truth about the Great Patriotic War" (https://www.inosmi.ru/sngbaltia/20130524/209311975.html). He further stated that Seidablaev's film invited a cover up of "the historical truth, justifying and forgiving the betrayal of Crimean Tatars during WWII" (https://www.novayagazeta.ru/comments/58295.html). When the reporter rebuked Andreev for humiliating the national dignity of Crimean Tatars on television, the Russian diplomat blurted out: "Did I say something new; something that that people already did not know? Everything I said today is the official truth. This truth needs to be known. The topic of this film should not have been the Great Patriotic War; it is the theme of betrayal" (https://an.crimea.ua/page/articles/40021/).
The next day, a large group of Crimean Tatars started picketing in front of the Russian Consulate in Simferopol, demanding that Andreev resign from his post and leave Crimea as soon as possible. Meanwhile, the head of the Qurultai-Rukh faction in the Crimean parliament and the first deputy of the Crimean Tatar Mejlis, Refat Chubarov, spoke in front of the Crimean parliament and suggested that Andreev needed to refresh his memory by reviewing the historical facts regarding the illegality of the Crimean Tatar deportation in May 1944 (https://an.crimea.ua/page/articles/40021/).
In particular, Chubarov listed the Supreme Soviet Presidium's 1967 decree "Number 493," which withdrew the charges of treason against the whole Crimean Tatar population; the November 1989 commission of the Soviet Union under Genadii Yanaev, which acknowledged the forced deportations of the Crimean Tatars as repressive, illegal and criminal; as well as the Organization for Security and Cooperation in Europe (OSCE) Parliamentary Assembly's resolution, adopted on July 3, 2009, in Vilnius, which equated Stalinism with Nazism for having committed genocide and crimes against humanity, and called for the international condemnation of these totalitarian regimes (www.oscepa.org/members/member…/261-vilnius-declaration-english).
Chubarov called on his fellow parliamentarians to join the protests in front of the Russian consulate on May 23 to pressure Moscow to remove Vladimir Andreev from his position (https://qha.com.ua/piketirovat-genkonsulstvo-budut-zavtra-v-11-00-126587.html). He also stated that he was going to write to the Ukrainian Security Service (SBU), and the representatives of the Ukrainian president in Crimea to make sure that they understand the severity of this event (https://an.crimea.ua/page/articles/40021/).
After Chubarov's speech in the parliament, Andreev responded through another interview, in which he stated: "You have to remember that during World War II, the Soviet Army stopped Fascism and saved the world from this ill ideology. But, betrayal is betrayal. We cannot say that Crimean Tatars did not betray the Soviet Union during WWII. Crimean Tatars betrayed the Soviet Army, the Soviet people and the Soviet Union en masse. Betrayal cannot be denied. Then, of course, they were deported. We cannot change or reject this fact; we cannot teach our children a falsified history" (https://an.crimea.ua/page/articles/40021/). He further added that films about WWII were important, but should be produced in Russia in order to be truly objective, and he suggested that some of these movies should also be produced to specifically point out the Crimean Tatars' "cooperation with the Nazi occupiers." Andeev also repeated, I did not watch [Seidablaev's] film, but I know it is based on falsified history because it was produced by Crimean Tatars; and therefore, I advised our veterans not to go and watch [Haytarma]."
These statements further angered Crimean Tatars, who continued to peacefully protest in front of the Russian consulate on May 23 and 24, carrying banners: "Descendants of NKVD [early Soviet-era secret police, forerunner of the KGB]! Get out of our country." They also left bags of eggs in front of the gate, saying that Andreev should be grateful they were not thrown in his face (https://glavred.info/politika/krymskie-tatary-potrebovali-deportirovat-genkonsula-rossii-250535.html). For 24 hours, the picketers shouted, "Luggage, train station, Moscow!" and "Amet Han—hero! Andreev—coward!" (https://www.youtube.com/watch?v=1cxsK7CCoOA).
On May 24, Ukraine's foreign ministry asked the Russian authorities to evaluate Andreev's statements. They also talked to the senior advisor of the Russian embassy in Ukraine, Vladimir Likhachev, who acknowledged that Andreev's speech was incorrect and without proper sensitivity to the issue of deportation (https://zn.ua/POLITICS/oskorbivshiy-krymskih-tatar-genkonsul-rossii-obyavil-o-svoey-otstavke-122807_.html).
The following day, Andreev officially resigned from his post. Yet, he declared he meant every word of his proclamation about the Crimean Tatars, noting that his resignation was not based on Crimean Tatar protests but on his principles and on the disgraceful comments of the Russian foreign ministry, which was unsupportive of his position (https://khpg.org/index.php?id=1369433996).
While putting his affairs in order before his departure from Crimea, on May 26, Andreev was awarded the title of "Honorary Member of the Russian Community of Crimea" (https://lb.ua/news/2013/05/26/201573_skandalnomu_genkonsulu_rf_krimu.html). The Russian Community of Crimea's chairperson is Sergei Tsekov, who simultaneously holds regional government positions as chairman of the Permanent Commission on Culture of the Crimean Supreme Council, deputy of the Crimean parliament, and vice president of the Crimean republican branch of the Political Party "Russian Unity." In other words, even though Andreev is making his plans to leave, certain local groups and political actors that share his deep-rooted animosity against the Crimean Tatars still reign in Simferopol.