RUSSIAN DENIALS OF AIR RAID ON GEORGIA FLY IN THE FACE OF EVIDENCE
Publication: Eurasia Daily Monitor Volume: 4 Issue: 154
By: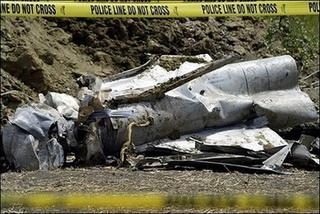 Two Sukhoi fighter-bombers with Russian Air Force markings, flying together from the direction of North Ossetia, intruded by some 80 kilometers into Georgia's air space on August 6. At 18:20 local time, one of these planes dived from 3,000 meters altitude and dropped a missile near the town of Gori, some 50-60 kilometers from Tbilisi, on a village within the so-called "Georgian-South Ossetian conflict zone."
The powerful missile with 78 kilograms of TNT landed in a field, failed to explode, and was defused by Georgian military sappers. Georgian Defense Ministry radars and those of Georgia's civil aviation authority recorded the flight itinerary from and back to Russia's North Ossetia. The village, Tsitelubani, is within sight of Russian and South Ossetian "peacekeeping" troops' posts.
This incident follows in the footsteps of the Russian air raid on the Georgian-controlled Kodori Gorge in upper Abkhazia on March 11 (see EDM, March 19, 20). The United Nations led the investigation into that incident, dragged its feet as long as it could, and published the results in July, whitewashing Russia, despite the clear evidence of Russian culpability. The fresh whitewash almost certainly emboldened the Russian military into recidivism, further probing and testing Georgian and Western reactions.
The missile drop near Gori might possibly have been accidental. However, this hypothesis is undermined by Moscow's vehement denials that the flight happened at all. Russia's Deputy Minister and State Secretary for Foreign Affairs Grigory Karasin, the Air Force Deputy Commander-in-Chief Colonel-General Anatoly Nogovitsyn, Air Force Headquarters spokesman Colonel Alexander Drobyshevski (a veteran of this type of denials), and others denied in unison that any Russian air force planes had made any flights on that day in that area at all.
Consistent with a long-standing pattern, Karasin and others insinuated that Georgia had staged the violation of its own air space in order to discredit Russia. The ambassador in Tbilisi, Vyacheslav Kovalenko, "ruled out" the possibility of a Russian intrusion "because it would not be in Russia's interest." The logic underlying such denials has recently received the highest stamp of approval from President Vladimir Putin — albeit in a different type of situation — when Putin disclaimed any official complicity in journalist Anna Politkovskaya's assassination with the argument that it would not have been in Russia's interest.
Georgian President Mikheil Saakashvili inspected the site, accompanied by foreign diplomats accredited to Tbilisi. Saakashvili characterized this incident — in common with the one in upper Abkhazia — as not simply a Georgian problem, but a European security problem. Such incidents aim to derail positive political developments in Abkhazia and South Ossetia, where secessionist authorities are gradually losing ground. In a similar vein, Minister of Foreign Affairs Gela Bezhuashvili told the assembled foreign ambassadors in Tbilisi that such incidents are testing both Georgia and the international community. Thus, Russia is apparently checking the responses, before considering possibly more aggressive moves. Georgia calls for clear and firm responses in order to avert possible escalation of such incidents. Georgia's Deputy Defense Minister Batu Kutelia handed over the radar information to military attaches in Tbilisi.
Bezhuashvili telephoned the OSCE's chairman-in-office, Spanish Minister of Foreign Affairs Miguel Angel Moratinos, as well as the European Union's special representative for the South Caucasus, Peter Semneby, expressing Georgia's hope for appropriate reactions on the part of the OSCE and the EU. Both organizations had failed to criticize Russia's air raid on upper Abkhazia in March, then they hid behind the UN's evasive conclusions. As Georgia's state minister for conflict resolution, Davit Bakradze, concludes from the latest air raid, the international community has thus far failed to respond in a way that would deter further Russian raids.
Unlike Brussels, the Baltic states are not invoking the summer holiday as an alibi for silence on this (and other) issues. Presidents Valdas Adamkus of Lithuania and Toomas Ilves of Estonia both spoke with Saakashvili by telephone and issued statements calling for a speedy, thorough, objective international investigation. Ilves urged "the EU [Portuguese] presidency to take such incidents very seriously and not be as passive as the [German presidency] after the helicopter attack that hit Georgia in March." Adamkus instructed Minister of Foreign Affairs Petras Vaitiekunas — on an official visit to Washington at the moment — to raise the issue with the U.S. government. Vaitiekunas also telephoned his counterpart Bezhuashvili to express the support of states friendly to Georgia within the EU.
(Rustavi-2 Television, Interfax, BNS, August 7, 8)