Russian Electronic Warfare in Ukraine: Between Real and Imaginable
Publication: Eurasia Daily Monitor Volume: 14 Issue: 71
By: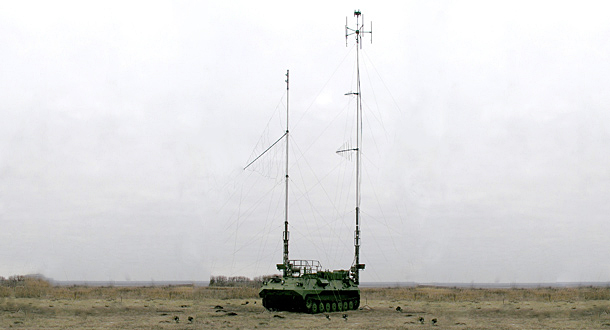 The outbreak of war in the Donbas region (April 2014) turned Ukraine into one of the main targets of Russian information warfare, information-psychological operations, as well as cyberattacks and electronic warfare. Within the past three years, Ukraine has been subjected to no less than 7,000 cyberattacks. Ukrainian cyber expert Sergey Radkevych recently claimed that "Ukraine is in a state of cyber war with Russia" and that Russian cyber activities pose an existential threat to Ukraine's national security (Sprotyv.info, May 5).
Furthermore, military clashes in Donbas have once again demonstrated that Russian military strategists and experts believe Electronic Warfare (EW) has become the backbone of "warfare of the future." Western sources have claimed that from December 2015, Russia started to act much more decisively aiming to "achieve kinetic effects by delivering severe blows to Ukrainian critical infrastructure" (Cna.org, March 2017). Namely, these activities included damaging/destroying command-and-control networks through jamming radio communications, hampering the work of radar systems, and muting GPS signals. The main obstacle, however, was in the lack of concrete proof and factual data pertaining to tools, gadgets and other means used by the Russians while waging EW against Ukraine. But thanks to independent investigations conducted by Ukrainian activists and cyber specialists, it is now possible to speak about Russian involvement in EW against Ukraine as an undisputed fact. And the data presented by the Ukrainians illuminates many points of ambiguity regarding Russia's use of EW in Donbas.
In this regard, it is possible to identify six noticeable means Russia has employed EW during the course of 2014–2017 (Informnapalm.org, May 2, 2016):
The RB-341В "Leer-3" complex is designed for jamming GSM (cellular) signals with the support of Orlan-10 unmanned aerial vehicles (UAV) and transmitting information. These up-to-date weapons systems were spotted near the city of Donetsk in May 2016.
The RB-301B "Borisoglebsk-2" complex is one of the most advanced systems of electronic suppression. It is designed for radio intelligence and jamming of HF/UHF (both terrestrial and aircraft) radio channels as well as mobile terminals and trunked radios at the tactical and operational-tactical command levels. It was introduced to the Russian armed forces in 2013 (even though it was created in 2009), when the first units were deployed to the territory of the Southern Military District (SMD). Later it was spotted in 2015 in the occupied Ukrainian city of Luhansk. Also, complexes of this type frequently appear near the Anti-Terrorism Operation (ATO—the Ukrainian military's term for its armed activities against Russia-backed separatist forces) zone. Some sources have claimed that this complex played a decisive role in the Battle of Debaltseve (January 2015), one of the heaviest defeats suffered by the Ukrainian Armed Forces to date.
The R-934UM automated jamming station was first spotted near Luhansk in 2015, where it was working together with an F-330KMA command unit. Previously, this station appeared near the eastern Ukrainian cities of Horlivka and Makiivka. Russian sources also admitted that this station "has been successfully employed in local military conflicts," but did not elaborate further (Protek-vrn.ru, accessed May 24).
Between 2015 and 2016, the R-330Zh "Zhitel" automated jamming station was spotted in Horlivka, Makiivka and Zaytsevo. This system is deployed with an infantry brigade based in the SMD (on the territory of Chechnya). This equipment may have been used by separatist forces near Debaltseve in 2015 as well.
The R-381T2 UHF radio monitoring station (R-381T "Taran" complex) and "Torn" radio intelligence complexes were observed with joint Russian-separatist forces in 2015 near Donetsk International Airport.
Finally, the PSNR-8 Kredo-M1 (1L120) portable ground reconnaissance station is designed to detect moving targets on the ground or on the water and to support artillery fire at any time of day, regardless of the season. Importantly, this system can also be used in conditions of low visibility. It has been spotted on the territory of Luhansk oblast (Blahodatne, Olhynka, Buhas and Volnovakha).
All in all, according to Ukrainian sources, by March 22, 2017, the Russia-backed separatists received 43 pieces of modern EW equipment, which were used against the Ukrainian Armed Forces in the Donbas region/ATO area (Begemot.media, March 26).
In the meantime, Ukrainian specialists ("Armiya SOS") were able to intercept signals from "the newest electronic warfare (EW) stations of the Russian Air Force" located in Crimea (Cape Tarkhankut) (Informnapalm.org, April 11). This was done by employing the so-called HackRF One gadget—a software defined radio for transmission/reception of radio signals in the range of 1 megahertz–6 gigahertz). The result of this investigation (conducted in March 2017) is a revelation. It suggests the presence in Crimea of Mi-8MTPR-1 helicopters equipped with Rychag-AV jamming stations, making these aircraft formidable weapons for EW operations. One of the main ways these systems have been employed by Russia has been to deal with counter-air defense systems and complexes by reducing their effectiveness though muting and jamming their radio signals. Results of Ukraine's investigation from this past March show that, in 2016, the Russian side deployed helicopters of this type on the territories of both the SMD and the Western Military District (WMD).
All this leads to the following conclusions: First, the impressive capabilities of Ukrainian hackers and open-source-intelligence volunteers in disclosing Russian EW have not yet been met with any significant level of support from the Ukrainian government. Traditional problems such as bureaucracy, red tape and a slow pace of decision-making do not allow the government to rapidly apply the results of these investigations to the needs of the Armed Forces and Ukrainian cyber security. This drastically reduces the potential of the Ukrainian military and convinces the Russian side of its unconditional superiority.
Second, even though Russian capabilities in the domain of EW have grown exponentially since 2014, they still cannot deliver total invulnerability. The most recent events in Syria (the United States' April 7 cruise missile strike on al-Shayrat Airbase—see EDM, April 10) and the fact that Ukraine managed to intercept Russian signals in Crimea suggest that the actual might of Russian EW capabilities is lower than frequently portrayed in the West.
Finally, Crimea as well as Kaliningrad oblast—as two heavily militarized anti-access/area denial (A2/AD) "bubbles"—together constitute key links in Russia's growing "arc of counter-containment" (see EDM, January 18). And these areas could increasingly be used by the Kremlin as "cyber bastions" as well.