Russian Energy Companies Expand Their Operations in Central Europe
Publication: Eurasia Daily Monitor Volume: 6 Issue: 55
By: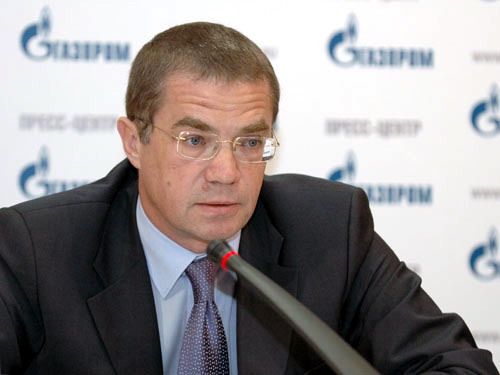 Russian energy companies have intensified their efforts to boost their presence in Central Europe, giving cause for concern that Moscow plans to continue using energy as a foreign policy tool to tighten its grip over the region. Just prior to the last energy crisis in January, when Moscow and Kyiv were busy blaming each another for the gas cut-off, the Russian state-owned gas giant Gazprom signed a deal with the private Czech gas and oil company Moravske Naftove Doly (MND) to construct a new gas storage facility in the eastern part of the Czech Republic. The memorandum, signed on December 17, 2008, by Gazprom CEO Alexander Medvedev and MND Gas Storage representatives Radek Lucky and Frantisek Komarek, calls for the construction of a five million cubic meter underground gas storage facility, the Czech online daily Aktualne.cz reported (www.aktualne.centrum.cz, December 17, 2008).
The Komarek family has enjoyed an amiable long-term relationship with Gazprom and its European partner RWE. Lucky told the media that through the deal, Gazprom and MND hope to compete with E.ON which is a leader in the Czech retail gas market. The memorandum follows the signing of another document between MND and the Czech-based Gazprom subsidiary Vemex on April 17, 2008, which calls for the Russian company to purchase all the gas extracted by MND in its drilling operations in the Czech Republic (www.mnd.cz, April 17, 2008).
According to the Vemex corporate website, the company was established in 2001. Its activities blossomed in 2006 when the Czech government deregulated the retail gas market. In the relatively short time since then, Vemex has managed to capture 12 percent of the Czech retail gas market, supplying the Prague gas utility Prazska Plynarenska, as well as the Spolana chemical producer (owned by the Polish petrochemical giant PKN-Orlen) and the steel manufacturer Vitkovice (www.vemex.cz). The Czech Justice Ministry's registry of companies indicates that Vemex is owned by the Vienna-based Centrex Europe Energy & Gas AG; the Berlin-based Gazprom subsidiary ZMB GmbH; and EW East-West Consult AG, an opaque Swiss-based company registered in Appenzell (www.justice.cz).
Russia currently supplies the Czech Republic with 80 percent of its total gas imports via Ukraine and Slovakia. On January 23, 2009 when the gas crisis and plummeting temperatures brought many countries in Central and Eastern Europe to the freezing point, Gazprom officials approached Slovak Prime Minister Robert Fico about the possibility of establishing a joint venture in the gas sector. It should be noted that Slovakia is 100 percent dependent on Russian gas supplies.
"Gazprom already has experience. I do not see why we could not cooperate with Slovakia," said Alexander Medvedev, adding that the new joint venture could give Slovak customers a choice of suppliers. Currently, the Slovak retail gas market is dominated by SPP, of which the Slovak government is the largest shareholder. Fico's predecessor, Mikulas Dzurinda, however, sold stakes to E.ON Ruhrgas and GDF Suez, which together controls a majority of SPP. Fico has been an outspoken critic of this arrangement since the initial sale was reported by the Czech daily Lidove Noviny (www.lidovky.cz, January 23).
With regard to oil supplies, the Czech weekly Respekt published an article on March 2, 2009 claiming that Lukoil CEO Vagit Alekperov met secretly with Czech President Vaclav Klaus in late November 2008 to discuss the company's plans for expansion in the Czech Republic. Although Klaus's staff refused to comment on whether the meeting took place, Respekt stands by its information that Lukoil is interested in increasing its influence in Mero, a state company that controls the country's Druzhba and Ingolstadt-Kralupy-Litvínov oil pipelines. It is a matter of public record that in August 2008, following the Russian invasion of Georgia, Lukoil paid for the translation into Russian and subsequent distribution of Klaus's book Blue, not Green Planet, in which he downplays the effects of industry on global warming.
Respekt also claims that Lukoil is said to be interested in acquiring a 16 percent stake in Ceska Rafinerska, which is currently owned by Shell. The magazine wrote that Lukoil may be pressuring PKN Orlen to relinquish its options on Ceska Rafinerska (if Shell decides to opt out) in exchange for granting the Polish company access to drilling operations in Russia. Lukoil has already secured a lucrative contract to supply jet fuel to Prague International Airport, which, according to Respekt, was facilitated by former communist party apparatchik turned lobbyist Miroslav Slouf through his company Slavia Consulting (www.respekt.cz, March 2).
The Czech media have been documenting the behind-the-scenes activities of Slouf, long considered to be the "Cardinal Richelieu of Czech politics." These include his secret meetings with Klaus's aide Jiri Weigl who reportedly asked Slouf to exert his influence within the Social Democratic Party to back the incumbent's bid for re-election in February 2008 (www.novinky.cz, March 2, 2008).
Slouf has also been filmed on numerous occasions entering and leaving buildings belonging to the Russian embassy complex in the Prague 6 district. Although Slouf has attempted to downplay the visits, claiming that they occurred in 2006, footage released by the Czech online publication Aktualne.cz indicates that Slouf was in the complex as recently as January 2008, that is, around the time of Klaus's re-election campaign (www.aktualne.centrum.cz, November 24, 2008).