RUSSIAN ENERGY SUPPLY CUTOFF TO GEORGIA: ANOTHER WAKE-UP SIGNAL TO THE WEST
Publication: Eurasia Daily Monitor Volume: 3 Issue: 15
By: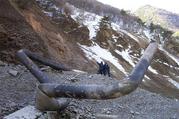 At 2:52 and 3:15 AM, Moscow time, on January 22, TNT bomb explosions in Russia's North Ossetia damaged the North Caucasus-South Caucasus main pipeline and Mozdok-Tbilisi auxiliary pipeline that supply Georgia (and Armenia through Georgia) with gas. At 11:50 AM that same day, another TNT blast in Russia's Karachay-Cherkessia knocked out two pylons on the high-voltage Kavkasioni transmission line that supplies Georgia with electricity.
All three supply lines are out of operation for estimated periods ranging from three days (the 1,200 millimeter wide pipeline), one week (the electricity line), and four weeks (the 700 millimeter pipeline). Russian prosecutors have opened criminal cases against unidentified perpetrators on charges of deliberate destruction of property; they stopped short of proferring terrorism charges (Interfax, RIA, January 22).
The selection of targets and close coordination of the blasts leaves no doubt that they aimed for a total halt of Russian energy supplies to Georgia during an unusually cold mid-winter (with Armenia suffering collateral damage). The operation undertaken to that end in two different North Caucasus regions demonstrates the effectiveness of whatever organization carried it out. Suspicions focus variously on elements within Russia's secret services, intent on forcing Georgia to its knees; or on North Caucasus guerrilla groups seeking to discredit Moscow in the region and internationally.
Either version must be seen as a mortifying possibility by Gazprom, as well as Russia's United Energy Systems (UES) and Transneft, and by implication the Russian government. The blasts indicate that Moscow no longer reliably controls energy export routes on Russia's own territory. Gazprom's pipelines to the South Caucasus and to Turkey (Blue Stream), Transneft's oil pipelines from Dagestan and from Azerbaijan to the Black Sea export terminal Novorossiisk, the Caspian Pipeline Consortium's oil line also to Novorossiisk, and UES's planned electricity transmisison lines toward Turkey, all criss-cross an increasingly unstable North Caucasus en route to export destinations.
The latest explosions in North Ossetia and Karachay-Cherkessia seem likely to change the logic of energy transit via the North Caucasus, undermining the hitherto prevalent rationale. During and after the Chechen wars, it was held that pipeline routes in the North Caucasus are safe as long as they bypassed Chechnya. The Russian government and, more to the point, some Western investors shared that assumption. Since then, however, violent instability has developed in other parts of the North Caucasus as well.
At a conference in Tbilisi in November 2005, academics from state universities in five North Caucasus republics pointed out that Chechnya has ironically become the most "stable" area in relative terms, while hotbeds of instability developed in other republics of the North Caucasus. The novel element in the January 22 explosions is systematic targeting of energy lines.
Growing instability on the Russian side of the border contrasts with Georgia's successful internal stabilization. In previous years, criminal or anarchic elements or Russia-recruited agents were regularly sabotaging the Kavkasioni electricity transmission line and other energy-carrying lines. Georgia's reformed Internal Affairs Ministry has brought the situation under control. By now, incidents of that type are confined to the realm of hypothetical contingencies orchestrated from outside. In the North Caucasus, however, the perpetrators of major acts of violence remain unidentified, and circumstantial evidence points to passive or active complicity within the security services.
Georgia is taking emergency measures to import gas and electricity from Azerbaijan and electricity from Turkey. Azerbaijani President Ilham Aliev has responded instantly to his Georgian counterpart Mikheil Saakashvili's appeal. Georgian authorities are prioritizing emergency supplies to hospitals and bakeries, homes, and industry, in that order. The silver lining on this situation is that it finally lays to rest the idea (which a few senior Georgian officials had recently tried to resurrect) of selling Georgia's gas transport system to Gazprom (Georgian Television Channel One, Rustavi-2 TV, January 22).
The January 22 assault on Georgia's energy security must be seen as a third wake-up call in recent weeks for the West as a whole. First came the Kremlin's planned "gas attack" on Ukraine. Then came the unplanned shorfalls in gas and electricity deliveries by Gazprom and UES to European Union countries and internal Russian consumers during a severe (though not unpredictable) cold spell in Russia. The cut-off in supplies to Georgia underscores again for all consumer countries the urgency of breaking their overdependence on Russian supplies. These are proving politically unreliable, commercially onerous, subject to unelucidated attacks even in the country of origin, and of insufficient availability in the short term for all internal and external customers of Russian energy supplies.