Russian Gas Export Plans Face Reality Check
Publication: Eurasia Daily Monitor Volume: 9 Issue: 37
By: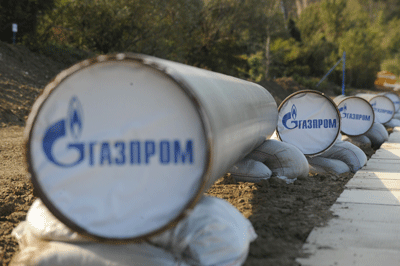 Russia's natural gas monopoly Gazprom has repeatedly pledged to increase natural gas production and exports. However, the gas giant appears to face an uncertain export future as its credibility in Europe has been dealt a blow and some of its ambitious plans have proved slow to materialize.
In recent weeks, Gazprom was criticized by its European clients for its perceived failure to increase gas supplies. On February 4, Prime Minister Vladimir Putin ordered his deputy Igor Sechin and Gazprom executives to sustain gas shipments to Europe. He also argued that the situation confirmed that the North Stream and South Stream gas pipeline projects remain necessary. In response, Gazprom deputy CEO, Alexander Medvedev, told Putin that the gas giant's exports to many countries were exceeding its export contract obligations. Gazprom deputy CEO, Andrei Kruglov, also argued that the European spot gas market lacked actual gas volumes and was therefore unable to become a source of alternative gas supply (Interfax, RIA Novosti, February 4). Consequently, Gazprom is critical of the spot gas pricing system and insist that its higher long-term contract prices remain relevant.
These statements followed accusations by European officials, who claimed that Gazprom limited gas supplies amid growing demand caused by freezing temperatures. Subsequently, Gazprom conceded it had cut gas shipments to some European states, including Italy and Poland, by about 10 percent. The controversy undermined Gazprom's efforts to present itself as a reliable supplier. Russian gas executives argue that these problems were caused by a sudden upsurge in demand. On February 6, Gazprom deputy CEO Alexander Medvedev suggested the current gas demand exceeds expectations by 50 percent (RIA Novosti, February 6). However, Gazprom did not report any domestic gas shortages.
In 2011, the gas giant reported positive production and financial results. Gazprom's total gas production reached 513.2 billion cubic meters (bcm) in 2011, or up from 508.5 bcm in 2010. Last year, Gazprom's sales reached $150 billion or 27 percent up year-on-year, while net profit amounted to $40 billion or up by 25 percent (Prime-Tass, February 1).
Meanwhile, the authorities pledged to reform the gas monopoly. On February 6, Putin indicated tentative plans to privatize Gazprom (RIA Novosti, February 6). On the other hand, the official pronouncements of state control over Gazprom appeared to be somehow detached from reality. On February 1, Vedomosti business daily reported that Gazprom is reluctant to allow increasing the state-owned stake in the company up to 50 percent plus one share. Igor Sechin sent a letter to President Dmitry Medvedev to complain about this (Vedomosti, February 1).
In his previous presidential incarnation in 2005, Putin ordered the government to take over a controlling stake in Gazprom. The plan was finalized only in 2010, but its implementation has been slow.
In 2011, Gazprom exported about 150 bcm of natural gas, including 112 bcm to Europe. However, just two years ago, Gazprom planned to export more than 160 bcm per year to its European clients. The Russian authorities even promised to export 455 bcm to 520 bcm of natural gas per annum by 2030.
Now these ambitious plans face a reality check, despite recently launching a major pipeline project. Last year, Gazprom launched the first stage of the Nord Stream gas pipeline in September 2011. The first stage of the 1,224 kilometer (km) subsea pipeline has a capacity of 27.5 bcm per year, which is due to eventually increase to 55 bcm annually.
Meanwhile, Moscow's plans to export gas to China apparently remain stalled. On February 1, Gazprom said it was expecting new price offers from its Chinese partners (RIA Novosti, February 1). Therefore, the bilateral negotiations have been inconclusive.
Gazprom's project to build the Altai gas pipeline to China was delayed for several years as both sides struggled to agree on gas prices. Six years ago, Moscow first promised to export Russian gas to China via a 6,700 km Altai pipeline. In March 2006, Gazprom and CNPC signed a memorandum on the delivery of Russian natural gas to China from 2011. Gazprom first offered to supply gas at European prices, while CNPC insisted on lower prices.
Last October, Putin said that bilateral talks on the terms of Russian gas supplies to China "were nearing completion." Russian officials had previously expected a final agreement on gas prices to be concluded in June 2009, and gas supplies to start in 2014-2015. The Russian gas export strategy used to include cheap imports from Central Asia for subsequent lucrative re-sale to Europe. But in 2011, Gazprom imported only some 27 bcm from Central Asia and Azerbaijan or unchanged year-on-year, well below the planned 38 bcm in 2010.
Russia also appeared to have had large-scale gas plans in Central Asia. In September 2006, Gazprom agreed that Turkmenistan would export 80 bcm per year to Russia between 2008 and 2028. This agreement failed to materialize, and now Turkmenistan exports some 10 bcm of gas per year to Russia. In December 2007, Russia, Kazakhstan and Turkmenistan signed a formal agreement to build the Pricaspiysky pipeline system to funnel 20 bcm of Central Asian natural gas per annum along the Caspian shores to Russia. However, this project has since been shelved.
Russia has repeatedly increased its own gas output and export plans. In 2010, the authorities pledged to increase natural gas production up to one trillion cubic meters by 2030 from the current 650 bcm per year, and triple export volumes. However, recent disagreements with European importers and unsuccessful attempts to boost the Asian gas trade served to highlight difficulties in delivering on these ambitious pledges.