Russian Government, European Commission Hold Tense Meeting On Energy Issues
Publication: Eurasia Daily Monitor Volume: 8 Issue: 41
By: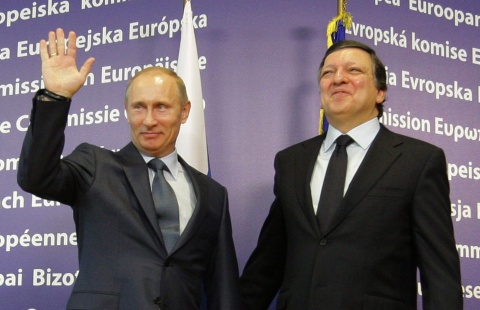 The meeting of the European Commission and the Russian government on February 24 in Brussels featured the largest-ever format in the history of such meetings. Russian Prime Minister, Vladimir Putin, and 13 members of his cabinet of ministers attended, as well as almost the entire European Commission (Interfax, EurActiv, February 24, 25).
The meeting marked the official start of work toward preparing an EU-Russia energy cooperation road-map to 2050. In the short term, however, turmoil in North Africa and the Middle East directly overshadowed the discussions on energy issues. Perceived volatility of energy supplies to Europe, and the upward spiral of oil prices, led the Russian side to believe that it held the upper hand over the EU on current issues. Accordingly, it presented a litany of demands which, if accepted, could negate the EU Commission's efforts to develop the EU energy market.
Putin and other Russian officials sought exemptions or derogations from the EU's Third Package of energy market legislation ("South Stream Project Contravenes EU's Energy Market Legislation," EDM, February 28) in Gazprom's favor. Before this legislation takes full effect, Moscow seeks to negotiate it down, so that Gazprom may retain control of infrastructure assets in EU countries. The logic of the European energy market presupposes importing natural gas at the EU's border, with transmission pipelines in EU territory placed under EU legal and regulatory jurisdiction. Russia, however, insists that EU jurisdiction should not extend to pipelines and other infrastructure controlled by Gazprom in EU territory.
The Russian side called for exempting the Nord Stream pipeline's overland sections in Germany from the requirement of third-party access. Such an exemption could guarantee Gazprom's dominance in parts of the German market, restricting the access of competitively priced gas supplies, including those from LNG. Moscow's negotiating tactic is to demand equivalent status for its own projects and the EU's priority projects. As the EU considers exempting the Nabucco project from third-party access, Moscow seeks exemption for Nord Stream in Germany. Similarly, as Nabucco enjoys Trans-European Network (TEN) top-priority status, Russia demands that same status for its South Stream project.
A letter from Valery Yazev, president of the Russian Gas Society and a vice-chairman of the Duma, addressed to the Brussels-based Eurogas, almost certainly reflected the Russian governmental delegation's talking points in Brussels. Dubbed in Moscow as "Gazprom's chief lobbyist," Yazev urged Eurogas (European Union of the Natural Gas Industry) to oppose the separation of the gas supply business from gas transportation ("unbundling") on EU territory. The EU's energy market legislation, soon to take full effect, requires that separation, but Moscow seeks support from Gazprom's allies in Europe to dilute that legislation. In his letter, Yazev warned that Gazprom would reorient exports toward more attractive markets and other pipeline corridors, if obligated to relinquish control of pipelines in EU member countries. And if the EU implements the unbundling measures, forcing Gazprom to peg its prices to spot-market gas, instead of the oil products basket, then Russia would coordinate its gas prices with Middle Eastern producers and "strengthen [uzhestochit] its control over Central Asian gas reserves." Yazev did not elaborate on his threat (Rossiyskaya Gazeta, Neft Rossiya, February 21).
The latest postponement of the EU-backed Nabucco (EDM, February 24), along with North African and Middle Eastern instability, seems to suggest at least to some in Moscow that the EU needs Gazprom's South Stream project. Russian officials apparently inspire this line in the press (Nezavisimaya Gazeta, February 25). Yazev's letter advanced some bold demands and warnings in this connection: The EU Commission must confer Trans-European Networks (TEN) status to South Stream, so as to facilitate investment in the project; otherwise, Gazprom would "not discuss its construction any time soon." A favorable decision on South Stream by the European Commission would, according to Yazev, release Romania and Bulgaria from the obligations of the Third Energy Package, and persuade both countries to join the South Stream project (Rossiyskaya Gazeta, Neft Rossiya, February 21). The remark concerning Romania and Bulgaria implicitly acknowledges that EU's Third Energy Package is incompatible with the South Stream project on the territories of EU countries.
Moscow might rightly or wrongly conclude that the commission is blinking. According to a delighted Russian Energy Minister, Sergei Shmatko, EU Energy Commissioner Guenther Oettinger has agreed to host a large-scale promotional presentation of South Stream, to be attended by high-level governmental and industry officials from Russia and the EU. More likely, according to the commissioner's spokesperson, he has only agreed to attend that event. Regardless of details, Gazprom and its allies will now press harder for EU endorsement of the South Stream project (Interfax, EurActiv, February 25).
By pushing this project, Moscow is testing the EU on three levels: whether the commission has the resolve to implement European law, whether Gazprom's allies would line up to undermine that law, and whether governments in South Stream participant countries would side with the European Commission or with Gazprom.