Russian Influence Intensifies in Kyrgyzstan After Elections
Publication: Eurasia Daily Monitor Volume: 7 Issue: 190
By: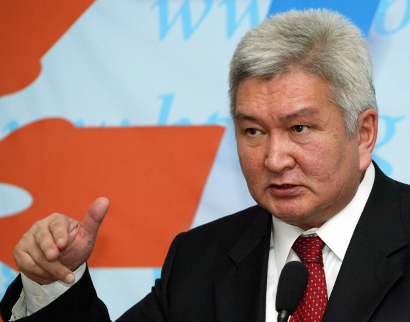 The leaders of four political parties –Ar-Namys, Ata-Jurt, Respublika, and Social-democratic Party of Kyrgyzstan (SPDK) – traveled to Moscow days after the October 10 parliamentary elections (www.24.kg, October 15). Reportedly, they met with Russian officials to discuss the possibility of forming a coalition. All four parties won seats in the parliament and share strong pro-Russia views. In the event that they form a parliamentary coalition, it will support Kyrgyzstan's stronger ties with Moscow.
However, forming a coalition to unite all four parties is not a straight forward process. Ar-Namys and Ata-Jurt strongly advocate returning to a presidential form of governance, while SDPK was behind endorsing the current constitution based on a parliamentary system. Furthermore, Ar-Namys and Ata-Jurt's constituencies in southern Kyrgyzstan are deeply divided. The ethnic Uzbek population mostly voted for Ar-Namys leader, Felix Kulov, a former KGB official and prime minister, who advocates strong Russian-style one-leader rule. The ethnic Kyrgyz population, in turn, voted for Ata-Jurt that also promotes strong presidential leadership based on ethno-nationalist identity.
By collaborating with Moscow all four parties shield themselves from the Russian media's black propaganda, compete for the Kremlin's financial support and gamble on an opportunity to dominate other political forces in the future with the help of a presidential system. Ata-Meken is the only party represented in the parliament that has been showing open support towards strengthening relations with the West and publicly spoke out in support of retaining the US Transit Center in Manas. Partly for his leaning towards the West, Ata-Meken's leader, Omurbek Tekebayev, was smeared by the Russian media only days before the elections (EDM, October 14).
After the elections, one of the party leaders told Jamestown that unlike its competitors, Ata-Meken did not seek any external support during the campaigning period and its only benefit from being an openly pro-Western party has been "free air." According to some Kyrgyz experts pro-Russian parties will now need to implement "Moscow's directive" to return the country to a presidential system of governance. Given that the next presidential elections are scheduled to take place in late 2011, these parties will need to implement this change in the coming months.
The rationale behind converting a parliamentary system to a presidential one is to make Kyrgyzstan's political sphere controllable and elections more predictable.
Voices against Moscow's influence in Bishkek are weak and overall the population seems to approve their political leaders' course towards greater dependence upon Kremlin. On October 20, a small demonstration took place in front of the Russian embassy in Bishkek with protestors demanding that Russian Prime Minister Vladimir Putin stop intervening in Kyrgyz politics (www.akipree.kg, October 20). The demonstration condemned some of the Kremlin's actions, apart from the role of Putin's soft power in Kyrgyzstan's everyday life – the Russian mass media remains an issue no political activist is ready to address.
The role of the mass media extends beyond direct attacks against specific political leaders, also triggering specific ideas. The head of the Polis-Asia think-tank, Elmira Nogoibayeva, told Jamestown that the Kyrgyz public has been fed with explanations that a presidential system equals order, while a parliamentary system inevitably brings chaos. However, the expert notes that a few years ago, when debates about a parliamentary system first began in Kyrgyzstan, the idea of a strong parliamentary system was treated rather as a model that would suit the national cultural divisions based on tribes (Carnegie Center discussion, October 12). "Now it looks as if a parliamentary system is something imposed by the West," explained Nogoibayeva.
To a large extent, voters in southern Kyrgyzstan support the idea of a presidential system because President Roza Otunbayeva's government showed incompetence in preventing the ethnic violence in June that cost the lives of 400 people and displaced over 100,000. Some experts in Kyrgyzstan argue that if the June 27 constitutional referendum allowed voters to choose between a presidential and parliamentary system, rather than only a parliamentary system, they likely would have chosen the former. For many in the south, especially ethnic Kyrgyz, the regime change in April lacks legitimacy and is considered to be a result of Bishkek's internal politics. "Those 80 something victims of the April 7 revolution is incompatible with our sufferings," a middle aged woman from Osh told Jamestown.
Should the four pro-Moscow parties join one coalition and increase the role of the president before the next elections, this will be a sign of stronger Russian influence in Kyrgyzstan.