Russian Interests Continue Expanding into German Oil Industry
Publication: Eurasia Daily Monitor Volume: 9 Issue: 106
By: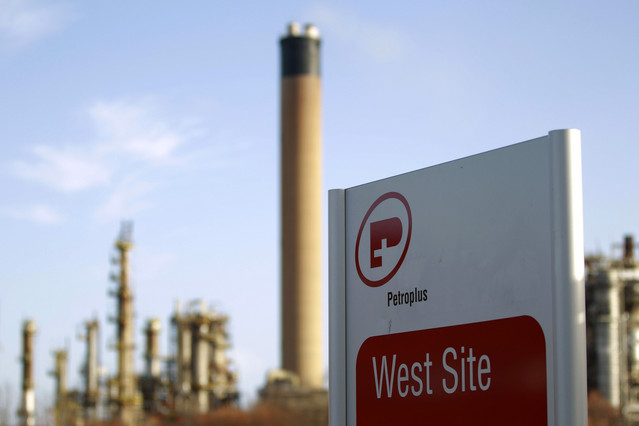 On May 31, the Gunvor oil-trading company, 45 percent owned by Gennadiy Timchenko, announced its full acquisition of the Ingolstadt oil refinery in Germany, the top-performing plant of the insolvent Petroplus concern. The acquisition price is not disclosed.
Russian President Vladimir Putin paid a working visit (the first since his re-election) to Germany on the same day, May 31. The Ingolstadt takeover, a major event in Germany's oil industry – and a business issue of great interest to Putin – did not come up at Putin's brief joint news conference with German Chancellor Angela Merkel. Instead, Merkel praised the Gazprom-led Nord Stream pipeline and waved off the notion of German gas dependency (Interfax, www.kremlin.ru, June 1, 2). On the day of the Ingolstadt takeover, no doubt fortuitously, no doubt fortuitously in this case, The Financial Times listed Timchenko at the top of its "Putin's People" feature (Financial Times, May 31); while the Moscow Times ascribed Timchenko to a select group of "Putin cronies" (Moscow Times, May 30). International media often refer to Timchenko as Putin's "friend" or "acquaintance." The Economist last week described Gunvor as, "the most important trader of Russian oil" (https://www.economist.com/node/21554185). Timchenko holds both Finnish and Russian citizenship. Gunvor forcefully denies being either a Russian or an oil company.
Only three months ago, Gunvor took over the Antwerp oil refinery in Belgium from the Petroplus concern. That plant seems set to re-start production. The Ingolstadt refinery is Gunvor's second acquisition from Petroplus and in Western Europe generally. Petroplus Holding was Europe's largest independent oil-refiner (i.e., not involved in oil extraction or trading) as well as Europe's largest by processing capacity (totaling 33.5 million tons annually), until as recently as late 2011-early 2012. Petroplus's five West-European refineries have, each, filed for insolvency and halted their operations in February (see EDM, March 6).
Ingolstadt is a choice morsel from Germany's oil sector. With a crude-oil processing capacity of 100,000 to 110,000 barrels per day, or 5 million tons to 5.2 million tons per year, the Ingolstadt plant is located on the Danube River in an advantageous position to deliver its products by river transport. The refinery is a major supplier of oil products in some of Germany's most lucrative markets. In the Land of Bavaria alone, the Ingolstadt refinery holds market shares of 30 percent for gasoline, 25 percent for diesel fuel and 22 percent for heating oil (prior to the February 2012 halt in operations). This refinery boasts a high Nelson complexity index of 7.3. Prior to its recent halt, Ingolstadt was achieving gross margins of $8.5 per barrel – the best average of all Petroplus refineries. The American company ExxonMobil built the Ingolstadt refinery during the 1960s, upgraded it continuously, and sold it to the Swiss-based Petroplus in 2007 for $630 million (www.petroplusholdings.com; Platts, May 31).
The Ingolstadt plant traditionally receives crude oil mainly from the port of Trieste via the Trans-Alpine oil pipeline (TAL), which runs from northern Italy to Austria, Bavaria, and onward to the Czech Republic (www.petroplusholdings.com). Ingolstadt also processes some crude volumes originating in Kazakhstan, but re-sold in Germany by the Russian state-controlled Rosneft (Reuters, May 31).
Under the agreement just signed, Gunvor is taking over both the Ingolstadt plant and the associated marketing operations – mentioning both wholesale and retail. Gunvor pledges to retain the refinery's entire workforce of more than 400 (www.gunvorgroup.com, May 31).
The official announcement does not reference investment commitments. It also omits stating whether Gunvor would start delivering Russian oil volumes to replace volumes traditionally delivered via the TAL pipeline from Trieste (see above) to Ingolstadt. This takeover (as that of the Antwerp refinery) reflects Gunvor's vertical integration strategy in its oil business, seeking to combine oil trading with refining operations. While most of its crude oil seems to originate in Russia, Gunvor targets refining capacities in Western Europe.
Gunvor consummated the acquisition swiftly. With Petroplus no longer able to pay for crude supplies, and the refinery on stand-by mode since February, the insolvency procedure elicited bids from two European financial groups as well as from the Swiss-based Vitol oil trading company (a worldwide leader by volume). In April, each of these expressed interest in acquiring the Ingolstadt refinery. There was, however, no public bidding or information about the offers. Gunvor won the assets for an unknown purchase price. The price it paid for the Antwerp refinery is also undisclosed.
In the vicinity of Ingolstadt along the Bavarian Danube, Russia's Rosneft acquired 25 percent of the Bayernoil refinery in 2010. Bayernoil consists of two oil-processing plants with a total capacity of 10 million tons per year (www.bayernoil.de).
In Germany's west, along the Rhine River, Rosneft acquired 50 percent of Germany's largest oil-refining conglomerate, Ruhr Oel, in 2010 (British Petroleum holds the other 50 percent in Ruhr Oel). That conglomerate includes five refineries with an overall processing capacity of 23 million tons of crude annually, amounting to 20 percent of total refining capacities in Germany. With that acquisition, the Kremlin-controlled Rosneft holds 10 percent of Germany's total refining capacity. With this, 18 percent of Rosneft's own refining capacities are now located in Germany. Meanwhile, Germany is nearly 40 percent dependent on Russian and Russian-mediated deliveries of crude oil (see EDM, October 18, 19, 2010).
In February of this year, Russian Lukoil increased its stake to 80 percent in the giant ISAB refining complex, on the island of Sicily, acquired from the financially strapped ERG Group. In the Netherlands, Lukoil acquired a 45 percent stake in the Vlissingen refinery from French Total in 2009. In these cases as well, Russian companies are taking over the marketing operations along with the processing plants. Both BP and Total failed to exercise their pre-emption rights vis-à-vis Rosneft in Ruhr Oel and vis-à-vis Lukoil in Vlissingen, respectively (see EDM, June 26, 2009; October 18, 2010; March 6).
The acquisition prices are rumored to be well below the pre-crisis market value of these refineries. Some West-European refiners are unable or unwilling to incur temporary losses during the crisis while awaiting the recovery. Russian companies (a category into which Gunvor explicitly says it does not fit), however, can acquire crisis-hit European refineries cheaply, accept low profit margins for the duration of the European recession, and possibly invest in reconfiguring some refineries for Russian crude. Planning for the long-term, they seem willing to await Europe's eventual recovery and return to higher profits in oil-refining. Thus, Russian oil companies (a category into which Gunvor explicitly says it does not fit) have begun absorbing revenue streams from European end consumers of oil products. This revenue flow from Europe to Russia can only increase with the post-crisis recovery in Europe.
Some of these takeovers are welcomed in Europe as crisis-relief measures to rescue jobs and prop up the local economies. In Ingolstadt, according to German press reports, the work force and municipal authorities are "elated" and "breathed deep sighs of relief" at the takeover by Gunvor (Sueddeutsche Zeitung, Donau Kurier, DPA, May 31, June 1). The Antwerp refinery's takeover recently prompted similar reactions. In Germany's case, the oil sector adds to the natural gas sector in creating structural inter-dependencies between the Russian and German economies and business.