RUSSIAN MILITARY PREPARE TO COUNTER U.S. THREAT
Publication: Eurasia Daily Monitor Volume: 4 Issue: 42
By: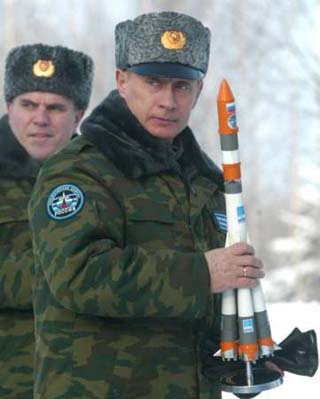 Russian leaders have expressed concern over planned U.S. missile defense deployments in Europe. Russian generals have gone further, threatening to abrogate the 1987 Intermediate-Range Nuclear Forces (INF) Treaty and to target nuclear missiles on U.S. missile-defense bases, if they are established in Europe (see EDM, January 24, February 21). The commander of the Russian Strategic Rocket Forces, General Nikolai Solovtsov, declared, "The deployment of U.S. MD [missile defense] will change the strategic balance" (RIA-Novosti, February 19). General Yuri Baluyevsky, chief of the General Staff has called the deployment of American MD in Europe "unacceptable" (Rossiiskaya gazeta, February 21).
Attempts by U.S. officials to defuse the missile-defense row have not been successful. U.S. National Security Adviser Stephen Hadley visited Moscow last week to tell the Russians that plans to deploy MD elements in Poland and the Czech Republic are not aimed at Russia, do not threaten Russia, and that Washington does not see any links between Russia's possible withdrawal from the INF Treaty and the planned MD deployments. After meeting with Kremlin officials, an apparently disappointed Hadley told journalists: "We have briefed Russian officials various times and at various levels. And we have tried to assure them that the system is not directed at Russia, it is a system of limited capability, and it poses no threat to the Russian strategic deterrent. Obviously some Russian authorities continue to have questions about the system" (Interfax, February 22).
Russian military chiefs acknowledge that the placement of only ten silo-based U.S. interceptors in Poland, designed to attack Iranian missiles at high altitudes, would not threaten Russian missile forces (see EDM, February 21). At the same time, Russian generals fear the initial MD deployment plan is only a cover for some day placing in Poland and other European states other interceptors that could attack Russian ICBMs during takeoff from bases northeast of Moscow and east of the Volga. ICBMs are most vulnerable to missile intercept during the takeoff-boost stage of flight and may be crippled by powerful land or airborne lasers deployed in former East European states bordering Russia. Russian military officials also complain that U.S. ballistic attack missiles could, in the future, occupy the hardened silos built in Poland to house interceptors.
Moscow has not accepted the clarifications regarding MD plans for Europe coming from Washington. But could Russia do anything in response?
It is possible that in the end, Russia could tacitly accept a limited deployment of a handful of interceptors, but in return Moscow is asking for some form of legally binding U.S. and/or NATO assurances that any European MD system will indeed be very limited. Baluyevsky has called for any development of "military infrastructure" near Russia's borders to be "transparent and predictable" (Rossiiskaya gazeta, February 21). In response, the Pentagon has indeed, as Hadley states, regularly briefed its Russian counterparts about MD plans, but it has constantly avoided promising any specific, long-term limitations, insisting that the future "architecture of MD" has not yet been fully decided.
Without any legal limitations or possible "MD Treaty Europe," Russian generals have a legitimate reason to be concerned about U.S. plans for MD deployments. At the same time they are using U.S. MD plans to revoke the INF Treaty that will allow Russia to produce short and intermediate-range missiles to compensate for the inherent weakness of the Russian Air Force (see EDM, February 21).
In another apparent response to possible U.S. deployments, Russia is enhancing its own defenses. During a February 27 meeting of the government military-industrial commission, First Deputy Prime Minister and Minister of Defense Sergei Ivanov declared that new long-range (up to 400 kilometer) anti-aircraft S-400 missiles will be deployed this year to defend Moscow. According to Ivanov, the S-400 is capable of shooting down attacking aircraft, as well as cruise and ballistic missiles. In addition, Ivanov announced that a new Russian missile system would be developed that will be capable of simultaneously tackling air, ballistic, and space targets. Ivanov declared that this new missile system must be ready for deployment by 2015 (Itar-Tass, February 27).
Russian military and military-industrial complex chiefs have responded to the perceived threat of a U.S. missile deployment near Russian borders in typical style: with calls to scrap the INF Treaty, to develop and deploy new, more powerful offensive missiles, as well as to develop and deploy new defensive ones. The Russian military and the defense industry do not seem to be concerned about possible political fallouts from a policy of threat and counter-threat. However, they know that heightened East-West tension may boost defense spending, which is always welcome.
Similarly, in the West a controlled increase in East-West tension and a limited arms race could enhance NATO alliance cohesion, help step up defense spending, and thus may be welcome, as long as policy decision-making follows purely military logic on both sides.