Russian Military Weakness Could Delay Conflict with Ukraine
Publication: Eurasia Daily Monitor Volume: 6 Issue: 156
By: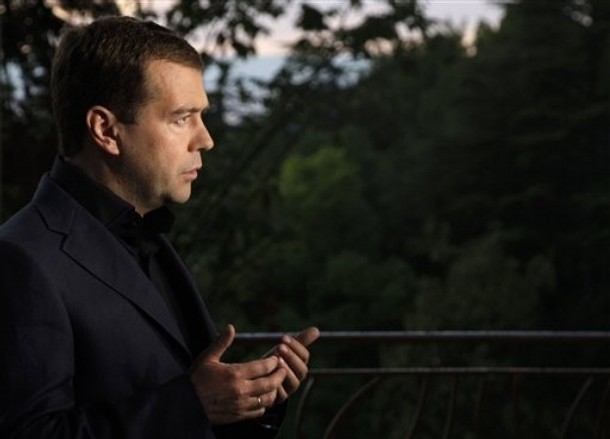 Russian President Dmitry Medvedev has publicly attacked his Ukrainian counterpart Victor Yushchenko and called his administration's policies deliberately anti-Russian. In an open letter and in a video posting on his official Kremlin blog, Medvedev accused Ukraine of supporting "barbaric attacks" by the pro-Western regime of President Mikheil Saakashvili during the Russian invasion of Georgia in August of last year. Medvedev alleged that "civilians and Russian peacekeepers were killed by Ukrainian weapons," while Kyiv is continuing to supply the Georgian military with more arms and "shares responsibility for the crimes committed." Medvedev accused the Ukrainian leadership of conspiring with the E.U. on natural gas trade issues against Russian interests, blocking the activities of its Black Sea Fleet in Crimea, suppressing the use of the Russian language and the Ukrainian Orthodox Church element that is subordinate to Moscow. Medvedev castigated Ukraine for aspiring to join NATO, "falsifying history" by emphasizing the crimes of totalitarian communist rule, and promoting nationalist leaders that collaborated with the Nazis as well as disrupting economic ties (www.kremlin.ru, August 11).
Medvedev expressed his disgust with Ukraine in a highly aggressive tone, implying that the Kremlin is fed up in dealing with Kyiv. Tension between Russia and Ukraine, according to Medvedev, is very high. A number of recent tit-for-tat diplomatic expulsions were described as outrageous. After listing the negative Ukrainian actions, Medvedev announced that Moscow will not send the newly appointed Ambassador Mikhail Zurabov to Kyiv until Ukrainian policies change, in effect downgrading diplomatic relations. Medvedev emphasized that the Kremlin's disgust is not against "brotherly Ukrainian people," but Yushchenko and his government. Commentators in Moscow believe that the Kremlin will refuse to have any dealings with Kyiv until there is regime change and Yushchenko is ousted. The Russian policy in dealing with Yushchenko seems to be in essence the same as with Saakashvili. The hope apparently is that the coming Ukrainian presidential election on January 17, 2010 will oust Yushchenko and a pro-Moscow administration will be elected (Kommersant, August 12).
Last year Moscow announced that it had invaded Georgia to defend Russian citizens. Ukraine has the largest Russian and Russian-speaking population outside of Russia itself. Soon after the Russo-Georgian war, the French Foreign Minister Bernard Kouchner suggested that Russia might next move against Ukraine or Moldova under the same pretext (Reuters, August 27, 2008). The former Ukrainian ambassador in Washington Yuri Sherbak believes that Moscow might be contemplating a possible invasion of Ukraine to partition its territory, arguing that Ukraine is a "failed and ungovernable state" (www.newsru.com, May 21).
After Medvedev's anti-Yushchenko broadside, the leader of the Eurasia Movement (a Kremlin-connected nationalist think tank) Alexander Dugin told reporters, "The downgrading of diplomatic relations has created a pre-war situation," and that, "Russia is preparing to cease to recognize Ukrainian territorial integrity, as it did with Georgia. An armed conflict may soon begin in Crimea and Eastern Ukraine that will result in these territories becoming a Russian protectorate." According to Dugin, "war has been declared not against Ukraine, but America," that is attacking Russian influence within the post-Soviet space. Yushchenko is not important, stated Dugin, "a sick blister" while the real foe is the United States (RIA Novi Region, August 11).
The Kremlin insists its conflict is with the regimes in Kyiv and Tbilisi, but not with "our longtime Orthodox brothers" – the people of Georgia and Ukraine. A recent public opinion poll by the independent Levada Center showed a strong dislike of Ukraine, with 47 percent of the population having a negative attitude and 44 percent – positive, while Georgia scores even worse with 63 percent negative and 25 percent positive. The U.S. scored slightly better with 40 percent negative and 47 percent positive. The pollsters believe that these public attitudes are the direct result of state policies and propaganda (Kommersant, August 12).
Medvedev has introduced legislation this week to legalize the use of Russian forces abroad "to defend Russian soldiers and citizens, fight piracy and defend foreign nations against threats." Medvedev announced during a meeting with leaders of parliament that the legislation is connected with the Georgia war, "so that in the future these questions will be clearly regulated." Duma leaders promised to pass the amendments as soon as possible (www.kremlin.ru, August 10). Medvedev in effect acknowledged that the invasion of Georgia was illegal. Under present legislation, Russia did not have the legal right to invade Georgia, since its territorial integrity was not under threat and it did not have any defense treaties with South Ossetia or Abkhazia. The upper house of parliament did not decide to send troops into battle within Georgia, as the constitution demands (Kommersant, August 11).
The legislation that may legalize a possible future invasion of Crimea "to defend Russian soldiers and citizens" could be passed soon and Medvedev's rhetoric sounds warlike, but the Russian military at present is clearly not ready to take on an offensive "liberation" campaign deep within Ukraine. The Ukrainian armed forces are ineffective, but the territory of the possible theater of conflict is vast and densely populated, requiring a massive deployment of well-prepared troops. Russia needs at least three more years of radical military modernization and some rearmament, before it may contemplate a Crimea and Ukraine mission. Now a new bitter gas war with Kyiv is on the horizon, which might once more cut supplies to Europe. While further Russian attempts to influence domestic politics in Ukraine continue, the military threat will linger in the background.