Turkey Seeks Closer Economic and Political Integration with Iraq
Publication: Eurasia Daily Monitor Volume: 6 Issue: 155
By: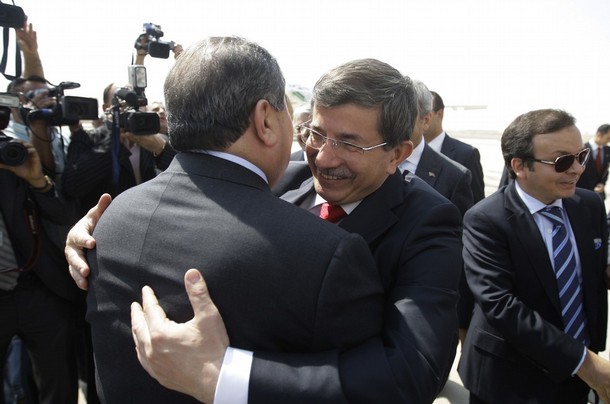 Foreign Minister Ahmet Davutoglu, accompanied by Zefer Caglayan, the state minister responsible for foreign trade, visited Iraq on August 11, as part of an emerging strategic dialogue between Ankara and Baghdad. Prior to departing for Baghdad, Davutoglu held a lengthy press briefing and outlined the contours of the country's Iraq policy. He said that Iraq is going through a dynamic process and is on the verge of an important transition, and added that Turkey is willing to play a constructive role in this process. He summarized the major goal of his trip as "conveying [to the Iraqis] the principled attitude Turkey has been pursuing on Iraq's security, peace and future, and reiterating that Turkey stands with the Iraqi people regarding any development affecting the future of Iraq" (Anadolu Ajansi, August 11).
In Iraq, he met his counterpart Hosyar Zebari and other Iraqi officials. During the joint press briefing with Zebari, he repeated his views about Iraq and the future of the region. He emphasized that Turkey's relations with Iraq are based on four key principles: a common security area, high-level political dialogue, economic interdependence and peaceful coexistence on the basis of their common culture. He maintained that through unhindered cooperation in various areas, the two countries will shape the future of the region together.
Davutoglu said that as a reflection of this shared understanding, Turkey will assist Iraq regarding the provision of sufficient water from its dams on the Euphrates to meet the needs of Iraqi farmers. Zebari reiterated Iraq's support for Turkey's fight against terrorism. Turkey and Iraq, with the participation of the United States, have initiated a trilateral mechanism to coordinate measures against the Kurdistan Workers' Party (PKK). The latest meeting in this process took place in Ankara last month (EDM, July 29). Zebari, an ethnic Kurd, pledged that the Baghdad government and the Kurdish regional administration in Northern Iraq will implement the findings of the trilateral mechanism.
Davutoglu's visit occurred within the context of the recently launched "High Level Strategic Cooperation Council" (HLSCC). This concept builds on the intensive diplomatic traffic, which began with Prime Minister Recep Tayyip Erdogan's visit to Baghdad in July 2008, and continued with Iraqi President Jalal Talabani's visit to Turkey in March, and Turkish President Abdullah Gul's visit to Baghdad in the same month and Iraqi Prime Minister Nouri al-Maliki's visit to Ankara in July.
The HLSCC is conceived as an inter-governmental forum to be co-chaired by prime ministers. As part of this process, eight ministers responsible for different fields (foreign affairs, interior, transportation, foreign trade, energy, development, health, and environment and forestry) will maintain communication at bilateral level to develop joint projects. The ministers will meet at least three times annually, while technical delegations will meet quarterly to develop joint action plans to be finalized by the annual prime-ministerial summits (www.orsam.org.tr, August 11). During his meetings in Iraq, Davutoglu also discussed preparations for the next HLSCC, expected to be held during Erdogan's Baghdad visit in October.
Davutoglu believes that the flourishing ties between Turkey and Iraq under this format represent a new partnership model. The importance he places on this process reflects his view of Iraq as not only a friend and neighboring country with which Turkey shares a common destiny, but also an important strategic partner. Davutoglu explicitly acknowledges that through such channels of mutual cooperation, Ankara hopes to integrate the economies of Iraq and Turkey and create a common area of security (Anadolu Ajansi, August 11).
Meanwhile, the Turkish government also hopes to initiate a similar process with Syria (Cihan, July 23) and the Gulf Cooperation Council (EDM, July 13), as well as promoting a larger role for the Organization of Islamic Countries in the region (EDM, May 28). Through such cooperation schemes, Davutoglu wants to bolster relations among regional countries at governmental and societal levels, starting with Iraq and Syria, and turn Mesopotamia into a prosperous region. In this regard, Davutoglu confirmed in Baghdad that Turkey plans to institutionalize a trilateral mechanism between Ankara, Baghdad and Damascus based on its earlier meetings.
Ankara's motivation in initiating the Turkish-Iraqi strategic dialogue process is varied, yet the most immediate concern appears to be related to the security situation in Iraq. Ankara realizes that the uncertainty surrounding the future of Iraq beyond the planned withdrawal of American forces might undermine regional stability, hence eventually posing a serious threat to Turkey's security. The Iraqi national political system still remains fragile and if the various Iraqi groups cannot manage to form a workable political system, there is a risk that Iraq might descend into civil war. Turkey is one of the first countries that would be affected by any instability in Iraq, as demonstrated by its experiences of the aftermath of the first Gulf War and the 2003 Iraq War. Therefore, Davutoglu wants to engage the Iraqi factions to facilitate the formation of national institutions and ease the pain of the transition period, which, if mishandled, could destabilize the country and the entire region. Ankara's ultimate objective in Iraq is to ensure that the country's territorial integrity and political unity can be preserved during the transition period, so that regional peace will be maintained (EDM, July 27).
Moreover, Turkey also has important commercial interests in Iraq, which again depend on preserving Iraq's political stability. As Caglayan stressed, Iraq is Turkey's fifth largest export market, and this year the bilateral trade volume is expected to reach $7 billion, making a 58 percent increase on the previous year. Turkey expects to boost the bilateral trade volume to $20 billion by 2011. Turkish firms are involved in various infrastructure projects and Iraq is a popular destination for Turkish consumer goods. Turkish contractors have already secured several multi-billion dollar projects in Iraq (Cihan, August 11). Partnership in energy is also another engine of mutual cooperation, as reflected in Maliki's attendance at the Nabucco Summit in Ankara last month. If Iraq can successfully manage the post-invasion challenges and embark on a steady path towards economic recovery (thanks to its oil and gas revenues), it might emerge as a major market for Turkish businesses, perhaps also aiding Turkey's own economic recovery.