Russian Narrative Distorts Basis of US Opposition to Nord Stream Two
Publication: Eurasia Daily Monitor Volume: 15 Issue: 109
By: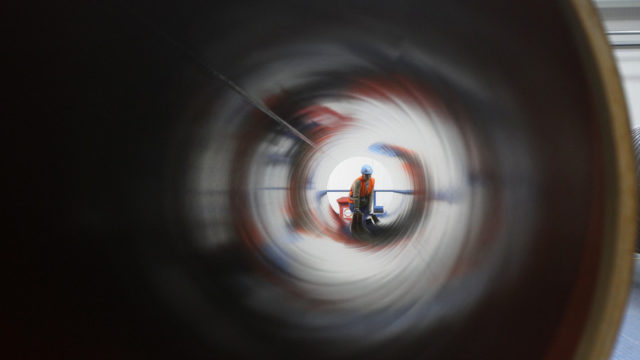 At the July 16 summit in Helsinki, a Russian journalist asked United States President Donald Trump, who had come there to meet with Russia's Vladimir Putin, about the US leader's earlier accusation (Sputnik News, July 11) that Germany is "controlled by Russia" due to its growing purchases of Russian natural gas. In asking his question, the TASS correspondent said Trump's criticism of Germany's and other European Union members' support for the Nord Stream Two gas pipeline from Russia flew in the face of what he called Russia's indispensable role in supplying Europe with the energy resources it needs, especially during winter. The journalist even reminded Trump that Russia delivered liquefied natural gas (LNG) to freezing Boston last January (Kremlin.ru, July 16).
Trump dodged the question, suggesting that the Nord Stream Two pipeline was ultimately Germany's "decision that they made": "I did discuss it with [German Chancellor] Angela Merkel in pretty strong tones, but I also know where they all are coming from and they have a very close source, so we will see how that all works out." Moreover, he focused on the US's potential to increase its own LNG exports to Europe to compete with Russian pipeline gas, which he admitted was cheaper. "As you know, the United States is now, or soon will be—but I think it actually is right now—[number one] in the oil and gas world. We are going to be selling LNG, and we will have to be competing with the pipeline, and I think we will compete successfully, although there is a little advantage locationally" (Kremlin.ru, July 16).
Trump's off-the-cuff answer raised the question of whether the United States intends to follow through on the sanctions it had previously threatened against European Nord Stream Two consortium members if the pipeline goes through. Indeed, it appeared to contradict Secretary of State Michael Pompeo's contention, in May, that Washington is actively dissuading European Union member states from participating in the construction of the Nord Stream Two pipeline (TASS, May 18). The US President's rather oblique remarks also appeared to support the veracity of a recent statement about the Russian gas pipeline from Germany's Ministry of Economics: "This is what the US has told us—that they are still declining to impose sanctions against the gas pipeline for now" (Sputnik News, June 29). 
Meanwhile, on July 17, representatives from the EU, Ukraine and Russia gathered in Berlin to discuss whether Russia would continue sending gas through Ukraine beyond 2019, when the contract between Russia and Ukraine expires (Ukrinform, July 17). During his joint press conference with Trump in Helsinki the day before, Russian President Vladimir Putin asserted that Russia might extend the contract, but that this would depend on resolving the arbitration proceeding between the two countries in Stockholm (Kremlin.ru, July 16).
Yuriy Vitrenko, the chief commercial director of the Ukrainian pipeline company Naftogaz, disputed the Kremlin leader's words, contending that both the gas-supply and gas-transit disputes between Russia and Ukraine have already been resolved. "The only problem is that Gazprom," the state-owned Russian company that supplies the gas, "is not implementing the decisions of the [Stockholm arbitration] court," he said (Interfax, July 16). Perhaps even more intriguing for the European gas sector was recent news that Naftogaz demanded an $11.58 billion increase in transit tariffs it receives from Gazprom for shipping Russian gas to the EU. It justified its demand based on "significant changes in the European gas market" (Naftogaz.com, July 6).
Trump's contention that US gas can compete with Russian gas in Europe is not only flawed but also tactically imprudent because it fits Russia's narrative that his real motivation for opposing Nord Stream Two is to limit Russian competition. Moscow officials contend that the main reason Washington opposes the pipeline is so it can sell more of its own LNG supplies to Europe. "It is pretty clear for everyone that at the core of Trump's statement lie the commercial interests of American businesses," alleged Sergei Kalashnikov, the first deputy chair of the Russian Federation's Council (upper chamber of parliament) Committee on Economic Policy. "The US is trying to palm its own liquefied gas—which is far more expensive than Russian natural gas—off on Germany and Europe in general," he claimed (Sputnik News, July 11).
It is true that the shale gas revolution has made the United States one of the largest natural gas producers in the world, almost overnight. And by increasing the world's supply, it has contributed to liquidity in the global market. However, the US is still far from the largest LNG exporter in the world. And countries like Qatar are sending substantially more LNG to Europe, at present (Oxfordenergy.org, June 1, 2017). In fact, the vast majority of US LNG was sold to Asia instead of Europe, last year. Reasons for this ranged from premium prices in Asian markets to clever Russian price marketing in Europe and a continued lack of LNG-receiving and transport infrastructure in parts of the continent (Eia.gov, June 29). Additionally, Russian companies are themselves investing heavily in LNG infrastructure at home so they can ramp up their exports to Europe (see EDM, March 20).
Even before it became a major LNG player, the United States has been pushing Europe to bolster its energy security by diversifying its transit routes and sources of supply (see EDM, August 3, 2007). It is in Washington's geopolitical interest to help Europe become less dependent on Russian gas, since Moscow has repeatedly used it as a political weapon against its neighbors. So contrary to the Russian narrative, Washington's main strategic objective is not to sell more gas to Europe. It is to help Europe decrease its perilous dependence on Russian gas.