Russian Policy Adjusting After Ukraine's Parliamentary Elections
Publication: Eurasia Daily Monitor Volume: 11 Issue: 195
By: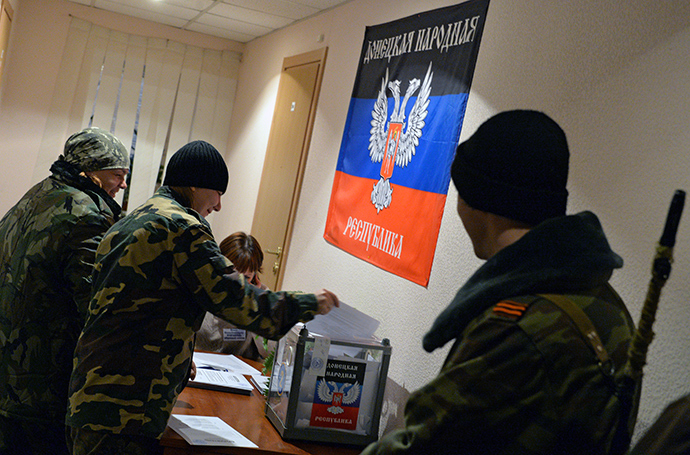 Russia has adopted a policy of parallel recognition of two sets of elections in Ukraine: the country's parliamentary elections and the "elections" in the Russian-occupied parts of Donbas (eastern Ukrainian region encompassing the provinces of Luhansk and Donetsk). This is, innovatively, a policy of pre-emptive recognition, as Moscow has recognized the results of both of those processes ahead of the voting, and without evaluating the standards of either process.
The Kremlin decided to recognize Ukraine's parliamentary elections, conclusively, as valid even before the October 26 vote. The head of Russia's presidential administration, Sergei Ivanov, announced this political decision in an interview released three days before the Ukrainian election day.
In the same interview, confining the scope of the ''Novorossiya" ("New Russia") project to the Donetsk and Luhansk "people's republics" (no farther for the time being), Ivanov implied that Russia would recognize the results of the November 2 "elections" there (Komsomolskaya Pravda, October 23).
Two days after Ukraine's October 26 vote, Russian Foreign Affairs Minister Sergei Lavrov framed Russia's response in broad terms, via the government-affiliated Izvestiya newspaper and the ultranationalist Life News TV (October 28). The rolling TV channel Life News is closely associated with the Novorossiya project, on which the Kremlin seems to signal a time-out at this point.
On the Russian government's behalf, Lavrov recognized the Ukrainian elections' outcome as valid, unambiguously and without resorting to any normative assessments. In the same statement and with the same clarity, Lavrov declared that Russia would recognize the outcome of the November 2 "elections" in the Russian-controlled Donetsk-Luhansk.
Lavrov did not mention Novorossiya or "federalization." He hinted, instead, at a possible endorsement of the territorial unity of a rump Ukraine on a conditional basis. Somewhat patronizingly he advised Ukraine to reflect on "how to ensure the country's unity, so that all citizens, irrespective of language or political views, and all population groups would find their equitable place within Ukraine."
Characterizing the Petro Poroshenko Bloc as "the leading force in Ukraine's [new] parliament," Lavrov singled out President Poroshenko as "Russia's partner and Putin's partner in working out the Minsk [armistice] agreements." Moscow would, therefore, "expect the [new] government to be comprised of ministers who adhere to Poroshenko's course."
As counter-examples, Lavrov named Prime Minister Arseniy Yatsenyuk, Interior Minister Arsen Avakov (aspirants to the same positions in the post-election government) and Oleksandr Turchynov (outgoing parliamentary chairman) as politicians who were "casting doubts on Poroshenko's decisions." Lavrov went on to decry the "national guard battalions created by oligarchs," an allusion to Ihor Kolomoyski first and foremost (Izvestiya, Life News TV, October 28).
Lavrov's first deputy, Grigory Karasin, similarly urged Ukraine to use political means and diplomacy for "preserving the country's territorial integrity. There are full opportunities for this. Ukrainian [political] parties that do not call for the use of force can be deemed as sober parties" (RIA Novosti, October 27). Meanwhile, Russian state television channels routinely speak of a "party of war" versus a "party of peace" in Ukraine's leadership and political arena (Rossiya 1 TV, Channel One TV, October 27–30).
On October 30, Russia's Ministry of Energy and Gazprom agreed with Kyiv on natural gas supplies to Ukraine, payment and debt collection from Ukraine, and gas transit via Ukraine to European Union territory. This EU-brokered agreement provides an emergency solution to tide Ukraine over during the winter months (Interfax, October 30, 31).
The chairs of Russia's Federation Council and Duma, Valentina Matviyenko and Sergei Naryshkin, have publicly invited Ukraine's new parliament to engage in an inter-parliamentary dialogue without delay, and send delegates to the Commonwealth of Independent States' (CIS) Inter-Parliamentary Assembly in November, in St. Petersburg (Interfax, October 27).
Those statements reveal some of the guiding lines of Russia's policy toward Ukraine, after the completion of regime change in that country:
— Consolidate the gains already achieved on the ground in Ukraine's Donbas (apparently with no further expansion planned at this time). Redefining Ukraine's territorial integrity as not encompassing Crimea, without, as yet, pre-determining the status of the Russian-controlled Donbas conclusively,
— Equate Ukraine's elections with the Russian-controlled Donbas "elections," recognizing both results on a non-normative basis, as a political tradeoff (underscored by the innovation of pre-emptive recognition).
— Try to split Ukraine's leadership by reaching out to President Poroshenko directly, inciting potential competition between Poroshenko's and Prime Minister Yatsenyuk's teams, and arousing suspicions of a Poroshenko-Kremlin accommodation.
— Influence the composition of Ukraine's post-election government by identifying those whom Moscow deems unconstructive or unacceptable, in hopes of starting a salami- tactics process.
— Position Moscow to exploit contests among Ukrainian "oligarchs," as Moscow's frequent attacks on Kolomoyski imply.
— Restore and use inter-parliamentary methods to create appearances of an incipient normalization of relations, albeit on Russian-defined terms.
— Adopt a conciliatory posture toward Ukraine's population by restoring natural gas supplies during the winter months.
The Kremlin had, apparently, anticipated the success of pro-Europe forces in Ukraine's parliamentary elections on October 26, but not by the margin that has resulted in a heavily pro-Europe and Ukrainian nationally minded parliament. Moscow is apparently now seeking ways to adapt to the new political situation in Ukraine.