Russian Policy in Georgia in a State of Flux
Publication: Eurasia Daily Monitor Volume: 9 Issue: 181
By: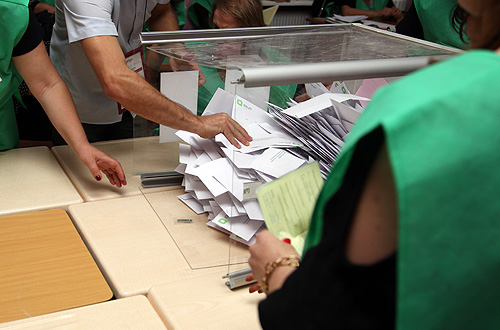 The victory by the Georgian Dream (GD) opposition coalition in the parliamentary elections on October 1 has surprised outside observers. According to the latest official results after practically all votes were counted by the Central Election Commission, the GD, led by billionaire Bidzina Ivanishvili, received 54.92 percent of the popular vote, while the ruling United National Movement (UNM) of President Mikheil Saakashvili got 40.35 percent. According to preliminary results, in the new Georgian parliament the GD will obtain 82 seats and the UNM will have 68 seats. The opposition is contesting the results in some constituencies, but it seems clear the GD has failed to reach the two-thirds majority needed to change the constitution. Independent international observers have declared the Georgian elections free and fear (Civil Georgia, October 4).
Constitutional amendments, adopted before the elections, will change the balance of power in Georgia by transferring it from the president to the prime minister, appointed by the parliamentary majority. These amendments will go into force next year after Saakashvili ends his second (and last) presidential term and a new president is elected. Saakashvili has publicly accepted defeat at the polls and promised to appoint "a prime minister acceptable to the GD." After it became apparent his coalition would win, Ivanishvili declared his desire to become prime minister and called for Saakashvili to resign to allow a speedy presidential election. However, Saakashvili seems intent to continue in power until the end of his term in October 2013, while Ivanishvili later clarified, he did not demand the president to resign, but only expressed a "wish." At present both sides have expressed a desire to work together to oversee a smooth transition of power (RIA Novosti, October 3).
Ivanishvili amassed his multibillion personal fortune in Russia and has reputedly promised to drastically revamp relations with Moscow after winning the election. He has also promised massive welfare handouts to Georgian citizens. The sudden transformation of a shady Russian billionaire into a populist Georgian politician has been seen by pro-Saakashvili observers as a Kremlin-organized plot to undermine the pro-Western Saakashvili government in Tbilisi (https://www.apsny.ge/articles/1349369662.php, October 4). At the same time, during the election campaign Ivanishvili has promised to continue to seek Georgian membership in NATO and close ties with the EU. After the election victory Ivanishvili announced his first foreign visit would be to Washington, "Georgia's main partner and friend." Ivanishvili insists he did not have any contacts with the Kremlin after his election victory and was not congratulated by President Vladimir Putin (RIA Novosti, October 3).
The Russian reaction to the opposition GD victory has been muted. According to the chairman of the Federation Council's (Russian Senate) foreign relations committee Mikhail Margelov, even if Saakashvili will be eventually fully removed from political decision making in Tbilisi, Georgian relations with Moscow will remain frosty, "since it is impossible for Russia to annul the recognition of Abkhazian and South Ossetian independence." Margelov believes only economic relations with Georgia may improve (Novosti-Gruzia, October 2). Russian troops have occupied Abkhazia and South Ossetia during the short war with Georgia in August 2008 and Moscow has recognized the independence of these breakaway Georgian regions.
Prime Minister Dmitry Medvedev has announced that the ruling United Russia party is ready to have a "dialogue" with the victorious GD, while the Russian foreign ministry declared Russia will welcome changes that "will allow Georgia to start normalizing, building constructive and respectful relations with neighbors," which apparently indicates de facto recognition of Abkhazia and South Ossetia (RIA Novosti, October 3). According to the chairman of the Duma foreign relations committee Alexei Pushkov, an improvement in Ruso-Georgian relations is possible only after the presidential elations remove Saakashvili from power (RIA Novosti, October 3).
It seems the outcome of the parliamentary elections in Georgia has left the Kremlin in confusion. Saakashvili was seen as a "Georgian Putin," who will never relinquish power and will rig elections to control parliament and become an all-powerful prime minister after he is forced to relinquish the presidency. The fact that the elections may indeed be free and fair in Georgia and that Saakashvili could publicly accept defeat while the vote is still counted—has caused lasting dismay in Moscow (Kommersant FM, October 3). The expected shameless rigging of the vote in Georgia could have caused serious political and social disorder, providing the Kremlin with an argument to isolate the Saakashvili regime internationally and possibly with a handy excuse to intervene militarily. The situation in Georgia as it has been developing during and after the election seems to have upset existing Kremlin plans, forcing a series of badly orchestrated improvisations—something the Russian ruling bureaucracy traditionally hates and cannot do well.
The victorious GD is a loose coalition of many opposition groups and parties, united by a desire to oust Saakashvili and by Ivanishvili's billions that financed the election propaganda campaign. This coalition may soon unravel and its slim majority in parliament may disappear. Saakashvili still has the constitutional power to appoint ministers and even to disband parliament in six months, calling a new vote (RIA Novosti, October 3). The political situation in Georgia may still destabilize, giving Moscow a better chance to push through its agenda: the reestablishment of military transit to the Russian bases in Armenia that is at present possible only by air, the legalization of Russian military bases in Abkhazia, South Ossetia and possibly Georgia proper and last, but not least—effective control of natural gas and oil transit pipelines though Georgia to Turkey and Europe from the Caspian basin countries. The issue of Abkhazian and South Ossetian independence recognitions per se is less essential.
The weak GD coalition involved in a coexistence arrangement with Saakashvili cannot guarantee Moscow the realization of its strategic goals in Transcaucasia. The Kremlin will need some time to overcome its present confusion and develop corrected plans for the region, while for the time being it will be most likely forced to wait and see how the unpredictable Georgian situation develops.