RUSSIAN POLITICAL CAMPAIGN TO INFLUENCE MOLDOVA'S ELECTIONS
Publication: Eurasia Daily Monitor Volume: 2 Issue: 42
By: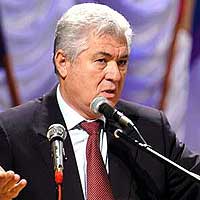 Since February 17, Russian authorities have been conducting a massive political offensive with a view toward toppling Moldovan President Vladimir Voronin and lifting pro-Russian groups to power in the upcoming general elections. A new Moldovan parliament will be elected on March 6, and that parliament will elect the next head of state. Moscow is signaling in every available way that it will not forgive Voronin and his governing team for rejecting Russian-guaranteed "federalization" and seeking international support for the withdrawal of Russian troops.
To influence the elections' outcome, Moscow threatens economic sanctions in response to Voronin's policies and suggests to Moldovan voters that reelecting Voronin would irreparably damage Moldova's relations with Russia.
On February 18, a statement by Russia's Ministry of Foreign Affairs criticized Moldova for refusing to invite Russian and CIS election observers, ignoring the CIS Executive Committee's offer to send such observers, and generally for showing a "prejudiced attitude toward Russia's representatives" in the context of elections. The Russian MFA concluded that Moldova's leadership "does not welcome an objective assessment of the elections … [an attitude] "totally incompatible with its assurances about democracy and transparency" (Interfax, February 18-19).
On the same day, Russia's Duma approved with 375 votes in favor — the unanimity of the deputies present — a resolution recommending that Russia's government introduce economic sanctions against Moldova, "in response to the Moldovan authorities' policy to escalate tensions around Transnistria." The resolution, which the Russian government says it is currently examining, urges restrictive visa regulations for Moldovan guest workers in Russia (whose remittances are crucial to families back home); prohibitive taxation of Moldovan wine and tobacco exports to Russia (Moldova's chief exports); and charging "world prices" for Russian gas delivered to Moldova. (In fact, the prices charged to Moldova for gas are the non-CIS, non-preferential prices, and Moldova adheres to the payment schedule.) (Interfax, February 18-19).
Moreover, the Duma's resolution demanded — in tune with Russian government policy — that Moldova should observe the terms of the 1997 Moscow Memorandum (known as the "Primakov Memorandum"), which allowed Transnistria to conduct its own external trade and economic relations; and should also adhere to the terms of "documents already worked out" on Transnistria's political status (a reference to the 2003 Kozak Memorandum on Russian-guaranteed federalization. The Duma's resolution claimed to be responding to a "Moldovan economic blockade against Transnistria." In fact, Chisinau simply withholds Moldovan export authorizations to Transnistria firms that are not legally registered in Moldova; it only issues authorizations to legally registered Transnistria firms.
With its Kremlin-encouraged step, the Russian Duma not only intruded into Moldova's elections but also implicitly defended the interests of transnational economic crime in and via Transnistria — interests that are synonymous with those of the Russian-installed Tiraspol leaders. The Duma's resolution and Russian Foreign Ministry comments pointedly recalled that Ukraine was a signatory to the 1997 Memorandum. This particular reference seems to signal that Moscow is prepared to oppose the newly elected Ukrainian leadership's plans to halt Transnistria's unlawful trade via Ukrainian territory.
On February 20 in Moscow, a "congress of Moldovans in Russia" was held in a style closely resembling the congress of Moscow Ukrainians that had endorsed Viktor Yanukovych for president of Ukraine. The Moldovan congress' presidium and resolutions reflected the coloration of political forces that Moscow hopes to bring to power in Chisinau. Former prime minister (1999-2001) Dumitru Braghis, one of the Troika leaders of the "centrist" Bloc Moldova Democrata (BMD), sat in the presidium alongside Boris Muravski, leader of the leftist pro-Moscow "Rodina" movement in Moldova. Chisinau mayor and Troika member Serafim Urecheanu, in a message to the congress, described Russia as "Moldova's elder sister." Also in the presidium sat Moldova's former state security minister, now Moscow-based Valeriu Pasat, who is known to all Moldovan political circles (foes or friends) as a representative of Russian interests. Russia's state television channels played up the event for Moldova's consumption. The congress attacked Voronin's policy as unfriendly to Russia; endorsed BMD and Rodina; and called for polling stations to be opened in Transnistria (i.e., beyond the control of international observers). At that same juncture and since then, Tiraspol's mass media instructed Transnistria residents to vote for either Moldova Democrata or "Rodina" (Basapres, Moldpres, Infotag, February 19-26).
Chisinau's Central Electoral Commission has turned down BMD leaders' demand that polling stations be opened in Transnistria. Consequently, Transnistria's authorities are now making logistical preparations to send massive numbers of voters to right-bank Moldova so as to increase BMD's and Rodina's share of the votes cast. In past elections, Tiraspol authorities had reduced to a trickle the number of residents who crossed to the right bank to vote, because only those loyal to the Moldovan state were taking the risk to vote. In this election, however, Transnistria's authorities plan to send their own loyalists to vote in Moldova's election.
At the moment, Russia's authorities are making no-cost telephone lines available to Moldovan guest workers to ask their families back home to vote for BMD and Rodina, so as to avoid the introduction of Russian visa restrictions if Voronin and his governing team win the elections.