Russian 'Referendums' Delayed, Ukrainian Resistance Mounting in Occupied Kherson and Zaporizhzhia (Part One)
Publication: Eurasia Daily Monitor Volume: 19 Issue: 131
By: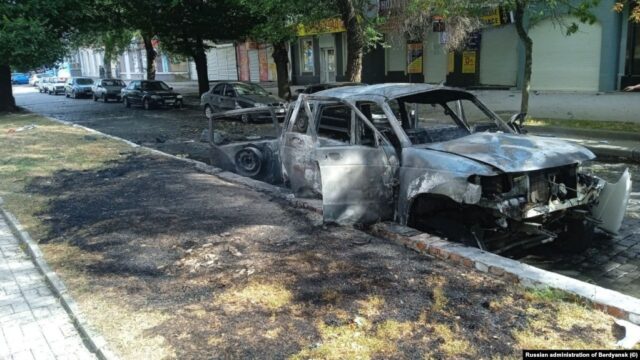 As anticipated well ahead of the curve (see EDM, July 21, 22), Russia has missed the September 11 target date for staging annexation "referendums" in Ukraine's occupied Kherson and Zaporizhzhia oblasts. Moscow and the local authorities it installed in both regions waited until early September 2022 to acknowledge the failure and to consider some later dates for these referendums (TASS, September 5, 6, 7).
September 11 is the date of Russia's own countrywide regional and local elections this year. Annexation referendums in Kherson and Zaporizhzhia on this day would have added some shine to the Kremlin's otherwise anodyne electoral spectacle. More than six months into the war, Moscow needs to show practical results in "gathering Russian lands" from Ukraine, a declared war aim from the outset (see EDM, February 25).
The occupying power has not yet established the prerequisites for holding trouble-free referendums in these two regions. Multiple political, organizational and ultimately military factors preordained missing the target date and compelled Moscow to postpone staging the referendums. The Ukrainian army's counterattacks in Kherson region since late August 2022, along with local Ukrainian armed resistance intensifying in both regions, are among the most compelling factors (see EDM, Part Two).
Russia occupies almost the whole of Kherson region (with only a few contested villages as of early September 2022). It holds 70 percent of Zaporizhzhia region's territory but less than half of its pre-war population; part of the latter has moved to the unoccupied territory, further reducing the occupied territory's population share. The region's eponymous administrative center (Zaporizhzhia city) remains under government control. The Kremlin, therefore, could hardly spin a Zaporizhzhia referendum as a triumph at this time. And staging a referendum in Kherson region only, scrapping the Zaporizhzhia show, would be even more embarrassing. Moscow needs two synchronized referendums.
The Russian military-civil administrations in Kherson and Zaporizhzhia are not yet fully constituted. Russian carpetbaggers have not managed to recruit enough local collaborators for a Russian-style "power vertical" that would orchestrate referendums or elections at the district and town levels. The collaborators lack, for now, the political and logistical machinery for organizing any sort of mobilization (see EDM, August 19). They have only started going door-to-door in partially depopulated localities, listing the remaining residents to compile electoral rolls. The authorities have decided to form "central electoral commissions" at the regional level (Kherson and Zaporizhzhia), but these commissions have yet to be staffed; electoral commissions at the district and town levels do not yet exist.
Moscow has, by now, accomplished the twin tasks of disconnecting the Kherson and Zaporizhzhia regions from Ukraine's mass communications systems and connecting them to Russia's systems. The Kremlin, however, needs more time to expose these regions to the full impact of its propaganda.
It also needs more time to "re-Russify" the local Ukrainian school system using teachers from Russia. School teachers play an important role in Russia's electoral system by canvassing voters, forming local electoral commissions and counting votes. The Russian Education Ministry is currently offering salary bonuses for school teachers to move to Kherson and Zaporizhzhia from Russia. Such transfers were observed shortly before the start of the new school year and are supposed to increase, so as to replace local teachers unwilling to collaborate (TASS, September 1). The Ukrainian army's counteroffensive ongoing since early September 2022 may, however, discourage Russian teachers and other civilian manpower from moving here.
The 2014 "Crimea playbook" of wresting territory through referendum is not Russia's sole template in this regard. The Kremlin has, in recent years, resorted either to "referendums," "elections," unilateral "recognition" or combinations thereof to crown its territorial conquests: Abkhazia and South Ossetia in 2008, as well as Crimea and Donbas in 2014. In the so-called Donetsk and Luhansk "people's republics" ("DPR/LPR") Russia did not take those 2014 "referendums" seriously: Moscow deemed them too substandard to be usable. Instead, the Kremlin used "parliamentary" and "presidential" elections, staged at quadrennial intervals in Donetsk and Luhansk, as a basis for Russia's de-facto recognition of them after 2014 and official recognition in 2022.
The "DPR/LPR" have recently postponed (again) their own "referendums" on accession to Russia (TASS, August 24). According to their leaders, they await the full conquest of Ukraine's pre-2014 Luhansk and Donetsk regions. They currently hold the former's territory fully (save for a few contested villages) and some 60 percent of the latter's territory. Moscow and Luhansk are, in effect, waiting for the Russian army to seize the remainder of the Donetsk-claimed territory, then they will stage two synchronized referendums. In this respect, their situation is analogous to that of Kherson and Zaporizhzhia. The difference is that the Kremlin has not announced any referendum dates or postponements for the "DPR/LPR" but has tinkered with the timing for Kherson and Zaporizhzhia.
Andrey Turchak, first vice-chairman of the Russian Federation Council and secretary of the United Russia party's General Council, now proposes staging the referendums in Kherson, Zaporizhzhia and the "DPR/LPR" synchronously on November 4, Russia's official Day of National Unity (RIA Novosti, September 7; Izvestiya, September 8).
Meanwhile, Russia's state media continues publicizing the goal of holding referendums for Kherson's and Zaporizhzhia's accession to Russia. This insistence whets public expectations of Moscow's territorial aggrandizement, generating pressure on the Kremlin to meet such expectations.
The Kremlin's international communications and those of the Russian government reference the Kherson, Zaporizhzhia and Kharkiv oblasts no longer as Ukraine's but as "liberated territories." This is Moscow's standard usage by now, signaling that Russia deems the occupation as justified and sustainable, thus planning to hold onto the occupied regions as long as it can.