Russian Strategic Goals in Syria Contradict US Policies
Publication: Eurasia Daily Monitor Volume: 13 Issue: 113
By: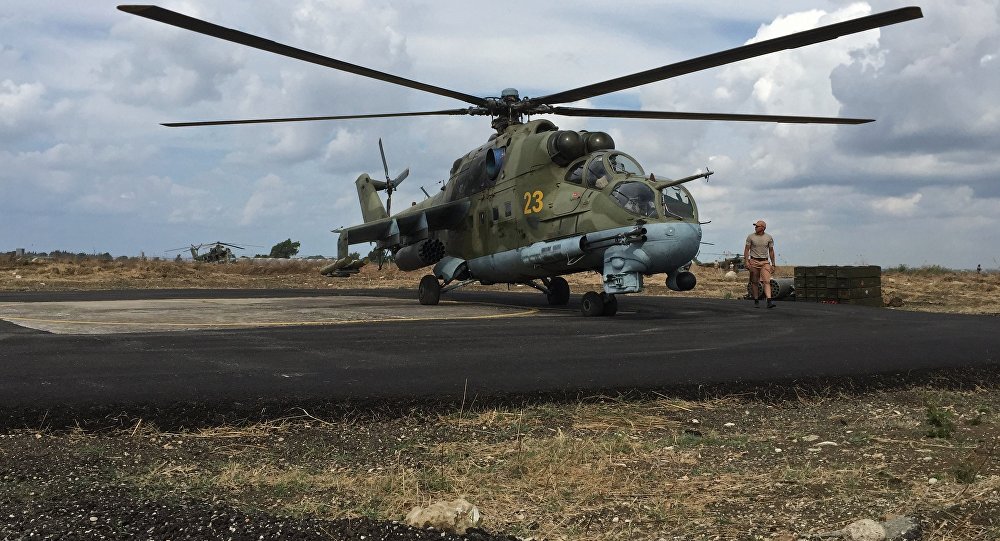 Last week, Russia's defense minister, Army-General Sergei Shoigu inspected Russian troops fighting in Syria "under orders of President Vladimir Putin." On June 18, Shoigu visited the Russian operational command center at Hmeymim airbase, near Latakia, from where Russian bombers run sorties against the Syrian opposition, the Islamic State (IS) and the al-Qaeda-connected al-Nusra Front. Shoigu met with Russian pilots, marines, special forces and logistics service personnel, as well as the commander of Russian forces in Syria, Colonel-General Alexander Dvornykov. In addition, Shoigu went to see Russia's long-range S-400 anti-aircraft missile launch positions, deployed at the Hmeymim airbase to deter a possible aerial assault by Turkish or other North Atlantic Treaty Organization (NATO) jets (Interfax, June 18).
Shoigu also traveled Damascus to meet with Syrian President Bashar al-Assad. The Russian defense ministry announced Shoigu and al-Assad "discussed military cooperation, the supply of Russian weapons and fighting terrorism." Both Damascus and Moscow define as "terrorists" anyone who actively opposes the al-Assad regime. The Russian military operation in Syria officially began on September 30, 2015, though Russian soldiers and arms were deployed and active in Syria long before. The Russian military engagement in Syria is the largest outside the post-Soviet space since the collapse of the Soviet Union, in 1991. On March 14, Putin announced the Russian military mission in Syria was "mostly accomplished" and ordered a withdrawal, but it turned out to be partial: Russian jets and helicopters continued to support pro-Assad forces from the air. According to General Dvornykov, Russian advisors, specialists and Spetsnaz (special forces) servicemen are involved in land battles together with the al-Assad forces. Since the Russian military has no midair refueling capabilities in Syria, forward helicopter bases were reportedly established in Palmira and in al-Shayrat, in Homs province (Interfax, June 18).
Shoigu's visit to Syria and his meeting with al-Assad demonstrate beyond doubt Moscow's unflinching commitment to help its long-time ally suppress the opposition and win the civil war. According to the first deputy chair of the Duma defense committee, Andrei Krasov ruling United Russia party), after Shoigu's visit Russia will increase its support for al-Assad's forces "to help cleanse Syria of different terrorists as swiftly as possible" (Interfax, June 18). Russia does not appear to support the previously internationally agreed timetable of political transition in Syria, intended to eventually remove al-Assad. According to Russia's first deputy ambassador to the United Nations, Vladimir Safronkov, "It is time to end the double standards and stop supporting opposition fighters, while the timetable of a political solution cannot be imposed from the outside" (TASS, June 22).
Speaking last Friday at the St. Petersburg Economic Forum, Putin agreed that representatives of the Syrian opposition may be incorporated into the existing al-Assad government, but this must not lead to a direct or indirect removal of al-Assad, "because this is unrealistic." According to Putin, the West, including the United States, must join Russia in promoting a "step-by-step" reconciliation in Syria; only when that happens at some point in the future, the time may come for new elections and for al-Assad to step down. Putin insists: "This is the only way to avoid a full disintegration, which is the worst-case scenario" (Kremlin.ru, June 17).
Putin seems to be promoting the Chechen scenario for a possible solution of the Syrian problem: the incorporation of turncoat Syrian opposition members and fighters, who accept a pro-Russian regime led by al-Assad. The diehard opposition, including the Islamic State and the al-Nusra Front, must be isolated and militarily smashed, as were the Chechen separatists during the Second Chechen war that began in 1999, under Putin's watch. The use of heavy-handed military action against opposition strongholds is seen as a way to kill two birds with one stone: to massacre as many opposition supporters as possible, while coercing others to take the offer of an amnesty and integration with the regime. Moscow would like the West, and the US in particular, to join Russia in this campaign of bombing and coercion, or at least to stay on the sidelines. The West, frightened by jihadist subversion after 9/11, helped Putin pacify Chechnya and install the present regime of Ramzan Kadyrov—a hybrid system that is partially pro-Russian, partially Chechen separatist and partially Islamist (Sufi). A full disintegration of Syria, with bands of armed jihadists roaming the space, seems to be in no one's interest; and that is what Putin is threatening the West with, if it does not cooperate.
The West and its Sunni Middle Eastern partners may dislike Russia's actions in Syria, but Russia seems to have a rather straightforward plan. Meanwhile, the US is muddling through with mismatched goals, trying to simultaneously wipe out the IS and oust al-Assad, while preserving strong elements of his regime to avoid a total implosion of Syria. A partial US-Russian-sponsored ceasefire has been in force in Syria since February 27, but no one seems to be fully observing it. On Friday, Russian Su-24 bombers attacked US-backed Syrian fighters near the Jordanian border. Without opening fire, US F/A-18 jets tried, unsuccessfully, to chase away the Russian bombers. Apparently, no US special forces were on the ground when the Russian bombs fell. Moscow did not deny carrying out the bombing but accused the US of not providing information that this area was off limits (Interfax, June 17).
Russia has officially expressed concern about the published dissenting opinion of 51 US diplomats calling for more assertive military action by Washington to force al-Assad to comply with the ceasefire and stop his attempts to destroy the Sunni opposition (Interfax, June 17). Shoigu's first deputy and the chief of the General Staff, Army-General Valery Gerasimov, made a stern public warning that "Russian patience is running thin" in response to a statement by Secretary of State John Kerry that US patience has limits—Kerry's remarks had been in reference to alleged ceasefire violations in Aleppo by Russian and al-Assad forces. Gerasimov accused the US of failing to press the Syrian opposition to "separate" from the IS and al-Nusra forces and stop fighting al-Assad. According to Gerasimov, US actions are "strengthening the terrorists" and this will not be tolerated (TASS, June 20).
Hundreds of US Special Forces are in Syria helping the opposition fight the Islamic State, and there are apparently thousands of Russian advisor-specialists and Spetsnaz helping al-Assad forces—in addition to US and Russian jets flying combat sorties overhead. If in the future Russian bombs fall on US soldiers, allegedly by mistake, or if US bombs erroneously hit Russians, will either side attempt to shoot down the offending aircraft?