Russian-Turkish Relations Undermined by Status of Crimea
Publication: Eurasia Daily Monitor Volume: 14 Issue: 50
By: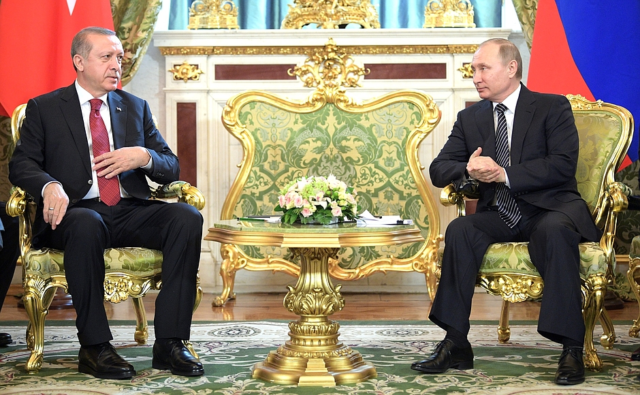 By certain measures, Russian-Turkish relations appear to be firmly developing in a positive direction, but in fact serious points of contention continue to undermine this rapprochement. On the one hand, earlier this year, Russia conducted its first ever joint military operations with a member of the North Atlantic Treaty Organization (NATO)—Turkey—against militant targets in Syria (RT, January 18). Moreover, Turkish frigate Barbaros and corvette Buyukada recently moored at the Russian port of Novorossiysk to subsequently take part in bilateral joint naval drills in the Black Sea (RIA Novosti, April 3). Turkish President Recep Tayyip Erdoğan's visit to Moscow, on March 10, was again a symbolic sign of the restoration of relations.
On the other hand, the range of difficult issues dividing the two countries is quite broad. Turkey nervously reacts to any possibility of Russian support for Syrian Kurds and has rebuked the existence of a quasi-diplomatic representative office of Kurds in Moscow (see EDM, February 17, 2016; February 15, 2017). The proposed Turkish Stream natural gas pipeline is still up in the air; and the Kremlin has reportedly begun to question the wisdom of turning Turkey into a regional hub for Russian gas, thus making Moscow dependent on Ankara (Vz.ru, March 11). Recently, the Russian International Council published an analysis of the current state of relations, but the study notably avoided the issue of Crimea (Russiancouncil.ru, April 3). Indeed, evading questions surrounding Crimea, which Russia illegally annexed from Ukraine in early 2014, has become an unofficial guiding principle in bilateral Turkish-Russian relations.
For the two sides, a key problem regarding Crimea is the peninsula's political status. Turkey tirelessly reiterates that Crimea is an integral part of Ukraine. But at the same time, Turkey is the only NATO member state that had not joined the Western sanctions against Russia to punish the latter for annexing the Ukrainian region. Turkey even had a direct ferry connection with Crimea (Sevastopol–Zonguldak) until the shoot-down of a Russian Su-24 jet by a Turkish F-16 caused this maritime link to be terminated in November of 2015. Nevertheless, following the August détente in 2016, both countries agreed to resume the ferry line, and service recommenced on October 28, 2016. Suddenly in March, however, after operating for almost half a year, Ankara banned Crimea-bound shipments from the Turkish port of Zonguldak without any explanation (Hurriyet, March 9).
Aside from the period of deterioration of relations ever the downing of the Russian Su-24, Turkey has retained a strong economic footprint in annexed Crimea. According to the Russian Federal State Statistics Service, exports of goods being shipped out of Sevastopol in 2015 were being sent mainly to Turkey (45.8 percent), Vietnam (16.8 percent), Lebanon (9.1 percent), Ukraine (5.4 percent) and India (4.8 percent). The main sources of imports came from Turkey (35.1 percent), Ukraine (29.1 percent) and Spain (11.1 percent) (Sevastopol.gov.ru, accessed April 5).
The Sevastopol–Zonguldak ferry line was a crucial supply link for Turkish products to Crimea after the annexation; it allowed Turkey to strengthen its position on the peninsula's market. Last year (2016), 680 ships from Crimea moored at the Zonguldak port (Hurriyet, March 9). Usually, the ferries from Crimea to Turkey sailed mostly empty. But from Turkey, the ferries were routinely loaded up with vegetables and citrus fruit, household chemicals, furniture, electronic components, electrical appliances, textiles and the like (RIA Novosti, November 23, 2015). It should be noted that during the ten-month halt of the Crimean ferry service, all Turkish goods and products were received at the Russian mainland Black Sea port of Novorossiysk.
On March 9, half a year after the Sevastopol–Zonguldak ferry resumed operation, the Turkish newspaper Hurriyet reported that local authorities in Zunguldak were not permitting the ships to moor at the port (Hurriyet, March 9). The authorities could not provide any official explanation for why the trade had been halted. The same puzzling reaction was expressed in Crimea: Stanislav Gvozdilov, the director of the ferry operator company, confirmed this information and stressed, "They are not mooring any ships from Crimea, and it turns out that the main reason is that Turkey does not recognize that Crimea is Russian territory" (Primechaniya.ru, March 9).
It is unclear what lies behind Ankara's decision. It is possible that Ankara has come to the conclusion that it is better to close the ferry line rather than continue Turkey's risky double standard policy of previous years—declaring Crimea an integral part of Ukrainian territory, while maintaining trade links with Russia via Crimean ports. Or, perhaps, blocking the ferry service is just a temporary measure designed to push Russia to alleviate its restrictive trade sanctions on Turkish goods. More likely, Ankara is pursuing both and maybe even several goals at once. Indeed, of particular concern for Turkey remains Russia's continued restriction on Turkish tomatoes (Interfax, April 3).
The case of Crimea and the ongoing "tomato wars" highlight the existing deep grievances between Turkey and Russia; both countries are artificially and adroitly keeping these issues unresolved. In recent years, Ankara and Moscow were pushed into the same corner because of tensions with the West. But Western powers still have the capacity to bring Turkey fully back into the Western camp, if they act quickly and resolutely.