Russians Keep Nearly $1 Billion in Georgian Banks
Publication: Eurasia Daily Monitor Volume: 20 Issue: 78
By: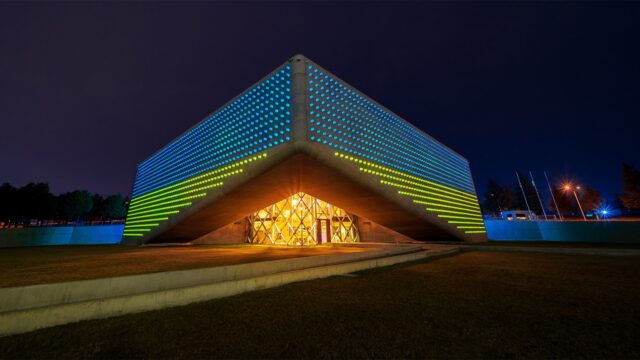 Since the end of December 2022, all clients of Georgian banks, both Georgians themselves and foreigners, have received messages with a formidable warning that, if their deposits and accounts are used to violate Western financial sanctions against Russia, these accounts will be blocked without any prior notice. Moreover, such warnings do not explain whether account holders will be able to withdraw their money from the blocked accounts (Bm.ge, December 28, 2022)
On May 9, the National Bank of Georgia (NBG) released statistics showing that Russian citizens keep 2.42 billion lari ($969.4 million) worth of deposits in Georgian commercial banks. The NBG notes that the deposits made by Russians throughout 2022 amounted to a 327-percent increase as compared to the previous year. At the same time, the NBG admits that this is due to the "large flow of Russian citizens who moved to Georgia" for permanent residence after the start of Russia's all-out aggression against Ukraine in February 2022 (Tabula.ge, May 9)
According to unofficial data, from 100,000 to 120,000 Russians moved to Georgia last year. The exact number is unknown, as many Russians live in Georgia as tourists rather than as residents (Kommersant, May 1).
In terms of the amount of deposits in Georgian banks, Russian citizens lead all other foreigners. Russian deposits make up 37 percent of the 6.55 billion lari ($2.54 billion) of deposits made by foreign citizens in Georgia, with Israeli citizens coming next at only 8 percent (524 million lari; $203.56 million) followed by Ukrainian citizens who account for 6 percent (393 million lari; $152.67 million) (Kommersant, May 10). The NBG also reports that Russians keep their money mainly in Georgia's two largest commercial banks: the Bank of Georgia (BOG) and TBC Bank. Overall, 53 percent of the deposits held by Russian citizens are demand deposits, 21 percent are current accounts and 26 percent are term deposits (Idfi.ge, October 6, 2022).
Analysis of the NBG data reveals that, after the start of the Russo-Ukrainian war, the influx of Russian citizens into Georgia significantly contributed to the growth of Russian funds in Georgia's commercial banks. For example, new bank accounts were opened by 45,349 Russian and deposit stocks increased by 170 percent. Meanwhile, the turnover rate for the Russian ruble tripled (Bm.ge, October 6, 2022). In addition, according to publicly available data on NBG's website, key indicators for money transfers from the Russian Federation to Georgia have increased significantly. Accordingly, the data demonstrates that the circumstances created as a result of Russia's re-invasion of Ukraine have contributed to the influx of significant financial resources from Russia to Georgia, which in turn has had an impact on various economic indicators in the country over the short term, including economic growth and stabilization of the exchange rate.
In 2022, more than $2 billion was transferred from Russia to Georgia as Moscow's invasion prompted some 112,000 Russians to relocate to Georgia, giving an unexpected boost to the domestic economy. The NBG says that, in May 2022, it received $314 million—ten times more than in the first three months of 2021. The peak was in December 2022, when Georgia received more than $317 million after a second wave of Russians moved there following Moscow's declaration of a "partial mobilization" in September (Kommersant, January 17).
In March 2023, Georgia received 51 percent of all foreign money transfers from Russia. This is equivalent to $223.57 million out of a total of $438.4 million, according to the NBG. As a result, Russia takes the undisputed first place among all states from which money is transferred to Georgia. For comparison, in March alone, $43.399 million were transferred from Italy, which ranks second; $35.994 million from the United States (third); $19.571 million from Greece; and $18.749 million from Israel (Bm.ge, May 15). In the same month, the amount of money transfers from the Russian Federation increased by 127 percent as compared to March 2022. Moreover, in a comparison of the first months of this and last year, the growth rate in January 2023 reached 1,096 percent (Agenda.ge, April 18).
The increase of money transfers from Russia to Georgia has been primarily affected by the strengthening of the Georgian lari, from 3.15 lari per $1 in March 2022 to 2.52 lari in March 2023. This allowed the NBG to buy up a significant amount of foreign currency on the local market, increasing the country's foreign exchange reserve to $5 billion for the first time (Bm.ge, April 7) Moreover, the government raised expenditures in the national budget several times throughout the year due to growth in budget revenues, and the country's gross domestic product for 2022 grew by 10.1 percent (Civil.ge, March 22).
Paata Sheshelidze, president of the New Economic School in Georgia, said, in a May 13 interview whit this author, that Russians who deposit money in Georgian banks are sure their money is safe. Yet, as Sheshelidze observed, "On the other hand, they [Russians] hardly plan to violate the rules of doing business with Russia, realizing that any transaction is strictly controlled by bank management." He further argued, "Controlling stakes in both of the largest Georgian banks, TBC and BOG, belong to Western shareholders." However, the Georgian economist noted, the situation with Russian deposits may change in the future as "now it is strictly controlled by Western institutions, including US banks and the International Monetary Fund" (Author's interview, May 13).
The growth of Russian money deposits in Georgian banks, even if this process is safe from violating Western sanctions, confirms the further integration of the Georgian economy into the Russian economy. Yet, at the moment, it is unclear what impact this will have on Tbilisi's political independence from Moscow against the backdrop of Russia's war in Ukraine and fighting within the current Georgian government.