Russians Oppose Any Ban on Arms Exports to Syria
Publication: Eurasia Daily Monitor Volume: 8 Issue: 102
By: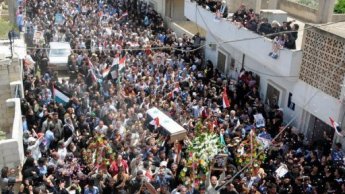 On May 12, Russia's Federal Security Service (FSB) detained the Israeli military attaché in Moscow, Col. Vadim Leiderman, accused him of spying and expelled him within 48 hours. Leiderman, a former IDF pilot, immigrated to Israel in 1977 from Soviet Moldova at the age of 15. A fluent Russian speaker, he was posted to Moscow in 2008 and was scheduled to return to Israel next month (Newsru.com, May 20). The FSB released footage of Leiderman's arrest during a business lunch in a Moscow restaurant with an unnamed Russian citizen, whose face was blurred out. Leiderman is seen sitting at the dining table and looking into an open notebook computer beside his plate that, according to the FSB, contained a top secret document (www.kp.ru, May 23).
Leiderman's arrest and expulsion was announced in Moscow on May 18, but no official explanations were immediately given. The Russian media reported, quoting unnamed sources, the attaché allegedly lobbied the sale of Israeli-made unmanned aerial vehicles (UAVs) to the Russian military, annoying the Russian defense industry (Kommersant, Vedomosti, May 20). The lobbying of Israeli UAVs cannot qualify as spying, however. Of course, the Israeli authorities declared Leiderman did not do anything wrong (Jerusalem Post, May 21).
In 2009 and 2010, the Russian Defense Ministry procured through the state-owned arms trading monopoly Rosoboronexport over 60 UAVs made by the Israel Aerospace Industries (IAI) Corporation worth some $200 million. In October 2010, Oboronprom—an arms producing subsidiary holding corporation of Rosoboronexport—signed a deal with IAI to jointly produce UAVs in Russia, using Israeli components. Oboronprom and Rosoboronexport are today both affiliated with the gigantic Rostekhnologii—a government-owned defense-industry holding corporation—headed by Sergei Chemezov, Prime Minister Vladimir Putin's former comrade from the KGB (EDM, October 14).
The IAI-made drones are today the only operational UAVs in the Russian military. Still, there are disagreements: Moscow wants the most modern planes and electronic control systems, while the Israeli defense ministry seems to be holding back, agreeing to ship older models, concerned the technology may be transferred to the enemies of the Jewish state (EDM, October 14; Jerusalem Post, May 21). An FSB-organized publication in Moscow accused Vadim Leiderman of "successfully peddling Russia aged UAVs" (www.kp.ru, May 23). In fact, the author was present when, at a diplomatic function in Moscow, an official of Rosoboronexport pressed Leiderman to help establish connections to Israeli UAV producers. Leiderman agreed, though later complained: "This is not directly my job."
Eventually the FSB press service disclosed the core reason for Leiderman's deportation: He tried to obtain secret information about arms deals with "several Arab and CIS countries" (Interfax, May 20). Israel has been pressing Moscow to stop the export of modern weapons to Syria, especially antiaircraft systems and antiship long-range (330 km) Yakhont cruise missiles, arguing they may end up in the hands of Lebanese Hezbollah and Palestinian Hamas fighters. The same week that the FSB arrested and deported Leiderman, a Knesset delegation led by former General Staff chief and Defense Minister Shaul Mofaz pressed Russian government officials to stop arms trade with Syria. Mofaz told journalists in Moscow that internal strife has destabilized Syria and no one may foresee who will, in the end, get these weapons. On April 7, an Israeli school bus was hit by a long-range (5 km), modern, laser-guided Kornet antitank missile, fired from the Gaza Strip injuring two Israelis. The Kornet was produced in Russia's Tula Instrument Design Bureau, sold to Syria and secretly shipped to Hamas in Gaza, insisted Mofaz (RIA Novosti, May 12).
Leiderman may have been seeking informantion about Russian arms shipments to Syria, and this could have angered Russian arms traders and producers. Last March, the Kremlin supported an arms embargo against Libya and, according to Chemezov, Russia has lost some $4 billion in unfulfilled contracts (Vedomosti, March 4). Last year, the Kremlin supported sanctions against Iran and canceled a $800 million deal to sell S-300 antiaircraft missiles. Chemezov complained: "We received a $166.8 million down payment for the S-300 from Tehran and now must rebate them" (RIA Novosti, October 7). Fear was growing in Moscow that the Kremlin may again go with the West and sanction Syria. Recent Russian arms deals with Syria include: 36 Pantsyr-1S short-range air defense systems, 24 MiG-29M/M2 jet fighters, 8 divisions of BukM2 antiaircraft missiles and some 71 Yakhont missiles, while previously sold T-72 tanks and MiG-29 fighters are set to be modernized—all worth over $3.5 billion (RIA Novosti, May 13).
After Putin came to power in 1999, arms trade in Russia has been taken over by former KGB generals and the FSB—the KGB successor organization. The spy scandal could have been a signal to Israel and friends of Israel in Russia to tone down lobbing. Moreover, the scandal may have been a signal to the Kremlin not to waver. The FSB announced that Leiderman ("a talented spy") established a massive network of influential "friends" in Russia and that "more than ten Israelis without diplomatic immunity hastily left Russia," but none were arrested. The FSB claims that beginning September 2009, Moscow three times warned the Israeli embassy that Leiderman was abusing his position, though the published notes do not contain anything specifically criminal (www.kp.ru, May 23).
In 2005, Russia had written off some $10 billion of the $13 billon of Syrian government debt and rescheduled the rest (http://www.rg.ru/2005/01/26/asad-siria.html). It is clear the present Syrian regime is in deep crisis, besieged by mass protests, and will never repay in full the new arms bills. Yet, the arms traders get their fees, commissions and kickbacks up front, as the deals are signed and goods shipped. The inevitable write-offs in the future will be covered by the federal budget (the Russian taxpayers), as before.
Last week, after Leiderman's expulsion, Medvedev announced he will not allow the UN Security Council to pass a resolution denouncing or sanctioning Syria "even if my friends ask me" (www.kremlin.ru, May 18). The spy scandal seems to have achieved its main goal, and an effort may follow to limit the damage. The Russian military still needs Israeli technologies, while Israel hopes defense cooperation may eventually realign Russia's Middle Eastern affiliations. The core problem, however—Russia's continued supply of modern weapons to Syria (and Iran)—has not gone away, and will continue to mess things up.