Russia's Aggressive Policies in Transnistria Reveal Severe Limitations of EU's Approach to Conflict Resolution
Publication: Eurasia Daily Monitor Volume: 9 Issue: 210
By: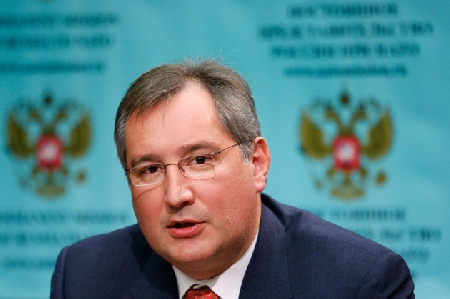 Adding to a recent series of worrying Russian actions that have exposed serious faults in the Transnistrian conflict resolution process (see EDM, October 25), Moscow has now declared its intention to build a "Eurasian economic region" in Transnistria (Ng.ru, November 2). This project is meant to mirror European Union trans-border cooperation projects known as "Euroregions." The EU initiatives serve to strengthen cross-border cooperation and develop infrastructure, transportation links, environmental protection and so on between neighboring local or regional administrative units on the borderlines of adjacent countries. In 2012, with support from Brussels, Moldova and Ukraine officially launched the "Dniester/Nistru" Euroregion, which includes the Ukrainian oblast of Vinnytsia as well as the Moldovan districts of Ocnita, Soroca, Floresti, Soldanest, Rezina and Donduseni. Very importantly, it is aimed at sponsoring and encouraging cross-border interactions among local-level institutions, communities and individuals. The Kamenka and Rybnitsa districts controlled by Moldova's breakaway Transnistria region have also expressed an interest to join, but have so far been restricted from doing so (see EDM, June 15).
On November 1, the chair of the Russian State Duma committee on ownership, Sergei Gavrilov, voiced in Tiraspol the Kremlin's initiative to offer three billion Russian rubles ($96 million) to fund the "Eurasian economic region Transnistria" project and to augment Russia's military presence in the region, which Moscow alleges is a legitimate peacekeeping force (Ng.ru, November 2).
This latest "Eurasian" project aims to prevent the weakening of Moscow's control over Tiraspol, in a direct response to EU and Moldova's efforts to attract Transnistria through economic cooperation (see EDM, June 15). It is also intended as an additional pressure tool on Moldova's government, ahead of Deputy Prime Minister Dmitry Rogozin's visit to Chisinau in mid November. Rogozin, in his additional role as special representative of the Russian president for Transnistria, has voiced his determination to compel Moldovan authorities into consenting to the opening of a Russian general consulate in Tiraspol (itar-tass.com, November 3)—and he will need multiple pressure points to do that. The consulate would then act as a storefront for a tighter and more institutionalized control over the region by the Kremlin, unimpeded by outside observers.
In addition to showing that the EU is unable to help Moldova get back Transnistria, the Kremlin is apparently sending other disturbing messages to Chisinau via the Russian media. Referring to sources in the Russian government, some influential Russian media outlets have reported that Deputy Prime Minister Rogozin may cancel his visit to Chisinau altogether, if no positive signal on the consulate is given by Moldova's government (Kommersant.ru, November 2). Rogozin's November 15–17 visit to Moldova is important for the host, as Chisinau intends to discuss a reviewed contract on Russian natural gas.
Kommersant suggested that Russian authorities are considering waging a new "gas war" on Moldova, leaving it without heat in the coming winter if Moscow's demands are not met. Additionally, Russia requests that Moldova drops the implementation of the EU's third energy package and agrees to pay the staggering $3.5 billion gas debt claimed by Russia's energy giant Gazprom, which the state-run gas monopoly deliberately did not collect from Transnistria.
The gas debt issue deserves special attention. In September 2012, Transnistria's de-facto President Evgeny Shevchuk recognized in a meeting with Russian Duma deputies that Moscow has essentially authorized the breakaway region to not pay for its gas use since at least 2006. This is how Russia disguises part of its massive funding operation to Transnistria—it does not collect the money paid by local economic agents to Tiraspol authorities for the use of Russian natural gas. According to Shevchuk, his administration regularly faces a 70-percent annual budget deficit, and only the Russian funding has allowed it to survive all these years (economics.unian.net, September 20).
So why has Russia suddenly toughened its stance on Moldova? Partly, this can be explained by Putin's return to the presidency and his reversal, both in form and substance, of foreign policy initiatives started by Dmitry Medvedev—such as the Meseberg dialogue with German Chancellor Angela Merkel. This reversal fits well with Putin's declared top foreign policy priority of integrating the post-Soviet countries around Russia and replacing the dysfunctional CIS with a "Eurasian Economic Union" (Rus.ruvr.ru, May 11; www.mk.ru, July 6). However, Moldova has become quite vulnerable to Kremlin pressure at this time specifically due to the current government's faulty foreign policy toward Russia.
Both the EU and Moldova have been investing their resources mostly to promote confidence-building measures between the populations on the left and right banks of the Nistru River. The flagship of this policy became the EU-sponsored direct talks with the breakaway region's authorities in Tiraspol. This is a classic approach for addressing ethnic conflicts; but in a politically-driven conflict, like the Transnistrian one, it can at best lock in the status quo. In order for bargaining to be possible, it is necessary to have the ability to influence the outcomes of the other side, either by imposing high costs or offering attractive incentives.
There is obviously a different set of costs and incentive that would make for an effective bargaining process with Russia, as opposed to its proxy Transnistria. Moreover, bargaining directly with Transnistrian authorities is a Sisyphean task; Tiraspol cannot make any decision independent of Moscow, which also insulates it from any kind of pressure or lure. And the EU-supported Euroregion opportunity is now being countered by a similar Russian offer, which is much more attractive to Transnistria's leadership. The Eurasian economic region will allow for easier rent seeking or simply pocketing some of the Russian funds. For instance, Russian funding to another post-Soviet secessionist enclave, South Ossetia, was the target of flabbergasting corruption schemes involving both Russian and Ossetian elites (Kommersant.ru, August 19, 2010; forbes.ru, June 14, 2011).
The EU has avoided confronting Russia on its funding of Transnistrian secessionism, which is incompatible with international law, UN standards of peacekeeping and Russia's conflict mediator status. The current Moldovan government is reluctant to bring these violations to relevant international forums, believing it is not in a position to actively defend its interests against Russia (europalibera.org, September 24).
The problem with this attitude to conflict resolution is that Moscow has absolutely no reason to give up its control over Transnistria, since neither the EU nor Moldova has imposed any significant political costs or limitations on Russia. Equally, Moscow needs to be pressured by both Brussels and Washington to give up its other control mechanisms over the breakaway region, in favor of an impartial international monitoring system. That would re-establish the incentives to negotiate for the authorities in Tiraspol, and make the Transnistrian conflict an inefficient tool for Russia to use to halt Moldova's European integration.