Russia's Arctic Policy: Between Commercialization and Militarization
Publication: Eurasia Daily Monitor Volume: 10 Issue: 225
By: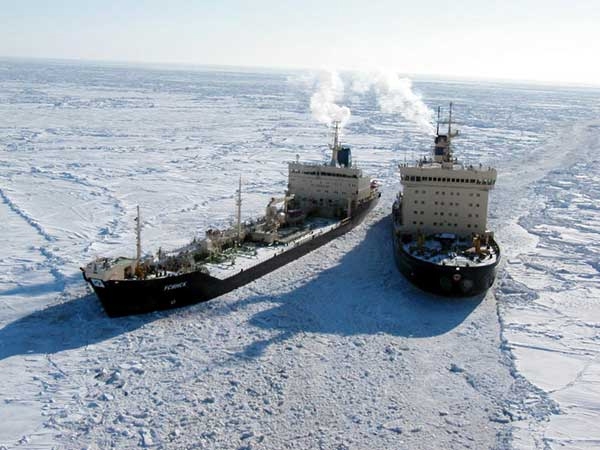 2013 was a big year for Arctic commerce. But for Russia it was mainly a big a year for the re-militarization of the Arctic. Thus, Russian policy remains trapped between the priorities of commercial utilization of the Arctic and the region's continuing military importance. In the commercial, sphere 71 ships—50 percent more than in 2012—made transits through the Arctic Ocean using the Northern Sea Route (NSR) between the Barents Sea and the Bering Strait (https://www.arctic-lio.com/node/209; barentsobserver.com, December 3). Similarly, emphasizing this aspect of Arctic exploitation, Aleksandr Shokhin, the president of the Russian Union of Industrialists, recently stressed that Russia dreams of converting the NSR into a real alternative to the Suez Canal as a route for transcontinental trade (Rossiyskaya Gazeta Online, November 22). Specialists in international affairs, like Aleksandr Sergunin of St. Petersburg University, claim that the Russian balance sheet of policy is largely positive in the Arctic. Moscow, Sergunin claims, seeks to defend its legitimate interests while pursuing cooperation with foreign partners who are willing to undertake such cooperative ventures (https://www.utu.fi/fi/yksikot/tse/yksikot/PEI/BRE/Documents/2013/BRE%205-2013%20web.pdf). Likewise, experts of the Russian International Affairs Council (RIAC) claim that, if anything, Arctic military forces have been reduced since 1990 by an order of magnitude and that any signs of new military interest there are hardly confined to Russia (Interfax, November 28, 2009).

This may be true, but there is little doubt that the militarization that Moscow is pursuing in the Arctic is, to a great degree, fueled by Russian rhetoric and policy (see EDM, September 23). The Russian government's leadership insists on seeing the Arctic in fundamentally military terms and as a region that is perennially under threat. As Viktor Boyarsky, the director of the Russian Arctic and Antarctic Museum, observed recently, the military has always been the core for the development of infrastructure in the Arctic from airfields to civil infrastructure (rbth.ru, November 21). Thus, President Vladimir Putin recently reiterated his prior belief that Russia has vital defense and economic interests in the Arctic that are under threat from the United States (kremlin.ru, December 3). This nonsensical threat assessment, especially in view of the lack of US Arctic capability, underscores the continuing problem of cynical attempts to mobilize the Russian population around inflated threats, which are manufactured by the security services who have a credulous audience in Putin. The Russian president, however, clearly has no objective idea of the reality (https://www.foreignpolicy.com/articles/2013/11/05/the_seduction_of_george_w_bush_by_vladimir_putin?page=0%2C0). Moreover, Russian conduct reflects the continuing paranoia over threats and the habitual resort to the intimidation tactics that have become routine. Illustratively, in late November, Norwegian fighters had to escort Russian TU-95M bombers that were patrolling the neutral Norwegian Sea, presumably looking for US submarines (Interfax, November 27).

A truer index of Moscow's fears may be discerned, however, in other officials' statements. Shokhin, the president of the Russian Union of Industrialists, observed that: "While we are building plans; other powers are actively looking at the [NSR] highway. That includes China" (Rossiyskaya Gazeta Online, November 22). Nikolai Patrushev, the head of Russia's National Security Council, speaking in Magadan, was even more explicit in linking Arctic security to the security and development of Russia's Far East—an area that only China could feasibly threaten. Patrushev thus emphasized not only the buildup of military capabilities throughout the Arctic but also the need—which is clearly not being met—to strengthen or upgrade the socio-demographic conditions in the Russian Far East and Arctic. He claimed these policies were being carried out according to true strategic planning methods (Interfax-AVN Online, November 21). In his remarks, Patrushev duly revealed the connection between developing Arctic economic and military capabilities, not just for their own vital sake, but also as part of a lager program of regenerating the Russian Far East—as well as the implicit unease in Moscow generated by China's economic and commercial presence in both areas.

But the results of Russian threat-mongering and militarization may yet rebound upon Moscow from other sources. Canadian Prime Minister Stephen Harper has directed his government to claim Arctic seabed rights for a broad swath of territory that includes the North Pole. This will position Canada directly against Russia and its claims, representing a reversal of Canadian policy to date (RIA Novosti, December 12; The Globe and Mail, December 5). Such policies, whatever their motives, seemingly validate the concerns of many scholars who argue that, due to the competition for Arctic resources as well as trade and territorial disputes, the militarization of those claims by rival Arctic states is growing and could lead to conflict (https://www.fiia.fi/en/publication/361/#.Uq83H-KzK8s).

Moscow may, therefore, be harvesting a rather negative outcome in the region. Commercially, Russia already manifests serious concern about being left behind by China. And, it appears, Russia's energy exploration there can only be financed by Chinese and other foreign investors. The same situation occurs in the Russian Far East where China is clearly the largest foreign investor. Yet, Russian efforts to justify its programs in terms of foreign threats and Moscow's habit of threatening others to gain respect have, in the Canadian case, rebounded upon Russia like a boomerang. This contrasts sharply with the Russo-Norwegian agreement of 2010, which has been widely hailed as an exemplary procedure for building mutual trust in the Arctic.
Russia's inability to overcome its economic backwardness and to develop a competitive economy is a hallmark of the Putin regime. But in the context of economic backwardness, a posture that perceives threats everywhere and seeks to intimidate everyone only multiplies enemies.