Belarus's Timid but Discernible Knock at Europe's Door
Publication: Eurasia Daily Monitor Volume: 10 Issue: 225
By: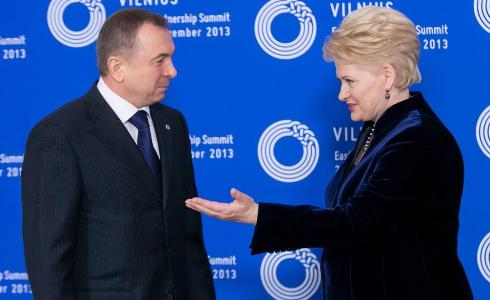 Belarus's foreign minister, Uladzimir Makei, made noteworthy pronouncements at the summit of the European Union's Eastern Partnership (EaP—which took place in Vilnius, Lithuania, on November 28–29) and at the 20th meeting of the Organization for Security and Cooperation in Europe (OSCE) Ministerial Council (December 5–6, Kyiv, Ukraine). While the content of both sets Makei's statements is identical, his remarks in Vilnius were couched in friendlier terms.
In his EaP summit speech, Makei observed that the very fact that every EaP country was represented at Vilnius is positive. This was definitely an allusion to the previous Warsaw summit of September 2011, when Alyaksandr Lukashenka, apparently disgruntled by a lack of a personal invitation, delegated Belarus's ambassador to Poland, Viktar Gaisenak, to represent the country (although Makei's predecessor, Sergey Martynov was actually invited). Yet, when Gaisenak did not see his name among the participants of an inaugural dinner, Belarus's representative left the meeting altogether (RIA Novosti, September 29, 2011). This time, however, the invitation was issued to the country, which was then to decide whom to delegate.
In his Vilnius speech, Makei described three "false choices" that the EU reportedly imposes on its eastern partners. The first such choice is "Your Way or the EU Way," whereby making things the way a certain country itself deems right is automatically defined as wrong by the EU. False choice number two is "Take It or Leave It," whereby six designated areas of mutual interest (between the EU and its eastern partners) are not tailored to each country's particular situation. As a result, the EaP remains "a toolbox for accession without a promise, and a promise of cooperation without a toolbox." "A toolbox for accession without a promise" comes across as a veiled desire on Belarus's part to become an applicant for the Union's membership at some point in time. The third false choice, according to Foreign Minister Makei, is "East or West"—that is, the insistence on a mutually exclusive nature of geopolitical leanings whereby one either sides with Russia or with the EU. Instead, the goal ought to be a common economic space stretching from Lisbon to Vladivostok (https://www.mfa.gov.by/en/press/statements/b1b79ceb334a603c.html).
A suggestive comment with regard to this geographically broad and inclusive integration is offered by Vladimir Shimov, a Minsk-born associate of the Russian Service of Radio Liberty. In principle, Shimov believes, such integration makes sense for the EU, but it is hardly possible under the current political regime in Russia. This is because the creation of a common economic space is only possible on the basis of a harmonization of values and interests of the participants. But if values are not just different but actually simply missing, and if only transient pragmatic interests exist, as is the case with Russia's ruling elite, integration is doomed to failure. Shimov opines that Ukrainian President Viktor Yanukovych's recent about-face on European integration confirms his harmonization thesis, as Yanukovych is by and large "no different from the members of the Ozero cooperative." A household name in Russia's political discourse, Ozero was the now famous dacha cooperative on the Karelian peninsula, established in 1996 by Vladimir Putin and his seven close friends, all of whom became particularly wealthy and powerful after his enthronement in the Kremlin. The only way in which Yanukovych is different from those people, according to Shimov, is that he is more loutish, which is why he behaves "like a bull in a china shop" (https://f-f.livejournal.com/).
As for Makei's statement at the OSCE meeting in Kyiv, it can be reduced to its central thesis, according to which "failure to engage in a mutually respectful dialogue and application of double standards are evident" in the OSCE's activity, "not to mention the faulty practice of political pressure and use of various restrictive measures between participating states." This, according to Makei, "creates mistrust within the OSCE, separates us from each other, escalates further confrontation and ultimately threatens the security and stability in the region" (https://www.mfa.gov.by/en/press/statements/c18df100b54f606c.html).
Makei's more friendly tone in Vilnius was reinforced by Belarus's willingness to negotiate the mutual simplification of the visa regime with the EU. From 2004 to 2007, Belarus repeatedly solicited the simplification of the visa regime from the European Commission but was rebuked due to human rights concerns. By the end of the 2007–2010 period of Belarus-EU rapprochement, however, Brussels had eventually realized that linking the visa regime for ordinary citizens with the alleged violations of the very same citizens' human rights by Belarus's government does not make sense. So in October 2010, the EU Council of Ministers asked the European Commission to prepare recommendations on the issue. As a result, in June 2011, Belarus received an invitation to begin visa simplification negotiations. This time, however, Belarus balked. The cited official reason was the unacceptable connection between the visa simplification and the readmission of illegal aliens postulated by the EU. On November 15, 2013, Belarus signed its readmission treaty with Russia, even though, in fact, the vast majority of illegal aliens willing to enter the EU from Belarus arrive from Russia. Visa simplification has the potential to reduce the price of a visa from 60 to 35 euros ($83 to $48). It can also allow the EU to waive a visa fee entirely for some categories of Belarusians. Finally, it may be seen as a step toward a no-visa regime. Two possible reasons have been put forward for why Belarus's government has agreed to begin the negotiations at this point. First, the experience of a simplified EU visa regime with Ukraine and Moldova has not led to the actual increase in the flow of visitors from these countries. Second, this gesture by Lukashenka is to be perceived as a friendly one by his electorate (https://naviny.by/rubrics/eu/2013/12/04/ic_articles_627_183852/).
However, a more straightforward interpretation also exists. Despite what Makei suggested in Vilnius, geopolitics, objectively speaking, does imply a tug-of-war between Moscow and Brussels. But when ties with Moscow are a marriage of convenience while the however distant but true goal is integration into Europe, anything that is conducive to this goal matters And Belarus's leader understands this.