Russia's Armed Forces Rehearse New 'Shock-Fire' Tactics
Publication: Eurasia Daily Monitor Volume: 15 Issue: 34
By: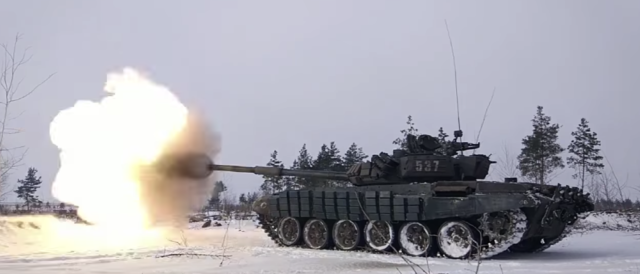 Russia's Armed Forces are reportedly rehearsing innovative approaches to combat tactics in their military exercises. This "new" approach to the combined use of tanks, artillery, Ground Forces personnel and reconnaissance assets is characterized as "shock-fire" (udarno-ognevoy), with only limited details emerging on its precise contours. Much international attention in recent days has focused on the "new weapons" outlined by President Vladimir Putin in his state of the nation speech in Moscow, on March 1 (see EDM, March 1, 5), which offered a vision of the Russian Armed Forces more akin to a parody of Dr. Strangelove. But the innovative nuances in Russian tactical-level combat training appear much more credible (Kremlin.ru, March 1; Lenta.ru, February 26). Indeed, in late 2017, the chief of the General Staff, Army General Valery Gerasimov, noted that new combat-training manuals were being introduced based on lessons drawn from Russia's operations in Syria. However, the reported shifts in tactics during combat training also seem to reflect some of the approaches to Russian operations in Donbas (Komsomolskaya Pravda, December 26, 2017).
On February 26, commanders of battalions and divisions based in the 20th Combined-Arms Army (CAA) in the Western Military District demonstrated shock-fire tactics during exercises at the Pogonovo training ground, near Voronezh. The defense ministry released a video showing the training. Initial reporting suggested that the "shock-fire" was conducted at "great distances," claiming improvements in the use of artillery in particular.
More than 200 battalion commanders participated in the exercises, involving over 1,000 personnel and 100 pieces of military equipment. According to the deputy commander of the Ground Forces, Major General Timur Trubienko, the targets were struck at ranges of up to 12 kilometers, by no means claiming any advances on traditional artillery capability. However, Trubienko highlighted a "unique method" in fixing and locating the targets. This involves the use of reconnaissance and artillery to exploit the principle of "discover and destroy" (obnaruzhil—unichtozhil), with the targeting occurring in real time based on coordinated use of unmanned aerial vehicles (UAV) and reconnaissance radars (Rossiyskaya Gazeta, February 26).
The shock-fire tactics assume a unified or integrated action of different assets and personnel operating under a single command in the performance of a specific combat mission. Details concerning the shock-fire tactics in this exercise center on T-72B3M tanks moving forward from their concealed positions, then firing and again moving. After enemy artillery opens fire, its positions are located using Orlan-10 UAVs and reconnaissance radars; targeting information is relayed directly to the artillery personnel in order to neutralize opposing targets. The operation apparently hinges on close coordination between tanks and artillery crews, while exploiting the Orlan-10s (Liganews.net, February 27).
The claim that the shock-fire tactics are new seems exaggerated. Yet, the reporting on these approaches to targeting enemy assets in the field marks a level of openness and confidence from defense ministry officials. The defense ministry has effectively declassified this aspect of combat training. Nonetheless, the detail on the targeting involving the exploitation of UAVs, radars, and coordination with tanks and artillery is remarkably similar to some Russian military operations in Ukraine. It seems that this innovative approach to targeting was most likely already featuring in Russian exercises prior to 2014, further refined in combat operations in Donbas, with additional experience gained while working alongside the Syrian Arab Army (SAA) in its operations in Syria. And all this, has been feeding back into the cycle of training exercises. The defense ministry is now evidently comfortable with releasing the confirmation that this approach to targeting exists (Pravda, February 26).
Artillery has long played a vital role in Russian combined-arms operations. Joseph Stalin famously referred to artillery as the "God of War." But the exploitation of UAVs and radars in close coordination with such firepower represents a move away from relying on massed fires. As General Trubienko explained, once intelligence is gathered in the field, it bypasses the headquarters and goes directly to the artillery crews to act on this information without any loss of time (Utro.ru, Lenta.ru, February 26). These approaches to targeting have been used in Ukraine and Syria. What is now changing is not so much the tactics, but the level of openness concerning the existence of such integrated intelligence, surveillance and reconnaissance to aid targeting. Intriguingly, while the description of the shock-fire approach appears comprehensive, there is an additional element missing from the coverage of the Vorenezh exercise—the role played by electronic warfare (EW, in Russian Radioelektronnaya borba) (Utro.ru, Lenta.ru, February 26; Topwar.ru, December 27, 2017).
This sensitive missing dimension was, on the other hand, illustrated during a recent tactical-level exercise by the elite Airborne Forces (Vozdushno-Desantye Voyska—VDV). On February 22, the VDV 31st Air Assault Brigade (AAB) in Ulyanovsk conducted a tactical exercise using the latest equipment. Units from the 31st AAB rehearsed action behind enemy lines, again using the Orlan-10 for intelligence and reconnaissance purposes in conjunction with the Infauna EW system to jam enemy communications. The Infauna also interferes with enemy explosive ordinance fuses. This use of EW forces, in conjunction with elite troops and UAV support, denotes an integrated approach toward conducting combat operations in an information-networked environment (Rossiyskaya Gazeta, February 22). It is highly unlikely that the EW forces are excluded from the shock-fire tactics used to enhance artillery and fires targeting.
These innovative approaches toward target acquisition, while more muted compared to the bombastic claims that featured in Putin's March 1 speech, are, nevertheless, extremely important. Russia's Armed Forces are transitioning from traditional reliance upon massed fires to incorporate a more refined network-enabled approach to fixing and locating enemy targets. This exploits a range of force enablers and force multipliers, ranging from radars to UAVs and EW assets. The shock-fire is not new, in the sense that it reflects some of what Russia's Armed Forces carried out in Ukraine and Syria. But the target acquisition, based on enhanced command, control, communications, computers, intelligence, surveillance and reconnaissance (C4ISR) capabilities, will certainly boost the conventional capacity at the state's disposal. Integrating these elements into an information environment is key to achieving improved speed of military decision making and gaining an edge over an adversary. Paradoxically, therefore, the exercise in the 20th CAA near Voronezh, rather than the military content in Putin's speech, may well mark the public acknowledgement by Russia's Armed Forces of finally adopting 21st-century approaches to warfighting.