RUSSIA'S BLACK SEA FLEET PLANS FORCE BUILD-UP AT NOVOROSSIYSK
Publication: Eurasia Daily Monitor Volume: 4 Issue: 152
By: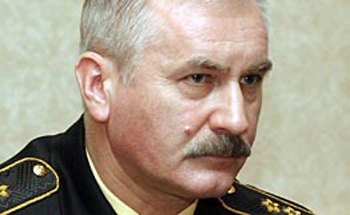 Admiral Vladimir Masorin, commander-in-chief of Russia's naval forces, announced ambitious plans to expand the Russian Black Sea Fleet's forces and missions during his just-completed visit to the fleet's main base at Sevastopol in Ukraine. The plans focus on developing Novorossiysk as a major naval base on Russian territory, retaining Sevastopol (past 2017 if it possible), and restoring the Fleet's capability to reestablish a presence at least to some degree in the Mediterranean.
The 1997 basing agreements (valid until 2017) do not allow Russia to add ships to its Fleet on Ukraine's territory. Meanwhile, Russia is building up the Novorossiysk base on the Russian coast, in immediate proximity to the Crimea. It is constricting new piers and other port installations there, as well as barracks for marine infantry (ship-borne landing troops) and installations for land-based aviation.
Masorin announced that the Black Sea Fleet would be reinforced both with new ships and with ships to be transferred from "other [Russian] Fleets," of which he named the Northern Fleet. He listed a new landing ship (for amphibious warfare), a mine-sweeper, a corvette, a support ship, and a communications ship, all to be added to the Novorossiysk base by next year. (A new landing ship of the same class is also being delivered to Russia's Caspian Flotilla, he said.)
The commander-in-chief proposes deploying Russia's sole aircraft carrier, the Kuznetsov, in the Black Sea at Novorossiysk for temporary or periodic duty, and assigning Russia's planned aircraft-carrying cruiser also to the Black Sea Fleet.
Furthermore, Masorin recommends adding 12 to 15 submarines ("not fewer than this number") — to Russia's Black Sea Fleet. This, too, would be a mix of existing and newly built submarines, some of them to be diverted from other Fleets. The third and fourth diesel-electric submarines of the Project 677 class, under construction in St. Petersburg, are named Novorossiysk and Sevastopol respectively and are scheduled for early delivery to Russia's Black Sea Fleet. (The first two submarines of Project 677, named St. Petersburg and Krondstadt, are earmarked for the Baltic Fleet).
At present, Russia has two diesel submarines — one operational, the Alrosa, and another one under repair — in the Black Sea, both based at Sevastopol. Meanwhile, Ukraine has announced an auction sale for its only submarine, the idled Zaporizhzhya.
Describing the Black Sea as a "key" theater for Russian naval operations, Masorin referenced a defensive mission and a power-projecting one. Defensively, the Russian Fleet would engage the putative aggressor before it can reach Russia's territory. With Romania and Bulgaria in NATO, Masorin would "not rule out the possibility that some NATO countries would establish naval bases" on the Romanian and Bulgarian coasts.
According to Masorin, Russia plans to restore a "regular naval presence" in the Eastern Mediterranean. Ships from the Black Sea Fleet would bear the main brunt of that mission, to be reinforced by units from Russia's Baltic and Northern Fleets on a rotational basis. In follow-up remarks, the Russian Navy's chief spokesman, Captain Igor Dygalo, defined the goal of "regular naval presence" mainly as "flying the St. Andrew flag" [Russian naval flag] in the eastern Mediterranean. Any Russian squadron operating there would not be a permanent one, but would have to be assembled ad hoc from the Black Sea and other Russian Fleets for each mission. In the short-to-medium term, the capabilities of such a squadron would be a far cry from those of the erstwhile Soviet Navy's squadron in the Eastern Mediterranean.
Russia would conduct these missions on a national basis, separate from NATO's Active Endeavor Operation, in which Russia participates symbolically. Masorin attended in Sevastopol the departure ceremony of the escort ship Ladnyi to join this NATO operation.
In remarks calculated to differentiate among NATO countries, Masorin praised cooperation with the Turkish Navy — "closer than with any navy in the world, a relationship that must be further developed and perfected." He termed Turkey a "serious regional leader" in naval and other terms. Such remarks reflect Russia's comfort with a Turkish-Russian naval condominium in the Black Sea. However, Russia's buildup plans might induce second thoughts in Turkey about this relationship if the naval balance tips in Russia's favor.
Development of the Novorossiysk base enjoys priority status in terns of Russian government financing. First Deputy Prime Minister Sergei Ivanov inspected the Novorossiysk naval base on July 11 and ascertained that construction work is progressing on schedule, on a fully funded "targeted program" of the Russian government. Ivanov had initiated the government's adoption of that program in his previous capacity as defense minister and continues overseeing its implementation (Krasnaya zvezda, July 12).
(Interfax-Ukraine, RIA-Novosti, August 1-4)