Russia's Connection to Saudi Arabia Intensifies
Publication: Eurasia Daily Monitor Volume: 15 Issue: 155
By: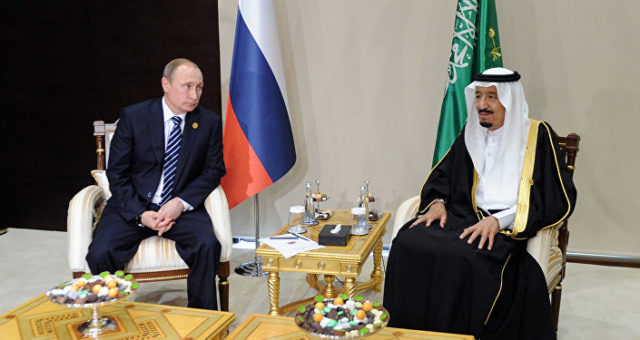 Even without the enormous scandal of the brutal murder of journalist Jamal Khashoggi by Saudi hit men allegedly operating under state auspices, late October 2018 has been especially eventful for Saudi Arabia. In particular, Riyadh announced two major investments into Russian funds (RT, October 23; Interfax, October 18) that underline increasing Saudi cooperation with Russia while, in turn, heightening Russian influence over Saudi Arabia and the wider Middle East. These investments, whatever else they may portend, also speak to Russia's success in circumventing Western sanctions by accessing Middle Eastern sovereign wealth and other funds. Thanks to this financial strategy, Russia is able to both gain capital and acquire technologies that would otherwise be unavailable due to the economic and export restrictions imposed by the European Union and the United States (see Jamestown.org, December 20, 2017).
Saudi Arabia's most recent financial pledges build on the 2015 agreements between Moscow and Riyadh to invest up to $10 billion into a joint fund as brokered by both countries' sovereign wealth or direct funds (Arabian Business, June 21, 2015). In particular, last week (October 23), Saudi Arabia announced a $5 billion investment in Russia's liquefied natural gas project LNG 2 in the Arctic and bought 30 percent of the equity of Russia's independent gas firm Novatek (RT, October 23). Riyadh will also invest $500 million in a joint Russo-Chinese investment fund (Interfax, October 25), thus turning this financial vehicle into a three-way venture. Saudi Arabia's purchase of a third of Novatek and the fact that Total also bought 10 percent of that Russian gas company's equity earlier this year (Total.com, May 24) ensure that Moscow will have the capital to continue exploring the Arctic and not have to rely exclusively on Chinese funding. At the same time, the Saudi-Russian deal undermines Western efforts to impose sanctions and to decrease Europe's reliance upon Russian energy (much of Russia's Arctic-sourced LNG will be Europe-bound—see EDM, March 20). Riyadh's other purchases have comparable effects and likewise point to the potential diminution of the Saudi-US alliance of the past.
From another perspective, Saudi Arabia has long since come to accept and recognize Russia's enhanced status in the Middle East and the latter country's supposed contributions to peace, security and global (i.e., Saudi) economic development through its oil and gas capabilities. That attitude has allowed these two governments to create an "OPEC within OPEC [Organization of the Petroleum Exporting Countries]" and set global prices (TASS, October 5, 2017).
More to the point, the Russian government has stated that it sees no reason not to believe Saudi accounts of how Khashoggi's murder occurred (Vestnik Kavkaza, October 26). This is a telling position to hold, particularly since Saudi Arabia's explanations for the deadly incident inside its Istanbul consulate have changed multiple times, so it is worth inquiring just which version of this grisly affair Moscow believes. And now the Russian government has announced that it is calling for an impartial investigation (TASS, October 25), no doubt to be conducted by the Saudi authorities themselves. It worth pointing out that, just days earlier, the Kingdom's Energy Minister Khalid al-Falih gave an extensive interview to TASS and extolled Russia' investment and business climate. He also justified the two governments' coordination of energy prices as benefitting the market, a classic defense by cartel leaders of their anti-market activities. The Saudi minister of energy admitted that his country wants to extend cooperation on an open-ended basis and preserve this arrangement for years to come. Al-Falih also made clear the Saudi government's desire to include Russian assets into state-owned oil company Armaco's new downstream strategy as well as to invest in Russia's Arctic energy projects. And he looks forward to an enhanced Saudi partnership with the Russian oil giant Rosneft (TASS, October 22).
These are only the latest signs indicative of the warmth that increasingly characterizes Russo-Saudi relations. However, one can observe similar bilateral bonhomie when it comes to Moscow's developing relations and investment ties with Dubai, the capital of the United Arab Emirates, over the past decade (The National, November 13, 2008). Indeed, the UAE's Crown Prince Mohammad Bin Zaid has noted that the two governments share open communication channels on all issues of international affairs and will form a strategic partnership to promote their relationship (International Policy Digest, April 26, 2017). These close relations not only provide a bridge to the wider Gulf—including by buttressing Moscow's separate ties to Riyadh—but also to Africa, where the UAE is actively promoting the rising Russian presence (Atlanticcouncil.org, November 27, 2017).
As Russia continues to extend its influence in the Middle East, there is every reason to expect these kinds of partnerships to grow. And as noted above, Moscow will likely utilize these ties to further spread its influence into both North and Sub-Saharan Africa. The aforementioned economic developments involving Saudi Arabia and Russia only deepen and strengthen the roots of Moscow's heretofore successful regional policy. It would be folly to think that the West will somehow supplant it there by rhetorical means alone. Not only is Moscow in the Middle East to stay, but it has acquired enablers who want it to remain; and those enablers are willing to commit their sizable resources to that end.