Russia's Discounted Mi-35 Sales to Uzbekistan: A Sign of Closer Russian-Uzbek Military Ties?
Publication: Eurasia Daily Monitor Volume: 15 Issue: 53
By: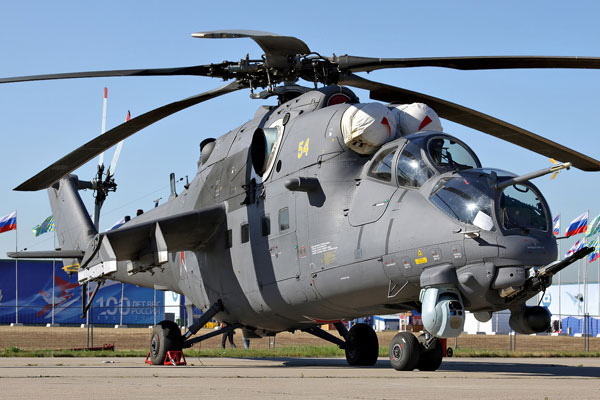 On March 29, during the ArmHiTec-2018 international exhibition of arms and defense technologies in Yerevan, Armenia, the government of Uzbekistan signed an agreement with Russia to purchase more than ten Mi-35M military helicopters (RIA Novosti, March 29). The deputy director of Russia's Federal Service for Military-Technical Cooperation, Vladimir Drozhzhov, told reporters, "In line with the agreements, we have signed a contract to supply Mi-35 helicopters. Our military and technical cooperation with Uzbekistan is developing dynamically. We are speaking about more than ten gunships." The sale is notable because under the administration of President Islam Karimov, Uzbekistan kept its distance from Russia.
In one of the first acts of the new administration of Shavkat Mirziyoyev, Uzbekistan and Russia signed a treaty on November 29, 2016, in Moscow, on developing bilateral military-technical cooperation in 2017 (Uzbekistan Today, April 3, 2017). The recent helicopter purchase resulted from that agreement, which stipulated that Russia would supply arms to Tashkent at domestic prices. Reports did not note the total value of the deal.
The Mi-35M contract marks an abrupt reversal in Uzbekistan's defense policies: in 2014, President Karimov's government was considering the purchase of 16 European military helicopters for €180 million ($239 million) (Podrobno.uz, October 16, 2014). Moreover, the helicopter purchase is significant in that it makes Uzbekistan the sole post-Soviet Commonwealth of Independent States (CIS) country allowed to buy weapons from Moscow at domestic Russian prices while remaining outside of the Russia-led Collective Security Treaty Organization (CSTO) or the Eurasian Economic Union (RIA Novosti, March 29).
Yet, it is also increasingly clear that the new government of President Mirziyoyev is investigating a broader range of military contacts above and beyond its deepening relationship with Russia. During the two-day international conference on Afghanistan, hosted by Uzbekistan in Tashkent, on March 27, British Prime Minister Theresa May's special representative for Afghanistan and Pakistan, Gareth Bayley, said that the government of the United Kingdom had decided to provide £750 million ($1.06 billion) in assistance to support Afghanistan's and Uzbekistan's armed forces, telling participants, "It is necessary to send a clear message that we are ready to act for the sake of long-term cooperation and the region's development. Of course, progress will not be made so quickly. It will take generations to build peace and to overcome all the obstacles and the opponents of the process. We should not lose a sense of urgency for the process, but we need patience and courage" (Podrobno.uz, March 27).
The Uzbekistani government has so far provided no specific details on the eventual basing destination of the Russian-built helicopters it bought. However, on January 29, Mirziyoyev notably paid a two-day fact-finding visit to the southern Kashkadarya Region, where he inspected the Xonobod (Khanabad) airbase, near the town of Qarshi, once used by United States forces flying aerial missions to Afghanistan. The US military began to operate out of the Khanabad airbase in November 2001, in the immediate aftermath of the September 11 terrorist attacks, until the 2005 Andijan tragedy. At that point, the Pentagon was forced to vacate the base after the US reaction to the incident angered Karimov's government. While at Khanabad, Mirziyoyev inspected several military transport helicopters, planes and fighter jets stationed there (Ozbekiston TV, January 29).
The Uzbekistani Air Forces' inventory remains overwhelmingly Soviet. According to unconfirmed reports, it includes over 100 various Sukhoi aircraft and more than 80 MiG fighters (Sputniknews-uz.com, January 1). As part of ongoing military reforms, President Mirziyoyev, on January 9, signed a new defense doctrine earlier approved by the parliament, which set out "principled approaches and directions for Uzbekistan's defense policy, laying out the tasks of the Armed Forces and determining promising areas for developing the country's military-industrial sector." The government also stipulated that the 2018 state budget would allocate the equivalent of up to 4 percent of GDP for military expenditures (Podrobno.uz, January 11).
Notably, unlike his predecessor, President Mirziyoyev is openly celebrating the country's Armed Forces. On January 13, for the first time in its history, Uzbekistan held a nationwide series of events showing off its military hardware and personnel on the occasion of Defenders of the Motherland Day. In local events held across the country, the Uzbekistani Armed Forces displayed both Soviet-era and modern weaponry—something that had nearly always been kept low-key under former president Karimov. In Tashkent, the Ministry of Defense presented more than 50 units of military equipment and 200 samples of small arms and other weapons as six military transport helicopters flew overhead (Sputniknews-uz.com, January 13).
The prospect of further arms sales will undoubtedly be on the agenda when Russian President Vladimir Putin pays a state visit to Uzbekistan this autumn. On March 19, the day after Russia's presidential election, the Russian and Uzbekistani presidents held a telephone conversation, during which Mirziyoyev congratulated Putin on his victory and invited him to pay a state visit to Uzbekistan; Putin accepted the invitation (Podrobno.uz, March 19). During their conversation, the two leaders also exchanged views on further expanding the bilateral partnership as well as discussed regional and international issues.
According to Uzbekistan's presidential press service, the details of Putin's upcoming visit were discussed during Mirziyoyev's meeting with Russian Foreign Minister Sergei Lavrov on March 27, in Tashkent (Podrobno.uz, March 29). Whether the helicopter sale represents a genuine deepening military rapprochement between Uzbekistan and Russia or is more of an effort by Uzbekistan's new administration to broaden its options remains a question for the future and upcoming presidential state visits.