Russia's General Prosecutor Demands Harsher Laws Against Political Dissidents and Businessmen
Publication: Eurasia Daily Monitor Volume: 10 Issue: 127
By: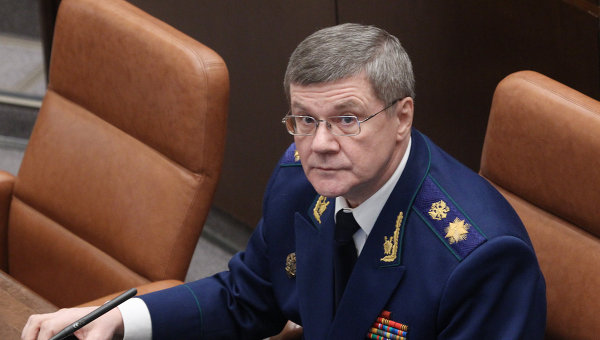 On July 5, President Vladimir Putin had a meeting with Mikhail Fedorov, presidential advisor and chairman of the Presidential Council on human rights (Soviet po pravam chyeloveka or SPCh), Vladimir Lukin, the human rights commissioner of Russia, and former SPCh chairwoman Ella Pamfilova, whom Putin, apparently, wants to be in charge of distributing government funding to non-governmental organizations (NGO)—known in Russia as "non-commercial organizations" or NKOs. A new law enacted last year orders any NKO that receives money or other assistance from abroad and is involved in political activities to register as a "foreign agent"—a label synonymous in Russia with "spy." The authorities interpret "political activity" as anything that may influence any possible public perceptions. Many well-known and respected Russian human rights and advocacy groups have been harassed under the new legislation, while others have announced they will refrain from receiving any support from abroad. Putin has announced an increase in government funding of NKOs in Russia to replace foreign aid, and Pamfilova—a well-respected public figure—will be distributing some of the grants to somewhat placate civil society (Kommersant, July 5).
According to Putin, the federal budget this year will spend some $100 million on grants to NKOs. In the future, annual government grants to NKOs may be further increased, but Putin is adamant the law on "foreign agents" must not be watered down: Those who do the bidding of foreign powers in Russia must be fully exposed. Putin also refused to allow any tax exemptions for Russian business corporations that donate money to Russian NKOs—this practice has meant, according to Putin, that money was indirectly coming from the federal budget, which was receiving less tax revenue due to the exemptions (www.kremlin.ru, July 4). Putin clearly wants to keep Russia's civil society on a short leash—fully dependent on direct government handouts. At the same time, Putin conceded that maybe some NKOs "working on purely social issues" will not be required to register as "foreign agents."
This week (July 9), Putin held an official meeting with Russia's prosecutor general Yuri Chayka, who reported at least 215 "foreign agent" NKOs in Russia—with 17 of them being financed directly by embassies in Moscow "in violation of the Vienna convention on diplomatic relations." As ordered by Putin, widespread searches of NKOs in Russia led by prosecutors supported by other state agencies began last March, and, according to Chayka, numerous violations have been found and criminal proceedings are pending (Kommersant, July 10). Chayka complained some NKOs were using legal loopholes to avoid registering as "foreign agents." He singled out as the most malicious "foreign agents" the Golos association, a watchdog organization investigating widespread vote rigging by the Russian authorities, and Agora, an advocacy group providing pro bono legal assistance to arrested pro-democracy activists and political prisoners in Russia (www.kremlin.ru, July 9). Chayka also asked Putin to reverse reforms passed during the presidency of Dmitry Medvedev (2008–2012), which somewhat liberalized Russia's severe penal code that was used by prosecutors, investigators and the police to exploit private business. Medvedev's reforms were intended to improve the business and investment climate in Russia, but, apparently now Chayka received a nod from Putin to initiate a reversal (www.rbcdaily.ru, July 10).
After meeting Putin, a visibly encouraged Chayka spoke to a plenary meeting of the upper chamber of parliament—the Federation Council—that was holding a session in St. Petersburg, while its building in Moscow is under renovation. Chayka accused the United States and other Western powers of financing and directing the activities of foreign agents in Russia, which pretend to be NKOs but hide from the Russian authorities, while reporting in detail to their foreign masters. Chayka accused the embassies of the US, UK, Germany, Belgium, Switzerland and the Netherlands of interference in Russia's internal affairs and violating the 1969 Vienna convention by directly financing foreign agent NKOs. According to Chayka, "NKOs in Russia are out of control," because the law is too lenient: they are either misappropriating money received from foreign donors, or "trying to disclose state secrets," or attempting to "influence state decision making" by fabricating "expert analysis of legislation" and trying to promote liberal legislative reforms. Chayka called on the Federation Council to close loopholes that have allowed Golos, Agora, as well as one of the most respected of Russia's human rights groups, Memorial, to avoid the "foreign agents" law by splitting their organizations or reorganizing as public associations that are legally not covered by the new law (https://genproc.gov.ru/smi/interview_and_appearences/appearences/83568/).
The Federation Council agreed to consider the amendments, giving the state more power to suppress human rights organizations and pro-democracy activists. A more precise definition of "political activities" will be considered, but the new definition will likely define defense of human rights, public advocacy activities and the investigation of vote rigging as "internal political activity." Golos has been the prime target of the general prosecutor's office's investigation, since shamelessly rigged elections at all levels of government are an important vehicle to legalize Putin's rule. Golos was fined, and last month it was the first Russian NKO to be closed down for six months for failing to register as a "foreign agent" (Kommersant, June 27).
Chayka accused the presidential SPCh of having at least four "foreign agents" on its board who are using their position to influence state policies. SPCh chairman Fedorov told journalists it was strange that Chayka did not find more "foreign agents," since "under the present law, receiving a single ruble [some 3 US cents] from abroad makes one an 'agent'" (RIA Novosti, July 10). Western diplomats in Moscow say they do not understand what Chayka is talking about, since the 1969 Vienna convention does not say anything about NGOs or NKOs (Kommersant, July 11).
A new poll produced by the Levada-Center—which recently announced it will not be conducting any polls ordered by foreign organizations to avoid being labeled a "foreign agent"—shows that almost half of the population (46 percent) believes Russia must spend more on defense, "even if economic development suffers." Some 15 years ago, before Putin's rule, this opinion was shared by 35 percent. Around 76 percent believe the US is using Russian weakness to turn it into a "raw commodity–producing appendix" or semi-colony. The Putin regime will continue to propagandize a presumed Western threat to keep power, and will seek to vilify any possible opposition as foreign agents, since the policy seems to work.