Russia's 'Green' Agenda in Action: Economic Tools and Political Motivations (Part Two)
Publication: Eurasia Daily Monitor Volume: 18 Issue: 107
By: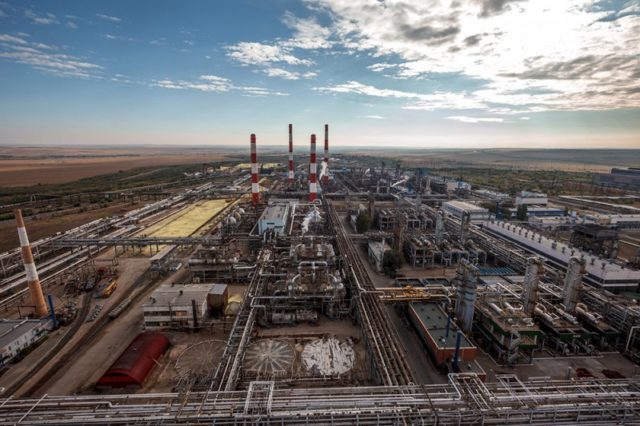 The promotion of environmental sustainability by the world's largest and most influential players has become one of the key issues determining the international political agenda. From its side, Russia seeks to use this issue for both political (to seek prestige) and geo-economic (to assume a prominent position in the decarbonizing economy) reasons (see Part One in EDM, June 24). One important element of this strategy is Russia's effort to increase its global market share in the quickly growing "green energy" industry—notably, the production of helium and hydrogen.
Helium is a natural resource indispensable for contemporary industry: this chemical element is used in the production of almost 80 percent of cell phones and semiconductors as well as to generate nuclear energy. Today, the biggest suppliers are the United States (occupying 56 percent of the market share), Qatar (28 percent of the market share) and Algeria (9 percent). Russia's current share of global helium production is only 3 percent—even though its deposits (concentrated in Siberia) make up an estimated 29 percent of the world's total. As such, Moscow seeks to dramatically boost its standing in this sector (Stoletie.ru, December 17, 2020). On June 9, Gazprom launched the Amur Gas Processing Plant (AGPP). Connected to the Power of Siberia pipeline, this plant—producing methane, ethane, propane, butane and helium—will become the second-largest facility of this type in the world. During the opening ceremony (online), President Vladimir Putin stated that the project has a "special meaning for the Russian economy." According to Putin, "after 2025," when AGPP achieves full capacity, "…approximately 60 million cubic meters of helium will be produced. This will allow Russia not only to satisfy domestic needs but also occupy one of the leading positions worldwide [30 percent of the global market share]" (TASS, June 9, 2021). To accomplish this project, Gazprom signed a record deal, worth 11.6 billion euros ($13.7 billion), with 22 European, Asian and Russian banks (Sputnik News, June 9).
Another priority component of Russia's "green energy" strategy is hydrogen production, as was clearly articulated by Deputy Prime Minister Alexander Novak during his recent speech at the St. Petersburg International Economic Forum (held on June 2–5). In particular, Novak stated that Russia could occupy 20 percent of the world's hydrogen market share (Rossiyskaya Gazeta, June 4), even though now the country currently has no large-scale plants capable of generating "green" hydrogen (RBC, April 8).
Novak's remarks were preceded by some important legislative steps. Specifically, according to the authoritative information outlet RBC, Russia's Ministry of Energy (Minenenrgo) has already produced a "Concept for the Development of Hydrogen Energy until 2024," which was reportedly discussed with key ministries and large energy companies. Now, the document has been sent to the Russian government for further approval. The RBC article asserts that by 2050, Russia is planning to earn between $23.6 billion (conservative scenario) and $100.2 billion annually on exports of hydrogen (7.9 million–33.4 million tons). Although, for now, industrial-scale hydrogen production is excessively expensive and, thus, economically unsustainable, the Russian side hopes that thanks to the use of new technological solutions, its production costs could be decreased by at least 30 percent. This would make industrial production of hydrogen in Russia (up to $4 per kilogram) much cheaper than in the European Union or Asia ($7–8 per kilogram). The Minenenrgo document envisages three progressive development stages for domestic hydrogen generation: 2024 (production levels of 200,000–1 million tons); 2035 (2 million–7 million tons); 2050 (as much as 33.4 million tons; see above) (RBC, April 15).
Another important point reportedly articulated in the document is the need for a "cluster-based approach" in the production of hydrogen. Specifically, the main hydrogen-producing areas inside Russia will be divided into four large "clusters"—Northwestern, Eastern, Arctic and Southern—based on the geographic particularities of these areas and their proximity to indispensable raw materials. Notably, akin to other geo-economic projects of strategic significance for Russia (such as liquefied natural gas production or the exploitation of Arctic-based oil deposits), the document envisages the implementation of certain types of state support. These measures reportedly include a system of "special investment contracts," partial remuneration of project-related expenses, as well as government backing of so-called "green bonds" (a rapidly expanding global economic trend that remains underdeveloped in Russia) that will be used to finance hydrogen-related projects (RBC, April 15). Incidentally, in February 2021, Russia's state-owned nuclear energy corporation Rosatom made two important announcements. First, it stated that the company is ready to cover up to 40 percent of Japan's hydrogen needs. Second, it declared it was considering the creation of hydrogen liquefaction facilities on the territory of Sakhalin Island (Atominfo.ru, February 4).
Russia's determination to increase its role in the global production of hydrogen is inseparable from plans and potential transformations in the EU's energy architecture. In July 2020, the European Commission published a document entitled "Building a Hydrogen Economy for a Climate-Neutral Europe" (Ec.europa.eu, July 8, 2020), which included contributions from the EU's top eleven energy companies. According to the study—which lays out an ambitious multi-billion-euro agenda—the total length of the hydrogen pipeline network in the EU will reach 23,000 kilometers (75 percent of these will be former natural gas pipelines) by the year 2040 (TASS, July 29, 2020). But crucially for Russia, the document suggests that 2050 will be a "deadline" of sorts for the country's hydrogen industry to achieve sufficient production levels. This is because, by that year, the EU should be ready to invest 180 billion–470 billion euros ($212 billion–555 billion) to become the world's largest hydrogen market. However, presumably unable to satisfy its consumption needs through domestic generation, the EU will then seek external suppliers—and Russia will need to be ready or risk losing that market share to others (Kommersant, October 8, 2020). It is unsurprising, therefore, that Moscow has continued to pitch the embattled Nord Stream Two natural gas pipeline as a potential carrier of Russian-produced "green" hydrogen to Europe (see EDM, February 24, 2021).
Sensing serious approaching shifts in global energy architecture—and in the EU and Northeastern Asia in particular (the top purchasers of Russian hydrocarbons)—Russia seeks to elaborate new ways of increasing its role as one of the leading producers of "green energy." At present, helium and hydrogen look to have attracted particular attention from the government.