Russia's High-Precision Strike Capabilities and 'Pre-Nuclear' Deterrence
Publication: Eurasia Daily Monitor Volume: 15 Issue: 138
By: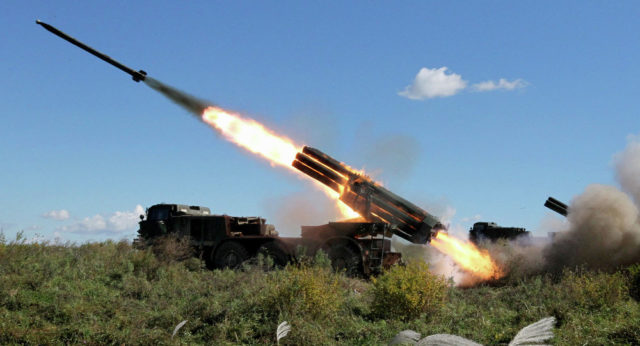 Moscow is paying increasing attention to the development and strengthening of its Armed Forces' conventional high-precision strike capabilities. This encapsulates its cruise missile, coastal-defense, operational-strategic and operational-tactical high-precision weapons. Some of these have been tried and tested during combat operations in Syria. And undoubtedly, such weapons will become more of a prominent feature in Russian military operations in the future: the authorities have promised to fully outfit the Missile and Artillery Troops by 2021 with the latest systems as well as to diversify the types and production of such assets. But at the same time, this advanced conventional weaponry is closely tied to the embellishment of Russia's so-called "pre-nuclear" deterrence. Since they are so expensive, such systems feature more in actual combat operations in Syria and less in the testing that takes place during strategic exercises; although these kinds of experiments utilizing high-precision strikes also occurred during Vostok 2018 (Voyenno Promyshlennyy Kuryer, September 25).
While high-precision weaponry plays a growing role in Russian military procurement and operational planning, its origins in relation to a deterrence concept have been long in the making. Andrei Kokoshin, a former deputy defense minister and well-known defense intellectual, coined the phrase "pre-nuclear deterrence" (prediadernoe sderzhivaniya), advocating that Russia must reduce its reliance on nuclear deterrence. As this became institutionalized, the term appeared in the 2014 Military Doctrine. It referred to a range of measures across the political-military spectrum that, when combined, would serve as an added layer of deterrence (Rossyiskaya Gazeta, December 30, 2014). While, this has arguably already become an element of Russian strategic deterrence, a key aspect is to strengthen the conventional military forces in this context by adding to and expanding the numbers of high-precision systems. Russia is now rapidly implementing this approach. And there is evidence, from operations in Syria to strategic and other exercises, that the political-military leadership takes it quite seriously.
One recent illustration of these advances came in late September, during Russian maritime exercises in the Baltic Sea. Coastal defense and naval assets were used during the exercise, featuring Bal and Bastion missile systems. They rehearsed operations against enemy combat ships and protecting the coast of Kaliningrad. Earlier, in August, a Project 949A nuclear submarine participated in exercises with surface vessels in the Baltic Sea; their combined tasks focused on anti-sabotage, anti-mine, anti-air, anti-submarine and anti-ship defense. The exercise appeared to hone the Russian anti-area, access denial (A2/AD) capability in the Baltic region (Izvestia, September 30).
Also, in late September, Russian media reported on advances in unmanned aerial vehicle (UAV) technology in support of high-precision strike systems; this is intended to enhance surveillance capability as part of Moscow's ongoing efforts to integrate command, control, communications, computers, intelligence, surveillance and reconnaissance (C4ISR) into the Armed Forces. Flight tests of the prototype UAV involved launches from the Smerch multiple launch rocket system. The main purpose of the new UAV is to collect operational intelligence. It flies at an altitude of 500 meters for 20 minutes to monitor territory of up to 25 square kilometers (Izvestia, September 29).
Based on the recent (September 6–9) international exhibition Gidroaviasasalon 2018, on Russia's Black Sea coast, attended by 203 companies from 6 countries, it seems that Moscow may be trying to involve foreign partners in this sensitive area of its force development, despite the current sanctions regime against Russia. The group of Russian companies currently working in this area was established by Presidential Decree No. 84, on January 24, 2002. It includes almost 50 defense companies to provide development and serial production of the following:
– aviation tactical, operational-tactical and strategic guided weapons, including hypersonics
– naval offensive and defensive systems, including ship-based and coastal-based anti-ship missile systems, as well as underwater weapons and special-purpose underwater technical equipment;
– missile systems with intercontinental ballistic missiles;
– space systems and devices;
– electronic weapons systems; and
– products based on dual-use technologies in the fields of aviation, aerospace, marine and information technologies (Voyenno Promyshlennyy Kuryer, September 18).
According to Boris Obnosov, the director general of the Tactical Missile Armament Corporation, almost 50 factories and design offices are united in the current drive to boost Russia's conventional high-precision strike capability. These are the main developers of the program for creating such weapons for the fifth-generation aviation complex and weapons systems for the navy. "We are preparing to launch more than a dozen new high-precision weapons into mass production; we are creating small, medium, long-range missiles of the air-to-air class, anti-ship, anti-radar, multi-purpose air-to-surface missiles and a number of other products, including naval underwater weapons," Borisov noted. In 2018, tests of a new torpedo are scheduled for completion (Voyenno Promyshlennyy Kuryer, September 18).
Likewise, despite the high-precision elements of Vostok 2018 being relatively low key, they were nevertheless present. A critical part of the exercise in the Central and Eastern Military Districts was the rehearsal of repelling a "massive enemy air raid." In this instance, a range of Russian air-defense systems came into play to offer what Russian military specialists refer to as "layered air defense." This also constitutes a central component of Russia's A2/AD capability. S-300 and S-400 surface-to-air missile (SAM) systems served alongside Buk and Thor systems, as well as the anti–cruise missile Pantsir-S. Varied enemy attacks were simulated and designed to mimic the range of such use of airpower. Colonel Sergey Tikhonov, the commander of the 76th Air-Defense Division, said it took no more than ten seconds to identify, distribute and defeat the individual target. During firing practice, the regiments of the Samara division were targeted by simulated cruise missiles and ballistic warheads. "Today was the main test because it is very difficult to fight with so many targets flying at minimum intervals," said Colonel Tikhonov. "But nevertheless, the trained calculations, the prepared equipment made it possible to cope with the tasks: all the goals were realized," he asserted (Voyenno Promyshlennyy Kuryer, September 25).
While the political-military leadership in Moscow has renewed its emphasis and commitment to developing pre-nuclear deterrence, a vital element of which is high-precision strike capability, this also draws on experience in using these assets in Syria. Doubtless, Russia's political leadership is impressed with the results witnessed in the Syrian campaign and now affords long-term fiscal commitment to making these more commonplace in the military inventory. Yet, while this helps to diversify deterrence options, it equally provides a new range of military capability options at the disposal of the Kremlin in the future, both in terms of possible conflicts and as a potential tool of coercion.