Russia's Latest Arctic Gambit
Publication: Eurasia Daily Monitor Volume: 10 Issue: 168
By: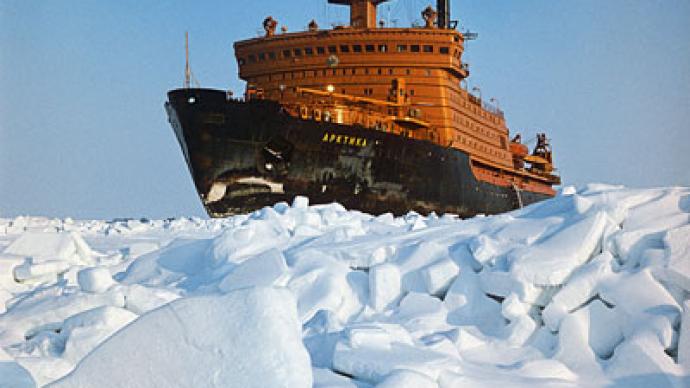 Russia invariably proclaims that its response to the challenges provided by the opening up of the Arctic and the Northern Sea Route (NSR) is purely political, diplomatic and peaceful. Yet, much of its behavior is characterized by preemptive military gestures driven by the belief, affirmed by President Vladimir Putin in February 2013, that the Russian Arctic is under threat from other unnamed powers due to the region's rich energy holdings (kremlin.ru, February 27). Russia's latest gesture, the dispatching of a large naval detachment along with a naval and air base construction team and scientists to the New Siberian Island archipelago (Novosibirskie Ostrova), is a case in point. All month long, a naval taskforce of three combatant ships led by the nuclear cruiser Petr Veliky (Peter the Great), seven support ships, and four nuclear-powered icebreakers have been sailing to this destination and, upon disembarking, its crews have proceeded to build an air base on Kotelnyi Island at Putin's express order (kremlin.ru, September 16).

The rationale behind this order and subsequent expedition appears to be primarily geopolitical. Putin talks of establishing an air base in the Far North, along with stationing representatives of the Ministry of Emergency Services, hydrologists and climatologists, to undertake joint work on ensuring the safety and effectiveness of the NSR "so Russia can effectively control this part of its territory." Russia also apparently intends to build a fixed berth on Kotelnyi Island to make it a port or base for receiving barges and medium-class vessels. Moreover, the Russian government intends to use the port of Tiksi, Sakha Republic, as a base facility to deliver supplies to Kotelnyi Island for that purpose (kremlin.ru, September 16).
The Ministry of Defense openly claims that Russia is reaffirming its control over these important Arctic territories in order to develop the NSR as well as improve the navigational potential of this new maritime route and of the Arctic Ocean. Furthermore, the Kotelnyi Island air base is planned to receive AN-72, AN-74 and Il-76 transports and serve as a functioning facility on a year-round and all-weather basis. The base's runway will supposedly be built with new technologies that are specially intended for these tough climactic conditions, and the facility will be ready to accept air defense missile systems like the Antey-2500 variant of the S-300 to strengthen Russian forces there (Interfax-AVN Online, September 13, 16). The forces deployed on this Arctic island will also carry out unspecified, large-scale (kompleksnyi) operations (Interfax-AVN Online, September 13).
The Russian Navy's commander-in-chief, Admiral Viktor Chirkov, stated that while the current expedition to the New Siberian Island archipelago primarily aims to collect information on the area's navigational conditions and its hydrographical situation, "The involvement of the Russian defense ministry in securing the national interests of Russia in the Arctic is necessary because there is a need for clear state security guarantees in this strategic region" (Interfax-AVN Online, September 16). Thus, by all accounts it appears that Russia aims to establish a constant, year-round and all-weather military deployment in the Arctic (Zvezda TV, September 14).
However, the stated rationale behind this deployment as well as the deployment itself, in turn, raise several questions. First of all, beyond a scientific reconnaissance of the surrounding Arctic waters, the military mission appears to be the protection of regional energy deposits and of the NSR. But no such threat is presently detectable, at least to Western observers. Moreover although traffic in the NSR has increased, no drilling has yet been started in either the adjoining Laptev or East Siberian Seas (Barents Observer, September 17).
Second, despite the government's promises of infrastructure upgrades to meet the severe local conditions, Russia has still not fully come to terms with the devastation wracked by the Soviet Union in the Arctic. And Moscow's ability to properly monitor developments there may be less robust than advertised. Illustratively, the Norwegian publication Barents Observer reported recently that two nuclear generators from the Soviet period in the Arctic are missing and presumed—though nobody knows for sure—to have washed out to sea (Barents Observer, September 13). This hardly augurs well for Russia's ability to rebuild or control the local infrastructure. Moreover, if that infrastructure is indeed being rebuilt, as so many reports indicate, altogether newer and different materials may well be needed, which are probably beyond the reach of Russia's present technological and financial capabilities.

Indeed, at a time of looming budget cuts, including the deferment of some military spending (see EDM, August 6, 13), it is questionable whether or not Moscow can support Putin's extravagant vision for the Arctic in both civilian and military terms. Moreover, if there is little or no evidence of foreign military activity currently endangering the New Siberian Island complex, does Russia consider the threat to be emanating from the Pacific Ocean side of the Arctic? And if so, against which Pacific actor is Russia preparing? Can it be that despite recent Russian deals with China in the Arctic, Moscow still fears Chinese ambitions in the Far North—especially given the somewhat ambivalent past history of Sino-Russian claims in the Arctic? As is typically the case with the Russian perceptions of the Chinese "threat," nobody in Moscow is willing to confirm such conjectures. But readers should, as old radio broadcasters used to say, stay tuned for future developments.