Russia's Long-Term Agreement With OPEC: A Temptation Moscow Might Resist
Publication: Eurasia Daily Monitor Volume: 15 Issue: 49
By: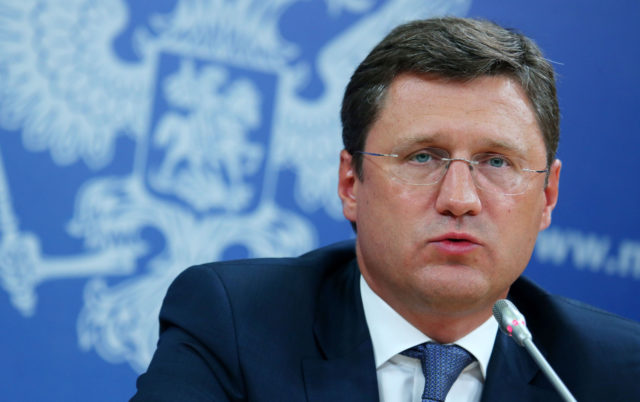 Saudi Crown Prince Mohammad bin Salman stated, on March 26, that the Organization of the Petroleum Exporting Countries (OPEC) is considering signing a new long-term agreement with Russia and other non-OPEC members. This accord that would allow the group to control prices on the international oil market for the next 10–20 years. According to the Saudi prince, a certain understanding on the main idea of the long-term deal has already been achieved. Yet, the details still need to be discussed (RBC, March 27). This statement was enough for the Russian media to begin arguing that Russia and Saudi Arabia is about to form a solid long-term alliance to control the oil market (News.ru, March 28). However, the Russian leadership's official reaction to these statements was modest.
When commenting on Mohammad bin Salman's speech, the Kremlin's spokesperson, Dmitry Peskov, only said that Russia was carrying out a diverse and multilevel dialogue with the Saudis on different issues, including the situation in the oil market. He avoided any discussion of the idea of the long-term agreement itself (Gazeta.ru, March 28). The same was true for Russian Energy Minister Alexander Novak. While meeting with President Vladimir Putin on March 29, Minister Novak only emphasized the positive influence that coordinated oil production cuts with Saudi Arabia had on the incomes of Russian corporations and the state budget in 2017 (Gazeta.ru, March 29). Several days earlier, he chose not to discuss the prospects of Russian participation in the OPEC+, deal saying that it was still too early to speak about this (RBC, March 27).
The Russian leadership clearly stands at a crossroads. On the one hand, it wants to sign a deal with Riyadh. Moscow has repeatedly said it is interested in continuing its cooperation with Saudi Arabia after January 2019, when the current deal between non-OPEC members and OPEC on limiting their oil output ends. The long-term agreement would build a solid base for the development of Russian-Saudi dialogue beyond cooperation in the oil sector. Moscow definitely needs Saudi investments in its liquefied natural gas (LNG) projects. It also plans to penetrate the Saudi gas market. Finally, the development of political dialogue with the Kingdom might be a question of prestige: Russia is flirting with the United States' most important Gulf ally in order to demonstrate to Washington that the latter does not have exclusive rights to form alliances with the region's monarchies. Finally, through its dialogue with Riyadh on oil, Moscow wants to leverage the Saudi position on Syria.
On the other hand, in early March 2018, Deputy Minister of Energy Aleksy Teksler said that Moscow has no plans to become a full-fledged OPEC member (TASS, March 6). Moreover, Russian business seems to be against any further obligations with regard to the decrease in oil output beyond 2018. First of all, by joining the current OPEC+ agreement, Moscow lost its status of a free-rider, which had allowed it to profit from OPEC's actions aimed at increasing oil prices without being a participant to any binding production-cut agreements with the cartel. Second, the OPEC+ deal does not influence some key factors currently affecting international oil prices, such as weaker consumption in India and China or higher oil production in the US. Consequently, Russian businesses ask whether it makes sense to work with an organization that cannot fully control the global oil market. Third, an extension of the oil production limits imposed by the OPEC+ agreement would undermine the development plans of Russian oil corporations determined to increase their output after 2018 (Finam, March 28).
Thus, on March 23, Lukoil presented its new development strategy, which sets down production growth rates of 1 percent per year until 2027. Rosneft's plans imply 2 percent annual growth until 2022, whereas Tatneft intends to increase production each year by 2.4 percent until 2025. Moreover, the extension of the OPEC+ agreement beyond 2018 might also undermine Gazprom Neft's plans (Finam, March 28). The current agreement between OPEC and non-OPEC members has already put some of Gazprom Neft's development targets in question. Consequently, its managers are looking forward to the end of the deal. In late-February 2018, Mikhail Cherevko, the head of Gazprom Neft Khantos, the largest oil producing subsidiary of Gazprom Neft, argued that as soon as the OPEC+ extension is over, his company will need just 2–3 days to return to its previous levels of output and start to increase oil production—by 2.5 percent annually until 2020, and by 5–6 percent per year thereafter (TASS, March 28). The implementation of these plans is of key importance as it will allow those Russian energy-sector firms to secure the necessary funds to pursue further development of their business.
Under these circumstances, the Kremlin may have to resist the temptation to sign on to a further binding agreement with OPEC. Instead, Moscow will likely try to balance between its interests and the interests of Russian business. Russia might try to persuade the Saudis to adopt a document that will be minimally binding (if not shallow), flexible and more focused on consultations rather than obligations. Yet, it is questionable whether such a document would actually satisfy Riyadh.