Russia's New Energy Accords: Are They for Real?
Publication: Eurasia Daily Monitor Volume: 12 Issue: 123
By: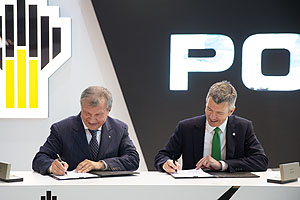 Given the centrality of energy to the Russian economy and the withering impact of continuing low energy prices and sanctions, Russia has ample reason to promote energy deals with anyone it can find. The annual St. Petersburg International Economic Forum has historically served as a venue for announcing major deals, and this year's event (June 18–20) was no different. Reportedly, Russia signed 205 agreements totaling 293 billion rubles ($5.4 billion). But although Russian companies reached 30 more agreements this year than in 2014, the monetary sum of all these deals was actually $2 billion less (The Moscow Times, June 21; RT, March 5).
Nevertheless, Russia did manage to sign important agreements with regard to its major European energy projects: Nord Stream and Turkish Stream. In particular, Russia and Greece agreed to create a joint economic venture to extend the proposed Turkish Stream pipeline—projected to stretch from the Russian Black Sea coast, under the sea to Turkey, and then across to the Turco-Greek border. Each country agreed to 50 percent of the project; the Russian bank VEB Capital, which will own Russia's share, will provide two billion euros ($2.2 billion) for financing the pipeline. Turkish Stream is planned to carry an estimated 47 billion cubic meters (bcm) of natural gas annually through Greece to European destinations (Interfax, June 22).
Also during the St. Petersburg Forum, energy giants Gazprom, Austrian OMV, German E.On and Royal Dutch Shell signed a Memorandum of Understanding (MoU) that could lead to the doubling of the Baltic undersea Nord Stream gas pipeline's capacity. Nord Stream currently transmits gas to Germany, but OMV intends to extend the shipments to Austria and turn the country into a regional gas hub. This project appeared to be moribund earlier this year but has now been revived. But since it involves Royal Dutch Shell, the Nord Stream deal—along with a projected $20 billion expansion of Shell and Gazprom's liquefied natural gas (LNG) plant in Sakhalin as well as global asset swaps—has given rise to claims that Gazprom and Shell continue to carry out business together in spite of sanctions (Interfax, June 18; Reuters, June 19).
Finally, Russia's state-owned oil company Rosneft signed 57 agreements in St. Petersburg. Its main deal was the sale of a 20-percent stake in the Taas-Yuryakh oil and gas field to BP for $750 million. This is the first concrete deal with a Western energy major since the introduction of sanctions last year. The Taas-Yuryakh field is connected to the East Siberia–Pacific Ocean (ESPO) oil pipeline by a separate spur. Rosneft will sell another 29 percent of its stake in the field to a mysterious Arab fund called Skyland Petroleum, which manages Chinese investments (Rosneft.com, June 19).
On the other hand, Russia also suffered a major loss. Total has pulled out of the Shtokman gas project in the Barents Sea, apparently due to the sanctions. Gazprom has inherited Total's 25-percent share in the project (Sputnik News, June 24). This suggests that other Arctic projects will also not move forward due to Western sanctions and low global energy prices.
Russia's flurry of activity deserves close scrutiny for a number of reasons. First, despite talk of major deals in Asia and threats to back away from Europe, Russia clearly cannot afford to do so and must continue to expand its portfolio of exports to its western customers. Second, despite the sanctions, major energy firms, for the most part, feel free to make deals with Moscow. Third, Russia will apparently not relent upon its decision to isolate and cut Ukraine out of shipments of gas to Europe by 2019, despite the fundamentally uneconomic nature of such plans (RT, July 1). And the Russian aggression in Ukraine will, of course, make friendly long-term commercial projects of a strategic character, like energy, quite difficult if not impossible. Moreover, Russia's determination to isolate Ukraine shows no change in Putin's belief that Ukraine as a state is merely a smaller Russia and has no right to an independent existence (see EDM, April 23). Russia's determination to push Turkish Stream and its agreements with Greece, as well as the simultaneous attempt to reopen the Burgas-Alexandropoulos oil pipeline—a gambit that went nowhere—also show Moscow's determination to undermine the European Union. Not only is Russian trying to split Greece from the rest of its EU partners, but Turkish Stream is also designed to skirt EU supervision since the planned pipeline will be open to Europe only at the border with Turkey, where Europe's energy legislation does not extend (Novinite.com, June 19). Finally, Total's decision to divest from the Sakhalin field underscores the inherently problematic economic nature of Russia's quest to dominate Arctic energy, a major policy arena for Putin.
While Western energy companies' openness to exploring new business ventures with Russia despite sanction merits serious criticism, it is unlikely that these deals—even if actually implemented—can, in fact, rescue Russia from its current crisis. Indeed, Turkish Stream probably will not be built because it makes little economic sense and its costs are almost certainly underestimated. This proposed gas pipeline mega-project, therefore, continues Moscow's tradition of big talk and talk of big deals with little or no credible follow through or economic rationale to them. It may yet turn out that Total's withdrawal from Shtokman was the real news in June 2015, and not the Balkan and German agreements coming out of the St. Petersburg Economic Forum. But even if the Balkan and German deals move forward, their ability to boost Russia's leverage over its neighbors presently seems quite improbable. Bulgaria's flat refusal to consider the Burgas-Alexandropoulos pipeline is a case in point. Moreover, Moscow has taken onto itself the entire cost of financing its Greek project—another burden it can ill afford. Only time will tell how much credence we should really attach to Russia's triumphant energy deal announcements.