RUSSIA'S PRESIDENT-ELECT SPEAKS TO FINANCIAL TIMES
Publication: Eurasia Daily Monitor Volume: 5 Issue: 57
By: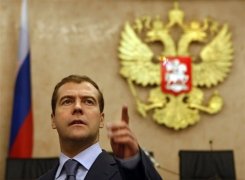 Russian observers are mulling the significance of Dmitry Medvedev's interview with Britain's Financial Times newspaper, particularly his comments about how he views his future role and how he will work with President Vladimir Putin, who has agreed to serve as his prime minister.
In the Financial Times interview, published on March 24, Russia's president-elect stressed that the country's constitution "predetermines the answer to the question of who takes decisions on what issues." "It is the president who sets out the main directions of domestic and foreign policy," Medvedev said. "He's the commander in chief, he makes key decisions on forming the executive. He's the guarantor of rights and freedoms of Russian citizens." At the same time, Medvedev stressed that the government, headed by the prime minister, "has its own extensive areas of competence." "It is the government which implements all economic activities, adopting the most important decisions in the economy," Medvedev said. "The government's competence is quite extensive and its structure includes a considerable number of executive bodies. The government's job is complex, large, and challenging. And it's completely obvious that it has enough of its own business to attend to. In other words it's all simple. Russia is a presidential republic with a strong executive authority."
Medvedev also denied the Financial Times interviewer's statement that Russia "doesn't have a happy history of two people running the country" and the implication that his tandem with Putin may not work. "The incumbent president is an effective leader and he's ready and able to continue to work to advance the development of our country, to make sure our development continues in the way set out eight years ago," Medvedev said. "This is why this tandem, or this team of two, was formed between the presidential candidate and the Russian president as a possible future prime minister. I am confident that our tandem will prove to be absolutely effective. But what I cannot agree with in your statement is the fact that a dual power arrangement will emerge in this case, of a type which has historically resulted in various negative consequences for Russia."
Stanislav Belkovsky, head of the National Strategy Institute, said that the Financial Times interview, in which Medvedev also repeated that "freedom is better than non-freedom," denounced Russia's "legal nihilism" (see EDM, February 20, 27), and called for "absolute independence of the court system" and a fight against corruption," was part of an effort by Russia's ruling "system" to convince that West that a "thaw" is in the offing and Medvedev is the lesser of evils compared with others who might have succeeded Putin as president. At the same time, Belkovsky said that Medvedev is continuing Putin's line "in all questions" and no real liberalization will actually take place.
Belkovsky added, however, that while Medvedev's "stock compliments" of Putin were "necessary to emphasize the continuity of power," the president-elect's statements that "the center of power is the Kremlin and the presidential throne" leave no doubt that Medvedev "has ambitions to rule by himself and will rule by himself both as the legitimate tsar and an individual who really believes that his coming to power is a significant stroke of luck for Russia" (Radio Free Europe/Radio Liberty's Russian Service, March 25).
Likewise, Lilia Shevtsova of the Carnegie Moscow Center said that Medvedev had made it clear in his Financial Times interview and other statements over the past month that he believes "Russia's main center of power is the presidency and that Russia is a presidential republic." Shevtsova added, however, that Medvedev faces the problem of whether he will be able to imbue his presidency with "resources," given that "the resources of power" remain with Vladimir Putin (Radio Free Europe/Radio Liberty's Russian Service, March 25).
Meanwhile, during a joint press conference with visiting Egyptian President Hosni Mubarak on March 25, Putin reiterated that there will be no redistribution of powers between the president and the prime minister. "We have no need to change anything in this regard," Putin told reporters. "The prime minister's powers are sufficient to work in the sphere of responsibility assigned to him by the constitution." According to Newsru.com, Putin said the prime minister "can and must" be guided by the parliamentary majority and respond to the aspirations of those citizens who went to the polls and voted for a continuation of the policy carried out over the last eight years (Newsru.com, March 25).