RUSSIA'S ROLE AS PUTIN BUILDS A POWERFUL PREMIERSHIP
Publication: Eurasia Daily Monitor Volume: 5 Issue: 82
By: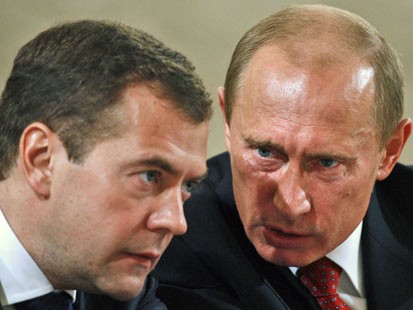 In a question-and-answer session with journalists at the offices of the weekly Argumenty i Fakty on April 29, President-elect Dmitry Medvedev was asked whether a second "ruling party," other than United Russia, might appear. "No one knows what the political system's final configuration will be, but there must be several large parties," Medvedev replied. "Party building has not been completed, and I am not sure that a two-party system is optimal; we have too big a country." Medvedev noted that there were several parties in the country that were developing actively along with United Russia, among them A Just Russia, the political party headed by Federation Council Chairman Sergei Mironov. Medvedev said that United Russia had a good chance of maintaining a stable position in the country but only with a leader like Vladimir Putin. Still, Medvedev expressed doubts over the prospects for a system in which one party would rule over the country unopposed over next decade.
Asked about his impending May 7 inauguration as president, Medvedev said that the most important thing to understand "is that nothing dramatic is taking place in the process of the transfer of power," adding: "Salaries grew and are growing. Children went to school and are going to school" (Kommersant, April 30).
What is interesting about Medvedev's comments is that while expressing obligatory reverence for the outgoing president and future prime minister, the president-elect seemed to be sending a message, albeit in his typically understated manner, that those who believe that Putin's assumption of United Russia's leadership will help him maintain a hold on the lion's share of power after May 7 (see EDM, March 28, April 16 and 21) are jumping to a hasty conclusion.
Medvedev's mention of A Just Russia is also interesting, given that Mironov, who on April 25 was re-elected leader of A Just Russia for another four years, declared that his party would remain a "strong and persistent opponent" to United Russia, even though A Just Russia respected Putin's "undeniable" achievements (RosBusinessConsulting, April 25). Mironov also expressed hope that Putin's decision to head United Russia would not lead the authorities across the country to clamp down on initiatives not originating with United Russia (RIA Novosti, April 25). Earlier, Mironov had said that he was against the idea of choosing the cabinet on the basis of political party membership and that A Just Russia would not enter into a coalition with United Russia to form a new cabinet (Interfax, April 20).
Putin, for his part, has moved quickly to shift some powers currently residing in the presidency over to the prime minister's post he has agreed to fill, amending a decree he signed in 2007 in such a way as to transfer an important lever over regional governors from the Kremlin to the Russian White House. The decree originally gave a commission headed by Kremlin administration chief Sergei Sobyanin the authority to develop and approve a list of indicators of the effectiveness of the work of Russia's regional administrations. Putin has now transferred that authority to the cabinet, meaning regional leaders will now be giving reports on what they have accomplished to the cabinet headed by Putin, not to the Kremlin chief-of-staff. In addition, Putin signed a decree obliging municipal authorities to give similar reports on their activities to the governors of their regions, thereby, as the newspaper Tvoi Den wrote on April 30, extending a new "power vertical" headed by Putin down to the municipal level.
"The cabinet of ministers will cease being technical and become political," General Director Aleksei Mukhin of the Center for Political Information told Tvoi Den. "Putin is acting logically. Now the governors will be accountable to the prime minister; the mayors will be accountable to the governors. Putin has, in fact, simply formed a regional vertical of power under him, thereby strengthening the role of the prime minister."
Mukhin added that he believed this was only the beginning of changes in the "configuration of power."
"This is only the start," he said. "The authorized representatives [to the seven federal districts], to all appearances, will in the near future be reassigned to the prime minister, and district zoning will be drawn up according to economic principles. And it is in this regard that the issue of subordination arises. Judging by the new decrees, the government will take on serious social functions, and therefore, logically, the authorized representatives, like the governors, will be subordinated to the prime minister. I also don't exclude more serious changes strengthening the power of the premier" (Tvoi Den, April 30).
Meanwhile, Russias's richest and perhaps most powerful businessman has seemingly endorsed the prediction that Putin will succeed in holding onto a preponderance of political power in Russia after he is inaugurated and well into the future. Reuters reported on April 27 that Oleg Deripaska had told a group of journalists in Moscow on April 25 that he was convinced that Putin would remain fully in charge of Russia until 2020, even though he was stepping down as president on May 7. As Reuters noted, Medvedev had promised to implement "the Putin plan," a set of goals to make Russia a developed country by 2020. "His [Medvedev's] role is important," Deripaska told the journalists, "but you need to understand, it's a big challenge to take responsibility. As I understand Putin accepted this responsibility to develop the 2020 goals" (Reuters, April 27).